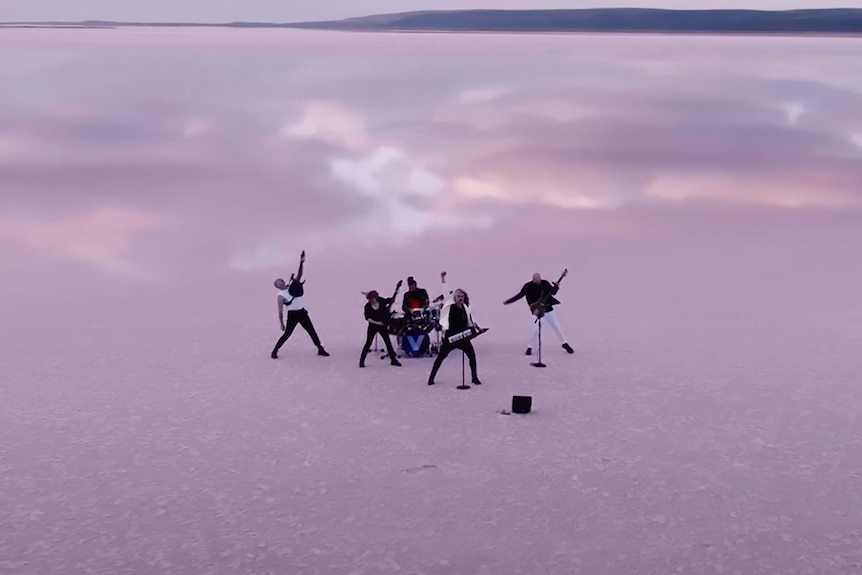 Eurovision expected to boost WA tourism after Hutt Lagoon, Nature's Window feature in music video
A marketing specialist says the filming of a Eurovision music video in WA's Midwest is
A marketing specialist says the filming of a Eurovision music video in WA's Midwest is "money to be banked" when it comes to promoting the state as a tourism and migration destination. 
Key points:
The music video for Eurovision contestant's Voyager has been shot at iconic tourism locations in WA's Midwest
It has been shared on a Youtube channel with five million subscribers
A marketing specialist says it will have enormous promotional benefit for WA
WA synth-metal group Voyager has been named as the entrant for the 2023 Eurovision Song Contest with the song Promise.
There are five million subscribers to the Eurovision YouTube channel featuring the associated music video which has been filmed at the pink lakes of Hutt Lagoon and Natures Window in Kalbarri.
Consumer analyst Barry Urquhart said it provided an "alluring image" of WA.
"On social media, when you get a hit, the average stay is 2.8 seconds," he said.
"Now this band Voyager with the Eurovision will be given three minutes of allocation of entertaining the world at large, Europe in particular, three minutes is a reinforcement.
"The visuals in this particular circumstance will be the sort of thing that can have a huge impact, so colour and the magnificence of the Western Australian outback, and the nature of who and what we are, will really register. 
"So I think it's a very timely situation of three minutes of reinforcement, that is money to be banked."
He said the WA government should now focus on ensuring there was follow-through promotion.
"Because if they can sit at home, watch Eurovision, go to work go on the tube, whether it's in Paris, whether it's in Brussels or in London, and they see that reinforced, it will reinforce register," he said.
"And then all of a sudden people say, 'You know what, the weather is not all that flash at the moment here in Europe, but in Australia when I saw the Voyager…'.
"That's the sort of alluring emotional trigger that can actually stimulate interest in visitation and more importantly, immigration."
Golden opportunity
WA Tourism Minister Roger Cook said Tourism WA worked with the band to put the video together. 
"We have the great keytar solo which is taking place at Nature's Window and Kalbarri, one iconic shot, and that's going to go around the world featuring the Midwest to literally hundreds of millions of viewers as part of Eurovision," he said.
"Coming out of COVID people are looking for unique iconic locations, clean environments, safe communities, and really want to have an experience as part of their tourism adventures, so Western Australia is well placed to take advantage of this new global drive."
He said the video would be supported by the existing international tourism campaign. 
"We are really confident that our 'Walking on a Dream' campaign will continue to elevate Western Australia in the eyes of international travellers," he said.
"Opportunities such as Eurovision to put it front and centre of one of the most watched cultural entertainment events around the world is really an opportunity which is absolute gold."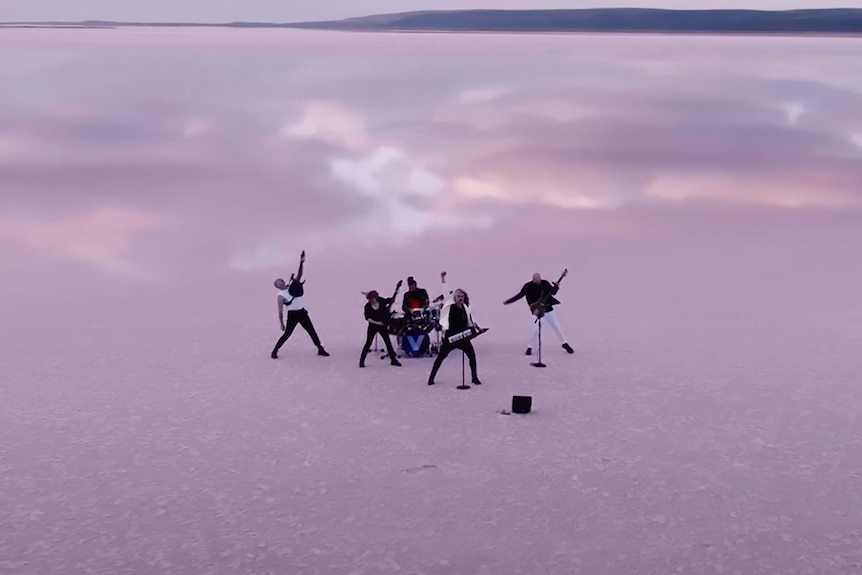 The video comes just days before minister Paul Papalia is set to travel to the United Kingdom and Ireland, promoting WA's higher wages, lower cost of living, and surf and sunshine lifestyle to workers.
He is leading a mission aiming to recruit workers to help fill almost 31,000 job vacancies across the state. 
Advertising across multiple platforms will be rolled out in the UK and Ireland over the next month. 
This includes existing campaigns tailored to specific professions, such as the "Build a life in WA" campaign to attract construction and manufacturing workers, WAPOL's "Let's Join Forces" and WA Health's "Belong".
Others include the Department of Education's "Teach in WA", and Tourism WA's campaign aimed at working holiday makers.
It will also be promoted through a $300,000 campaign under the "Western Australia — It's Like No Other" branding.