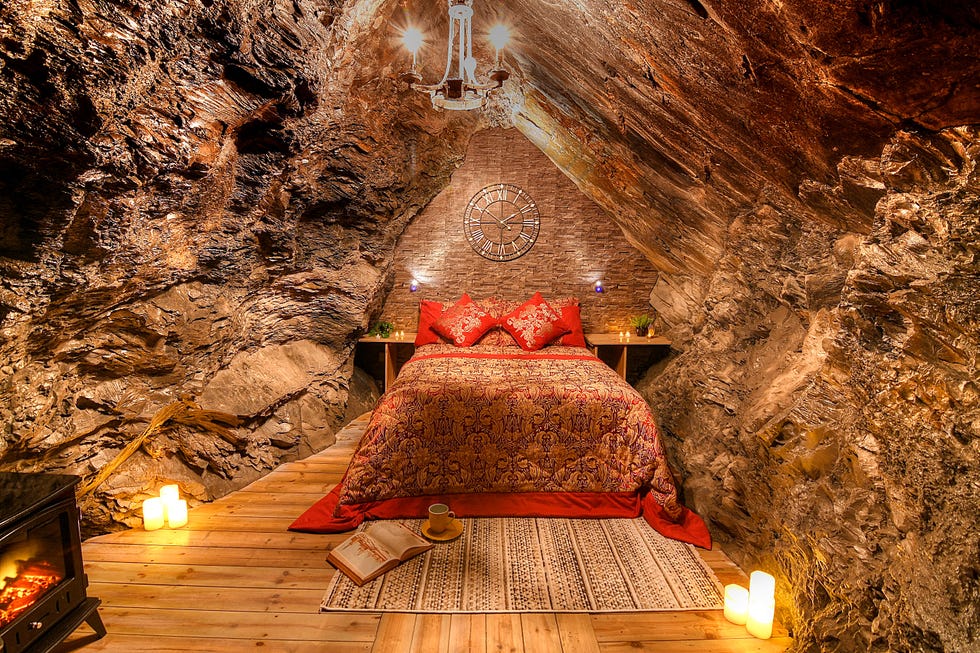 World's Deepest Hotel Opens in Snowdonia Mine
The deepest sleep experience in the world has just opened in North Wales, offering people
The deepest sleep experience in the world has just opened in North Wales, offering people the chance to stay overnight in an abandoned Victorian slate mine, 1,375 feet below the surface.
Deep Sleep, the latest creation by Go Below's founder, Miles Moulding, is an off-grid adventure like no other. Set below the mountains of Snowdonia above, Deep Sleep was carved out of slate by miners over a century ago, and comprises of four private twin-bed cabins and a romantic grotto with a double bed.
The route down is not for the faint-hearted. Once you've met your trip leader at the base, you will embark on a 60-minute walk to the mine, navigating old stairways and decaying bridges. Food will also be provided once you arrive; the price includes an expedition-style meal to enjoy at the large picnic table.
And don't worry: you won't be left alone in the mine. Your instructor and a member of technical staff will remain in their own cabins next to you, ready to prepare breakfast the following morning. Once you've eaten, it will be time to embark on the long ascent up to the surface.
Speaking about the experience, Deep Sleep say: "The trip to reach it is an adventure in itself, journeying for over an hour through tunnels and shafts hewn by slate miners.
"One of Go Below's experienced and qualified trip leaders will guide guests through the mine, showing them some fascinating sights and giving an insight into the history of the mine and the lives of the men and boys who worked there."
Prices start from £350 for two people. For more information about how to book a stay, visit go-below.co.uk.
---