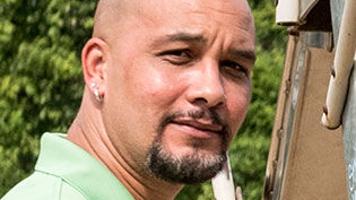 Winston-Salem recreation director accused of leaving child unattended in car | Crime News
The city's director of recreation and parks is facing a citation alleging that he left
The city's director of recreation and parks is facing a citation alleging that he left a 5-year-old girl in his car outside a Sam's Club at night without adult supervision for over 20 minutes, according to court documents. 
William Lenard Royston, 47, and his wife, Saroya Rachelle Roberts, 33, of Old Hollow Road, have both been charged with misdemeanor contributing to the delinquency of a juvenile. 
Roberts also works for the city.
The citations stem from an incident on Feb. 29. The citations allege that Royston and Roberts neglected a 5-year-old girl by leaving her in their 2019 Hyundai Station Wagon in the parking lot of Sam's Club off University Parkway for over 20 minutes at night "without an adult present or able to be summoned in case of emergency for over 20 minutes."
The girl is Roberts' daughter from a previous marriage, according to divorce papers. 
The citations don't provide any details about the circumstances that led Winston-Salem police to be called to Sam's Club. The citations also don't give any information about why Roberts and Royston were not in the car with the child.
Royston and Roberts are both scheduled to appear in Forsyth District Court on Sept. 14. 
Attorney Dylan Greenwood, who represents the couple, said both are innocent until proven guilty and that "we intend to hold the state of North Carolina to that burden."
"They are loving spouses and parents, and both are dedicated city employees," Greenwood said. "We stand beside them completely."
Royston remains on his job as director of recreation and parks. City personnel records show his salary is $103,978.02, and that he got his last pay increase on April 9, 2019.
Royston was on medical leave recently and returned to work on Monday.
Roberts was suspended on May 6 from her job as a human resource analyst with the city. City Attorney Angela Carmon said she could not legally provide any details on how long the suspension lasted or the reason for it.
Roberts' position was reclassified on May 29 this year to that of special project coordinator in the city's business advancement and inclusion department. On Aug. 20, she received a lateral transfer to become human resource analyst in the city's sanitation department.
Royston started work for the city in 2005 after working in Durham parks and recreation for seven years. He received a suspension on May 19, 2008, but returned to work thereafter. At the time of his suspension, he was parks superintendent. Over the years, Royston held various positions here, including project planner.
Royston became director of recreation and parks here on Oct. 21, 2016, after serving as interim director after the retirement of Tim Grant in the summer of 2016. Royston's salary when he took the director' job was $93,315. 
Roberts has been employed with the city since Oct. 13, 2014.
According to court records, Roberts was convicted in October 2018 of misdemeanor communicating threats. Ashley Davis Simon, the alleged victim in the case, said in an affidavit that on Aug. 3, 2018, Roberts drove beside Simon on U.S. 52, rolled down her window and called Simon "a cracker b****" and then threatened to kill her. Simon also alleged that Roberts tried to run Simon's car off the road and repeatedly honked her horn, according to the affidavit. Roberts was sentenced to 12 months of unsupervised probation, according to court documents.
Court records for Royston show several traffic offenses.
Assistant City Manager Damon Dequenne said it is the responsibility of city employees to inform the city whenever they are charged with some offense by law enforcement.
Once that happens, Dequenne said, the city conducts its own investigation, one that is independent of how the case fares in the court system.
"We do an internal investigation and take whatever action is appropriate based on those results," Dequenne said. "All the items in our code of conduct would be looked at: One is, how does this reflect upon the city? Did they lie? It would go through the chain of command. Between human resources and the attorney's office, we would jointly conduct that investigation."