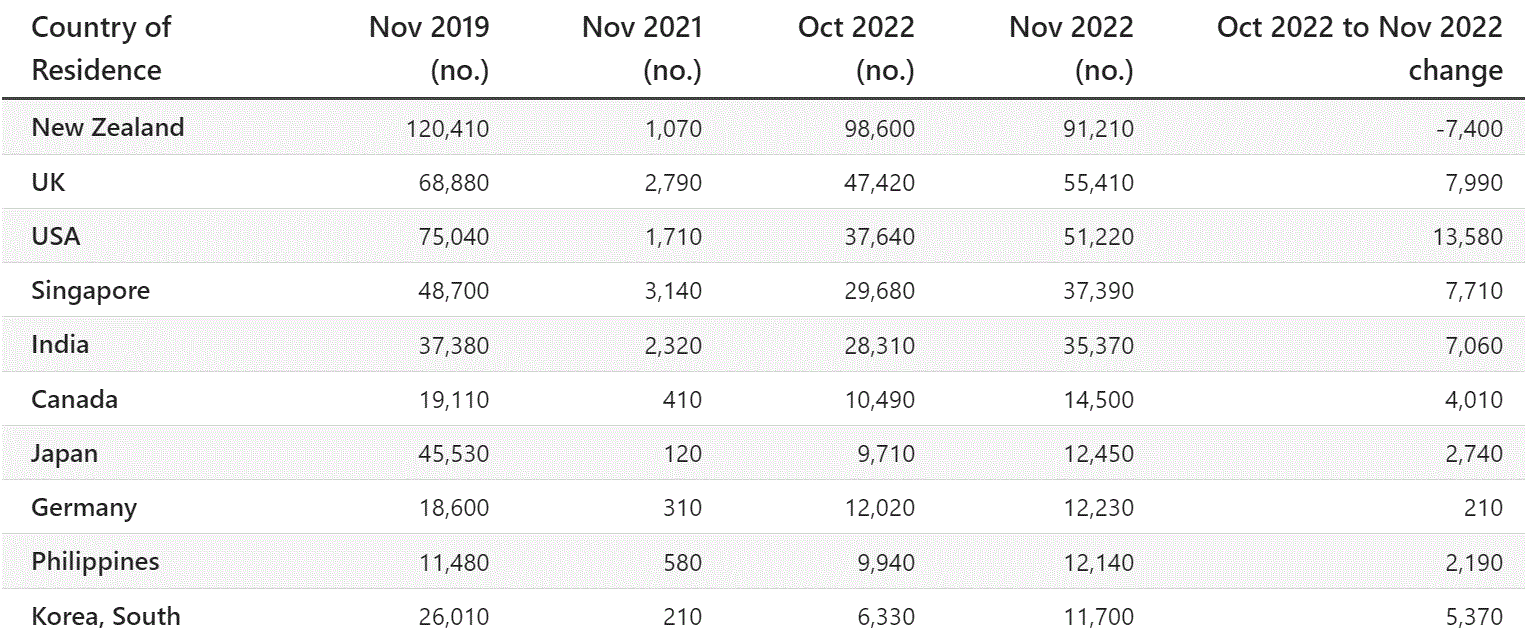 Tourism mirrors geopolitics, and as China re-opens we'll see how it feels about Australia
The re-opening of China could be a litmus test for the superpower's relationship with Australia, as
The re-opening of China could be a litmus test for the superpower's relationship with Australia, as tourists from the mainland decide whether to travel south for holidays.
China was considered Australia's top tourism market before the pandemic, with visitors from there spending around $10.3 billion here every year. That overwhelmed the value of other nations' travellers.
As China and Australia's relationship worsened into a so-called "trade war", the impact of this on the crucial trade relationship of tourism was masked by the pandemic's closed borders.
Benjamin Herscovitch is a research fellow at ANU that studies Australia-China relations.
"Certainly, the Chinese government has a range of mechanisms by which it can direct tourists away from certain countries or to certain countries based on political considerations," Herscovitch says.
"China is such an important source of international students and tourists for countries like Australia, that those signals will be particularly potent when you're directing either tourists or students away from Australia."
Now, the world's second-biggest economy is allowing its people to travel again.
Tourism operators across Australia that once saw great monetary value in travellers from mainland China are essentially starting off from zero as the superpower re-opens in 2023.
The Australian Open that just passed offers a microcosm example.
People from China used to be in the top five international market buying tickets to the Grand Slam. Data supplied to ABC News from the Open show they were barely present this year.
Instead, the major ticketholder groups were the US, New Zealand, the UK, Canada and Singapore.
While these nations that have already reopened to the world have helped the Australian Open recover its pre-COVID international market to around 6 per cent of overall visitation, it is still down 5 per cent on the the loss of tourists from China and also significant market Japan.
Data from the Australian Bureau of Statistics replicates the trend at the Australian Open when you look at short-term visitor arrival data in recent months.
The latest short-term visitor data from November showed that people from markets like New Zealand, the US, UK and India were coming back to Australia in almost pre-pandemic levels. China was no longer in the top 10 as it remained closed.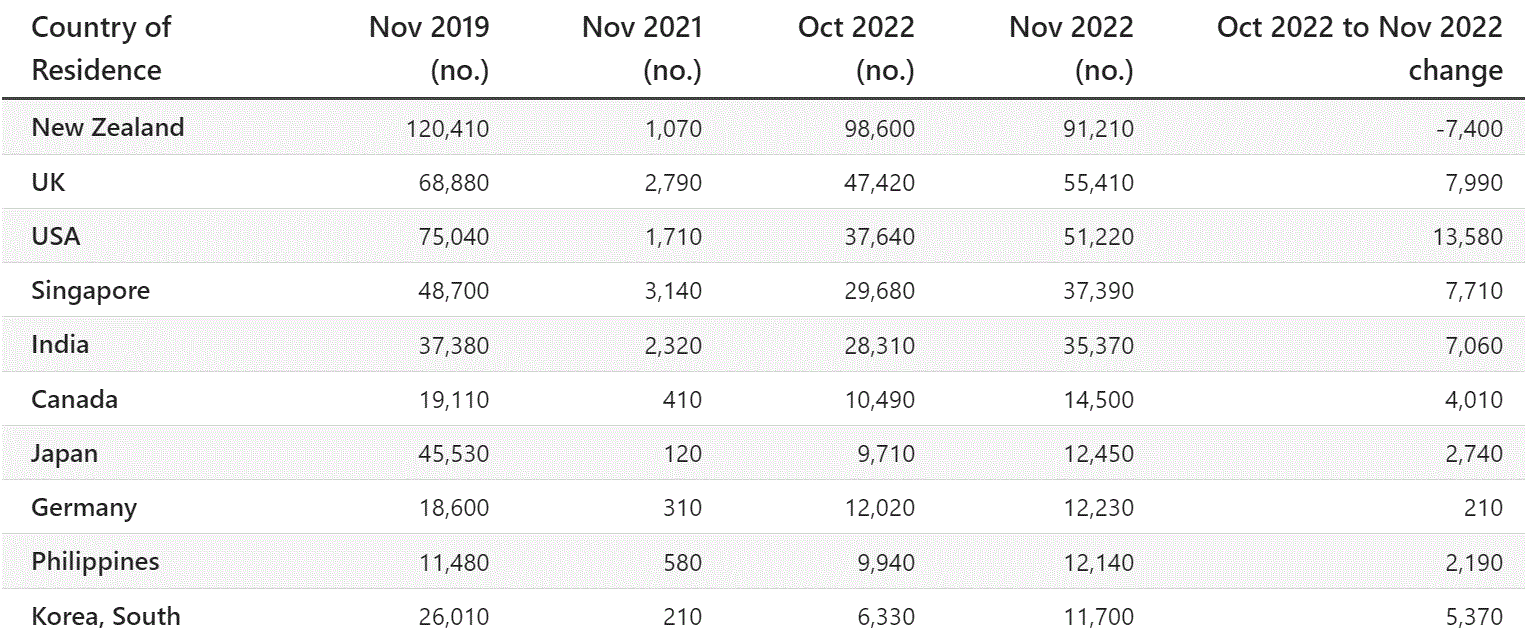 Now China is reopening to the world after abandoning its COVID zero policy, travel agents like Christine Zhang are anxious for the Chinese tourism market to bounce back too.
She argues that the market is still a key one for Australia and can't be replaced by others, especially if you go off the sheer amount that people from her birth country would spend when they visited here pre-pandemic.
Data from AUSTRADE shows the average Chinese visitor spent $7,700 here – more than double the spend of those from India and several times that of other key markets like the US and UK.
"They have a different culture. They spend money," Zhang says.
"They will spend a couple of thousand dollars buying gifts for their friends and families."
About 30 per cent of Chinese tourists were coming here in tour groups. 
Zhang, who used to organise those sorts of tours, remembers how people would come here and splash out on the experience of a lifetime, like visiting beaches and the Sydney Opera House.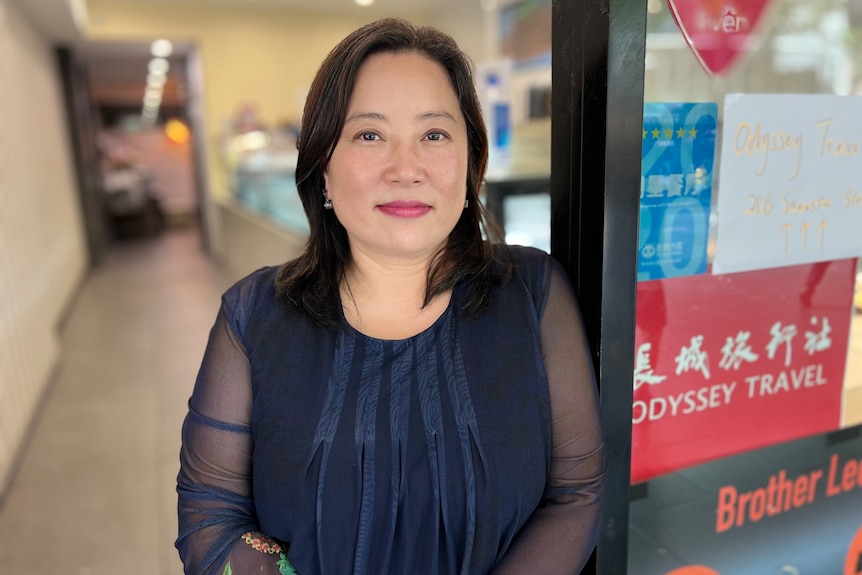 Zhang's business Odyssey Travel had even set up hotels specifically for Chinese tourists down Victoria's Great Ocean Road. It only survived the pandemic by selling off assets, like tour buses and property.
Zhang is currently renting out half her office in Melbourne's CBD to a takeaway shop to stay afloat.
"At least we're not bankrupt like the others," Zhang says.
Zhang is excited like many in the sector about more flights now being put on from Chinese airlines to come to Australia.
Since the nation announced its re-opening, several airlines have bumped up to a few dozen scheduled to land here a week at Sydney and Melbourne. But that's a small fraction of the 150 that used to arrive here every week.
ABC News meet a flight that landed in Melbourne from Xiamen.
Many of the excited and emotional people landing in Australia were embraced by family at the airport gates after three years apart. Some said they were planning to travel to places like the Gold Coast for trips, but many were here mainly to see family.
Zhang was preparing for it to take about six months for people purely interested in tourism to start coming back to Australia.
However, as the nation re-opens, her sector has already been delivered a setback.
China has put out a list of nations that its people are approved to visit on guided group tours under its so-called China Approved Destination Status (ADS) scheme. Australia isn't on that list. 
Zhang believes China has left Australia off the ADS list for now because it is imposing COVID testing requirements specifically on Chinese arrivals. Numerous experts including Benjamin Herscovitch and his ANU colleague Wen-Ti Sung, agree.
"This is how China demonstrates reciprocity," Wen-Ti Sung told The Business.
However, both said the tour group debacle wasn't necessarily a sign that China and Australia's relationship was still in dangerous waters. They pointed out that many other nations that are also imposing COVID testing on Chinese arrivals also aren't on the ADS list.
"Australia should exhibit patience and feel assured that it is in good company whenever it finds itself receiving similar treatment as the United Kingdom, United States and France," Wen-Ti Sung said.
"Beijing may be withholding positive rewards for now as a bargaining chip to induce Australia to warm up more to China."
"China-Australia relations can best be described as 'crossing the river by feeling the stone'."
ABC News approached DFAT and several ministry departments for comment on the tourism relationship with China. None replied with specifics.
Chinese tourism will come back, but less enthusiastically
ANU's Benjamin Herscovitch describes Australia's current relationship with China as currently "unwinding" from the breakdown of the trade relationship.
"We're somewhere between the high point of 2014 and the low point of 2020," Herscovitch says.
Just last week, China's President Xi Jingping said relations were moving in "the right direction". 
That development comes after China's official state media agency Xinhua reported that Chinese Commerce Minister Wang Wentao would meet Australia's Minister for trade Don Farrell via video "in the near future". It gave no date.
Whatever the reality of the trade relationship, Herscovitch says it would be "unreasonable" to expect that the Chinese tourism market for Australia ever goes back to its peak.
Data from the ABS actually shows that the growth in short-term visitor arrivals from China was starting to slow down in the years just before the pandemic, at around 120,000 a month. This might have been because the market was peaking, or because relations were souring.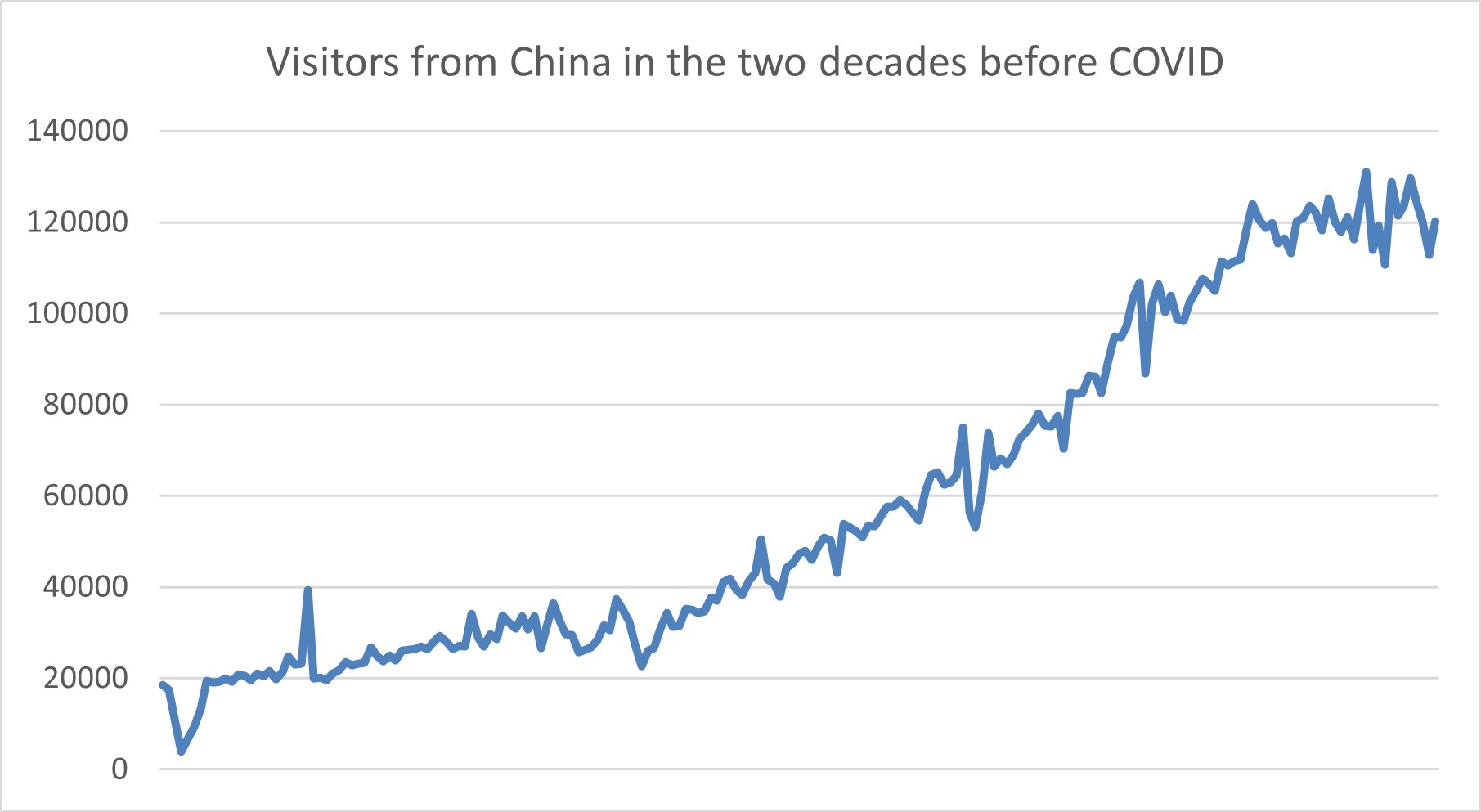 Oyster farm and tourist site operator Justin Goc recalls this trend.
He says the greatest interest in his oyster farm on the edge of Hobart was in the years after Xi Jinping visited Australia in 2014 and a free trade agreement was subsequently signed.
At its peak, tour buses would be banked up into the farm's restaurant and Barilla Bay Oyster Farm would be shucking oysters by the tens of thousands around the Chinese holiday season in January. Signs were erected around the site in Mandarin.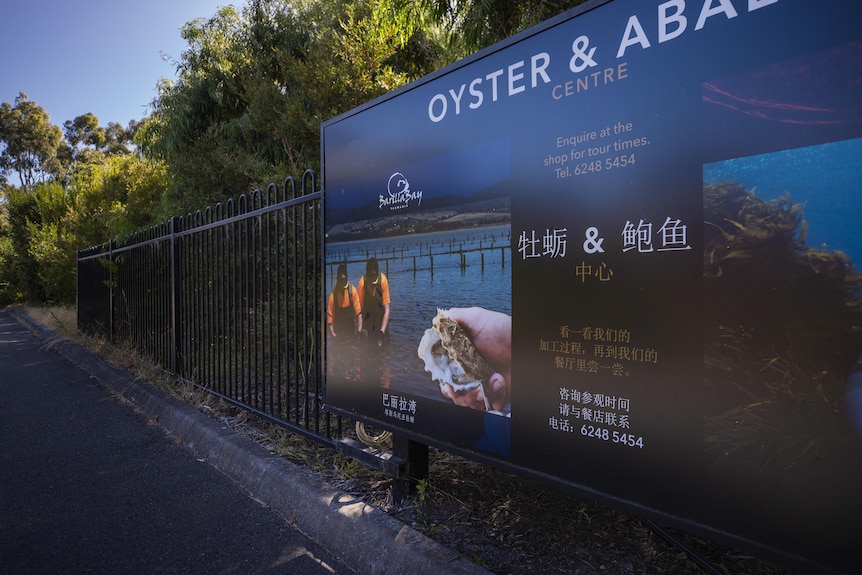 "Fortunately for us and for our business, the Chinese loved seafood and particularly oysters," Goc says.
He says tour bus capacities were getting smaller in the years just before COVID, however the market was still a very significant one for Barilla Bay Oyster Farm.
He believes the Chinese tourists will come back eventually, but he isn't banking on it bouncing back.
During the pandemic, Justin "refocused" the business on the actual product of selling oysters wholesale. The tourism side of the business has survived thanks to domestic travellers, and now markets like Singapore coming back in strong numbers.
"The story is as simple as this: you have to evolve," Justin says.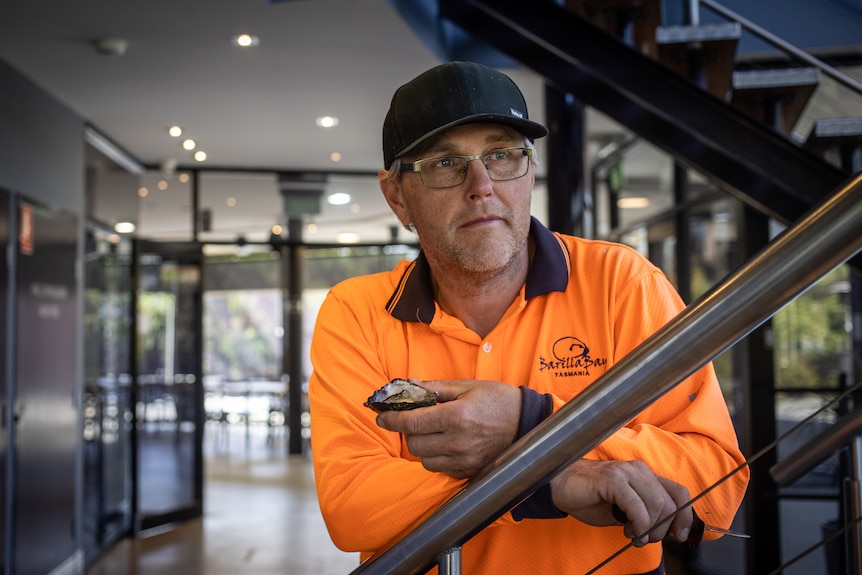 Another tourism operator in Hobart has a similar mindset.
Rob Pennicott wants the significant market back but in the interim he's marketing his boat tours of Hobart to those who are already here, and thinking about the potential of other major tourism markets with great potential, like India and Singapore.
"I think it'll take three to five years to get the Chinese and Hong Kong market to get to about 70 per cent of what it was," Pennicott says.
"I think the previous government did make it very hard to trade with mainland China but I think the new government are really doing their best to open the trade again, not just with tourism but other things like lobster."
As well as geopolitics, how well China's tourism market performs for Australia in coming years could also be determined by economics.
Markets are still murmuring about the potential of a global recession this year. And this could impact how much its people can afford to travel overseas.
"The return of travel to and from China will be welcomed by its near neighbours," a note by ANZ about the macro-economics at play recently noted.
Forecasts recently put out by the Federal Government's department Austrade project that the Chinese tourism market will go back to pre-COVID levels by 2026.
Neither Austrade or the marketing wing of the federal government, Tourism Australia, would be interviewed for this story or provide commentary on Chinese-Australia relations.
The Australian Tourism Export Council's vice president also deflected questions about the geopolitical influences in favour of talking about "good news".
"One of the key things that came out of this (pandemic) is that you can't always be reliant on one market and spread your risk," Richard Doyle says.
Specifically with China, Doyle believes it'll be "a marathon rather than a sprint" to get the market back and he agrees that it'll take until 2026.
Like many tourism operators who rely specifically on this market, Odyssey Travel's Christine Zhang wants much more done to foster the return of tourists sooner than 2026, including diplomatic shows of support by Australia's leaders.
""The official relations between the two countries have been strained over issues like trade disputes and different values," she says.
"This market is huge if it picks up and it'll be great news for the Australian travel industry."