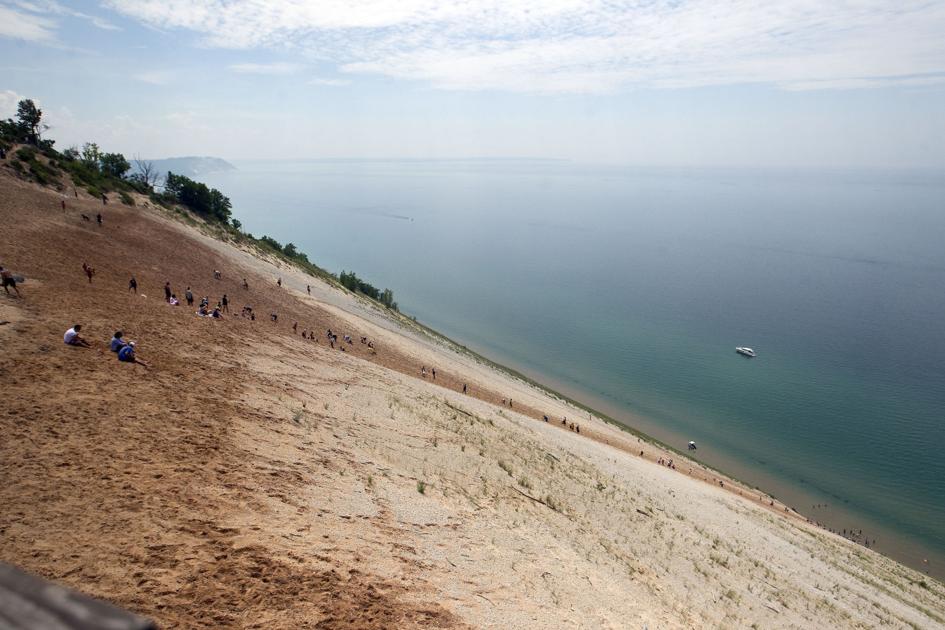 Recreation celebration: Sleeping Bear Dunes National Lakeshore turns 50 | GO
EMPIRE — Sleeping Bear Dunes National Lakeshore's milestone celebration underwent some COVID-19-related revisions. It became
EMPIRE — Sleeping Bear Dunes National Lakeshore's milestone celebration underwent some COVID-19-related revisions.
It became a national park on Oct. 21, 1970 — President Richard Nixon signed the law that set aside the area along Lake Michigan for preservation and public use — and initially celebrated its 50th year in existence with an event in January, said Park Ranger Merrith Baughman.
"It's an opportunity to bring more people to the awareness of the park and have a better understanding of what the park is and what we do and why we exist," Baughman said of their anniversary year.
In the spring the park temporarily closed picnic sites, campgrounds, trails, the visitor center and the scenic drive in response to the coronavirus pandemic.
Glen Haven Days was scheduled in May, but it was canceled during stay-at-home orders. Baughman said past events aim to teach visitors about the farming and logging history at one of the few remaining lakeside villages in the area. Located west of Glen Arbor, the town started in the 1900s with a general store, blacksmith and boathouse.
Glen Haven was a transportation hub before roads existed, Baughman said. People and goods traveled to the area via the Great Lakes.
"It's a celebration of what these wooden villages would've been like," she said of Glen Haven Days. "It's a part of the maritime history that was so significant."
Baughman said another important site is the 18 farms at the Port Oneida Rural Historic District, found in the northern portion of park lands. She said the southern section — including Platte Plains and Bass and Otter lakes — is also worth discovering.
So, they created a scavenger hunt titled "Explore the Shore" that includes objectives like visiting Loon Lake and seeing as many historic sites as possible.
"It's a way for people to get into the lesser-known parts of the park," Baughman said. "We hope we get people out exploring."
Sleeping Bear usually offers the Trail Trekker Challenge, but Baughman said they changed the name to the 50th Birthday 50-Mile Challenge for the park's anniversary.
People can track paddling, hiking, biking or other ways they get around the park. For example, folks can traverse the Sleeping Bear Heritage Trail, a 22-mile route between Empire and the Good Harbor Trailhead at Bohemia Road.
Kids can learn about the history of the park through the Junior Ranger program, which includes games and puzzles. Baughman said they will mail a "special wooden 50th anniversary badge" to participants.
Park Ranger Lisa Griebel said the park is back on track for the rest of the fall.
In-person gatherings are still suspended, but that should not stop people from vising the area, which covers 71,000 acres and 64 miles of shoreline.
Individual and family exploration can include stops at the Dune Climb, beaches and trails as well as villages like Glen Haven and Port Oneida.
Griebel said the Maritime Museum is closed to the public, but visitors can see blacksmith demonstrations from the doorway. Volunteers are on site to answer questions.
Rangers hope to host the 2020 in-person events next year, if possible.
"We're not sure how it will look," Griebel said. "We're working mostly on engaging virtually, so people can spread out throughout the lakeshore."
Griebel said they aim to launch two things by the October anniversary: a mobile visitors center and a time capsule. The passenger van will start at the park and then travel around Michigan "to reach underserved audiences who might not make it to the park," Griebel said.
They will seek input on social media in the next couple months, asking people to suggest items to include in the time capsule. Griebel said they hope to unveil and bury it on the anniversary, possibly with a video ceremony. She added that both are meant to educate and cultivate community dialogue.
Superintendent Scott Tucker said he hopes people take advantage of their activities.
"Some are opportunities for visitors to connect with what we have to offer," Tucker said. "We are reconnecting with the local community and reminding them that this place is set aside for the spectacular resource."
Tucker added that they aim to ensure the lands look the same in the next 50 years as they have since 1970.
"We want to look back in time at that postcard moment," he said.
People are invited to use #SleepingBear50 and #ShareSLBE to share their experiences on social media. Send photos from the scavenger hunt and 50-mile challenge to [email protected]
A park pass is required for entry to Sleeping Bear Dunes National Lakeshore. Passes are $45 for one year and feature the 50th anniversary logo. Baughman said they plan to sell merchandise featuring the design at Philip A. Hart Visitors Center in Empire.
"It's more of a commemorative pass if people want to hang onto it," she said. "People really like the bear logo we created."
"It's an opportunity to bring more people to the awareness of the park and have
a better understanding of what the park is and what we do and why we exist." Park Ranger Merrith Baughman