Rail World: Three Spectacular Train Trips | Travel + Places
Via Rail Canada carries its passengers through glorious mountain terrain. Courtesy of Via Rail Canada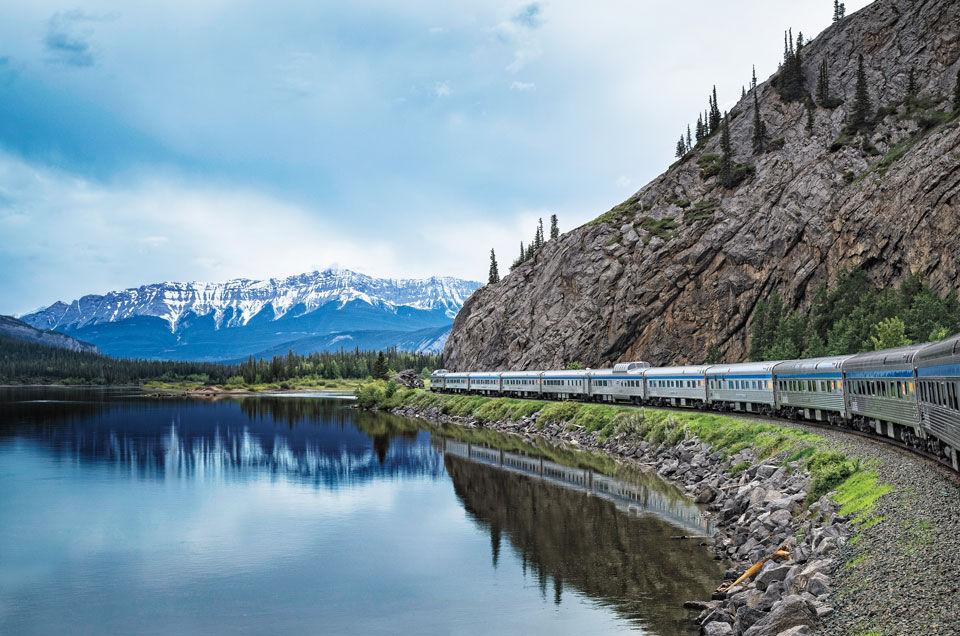 We have choices when we vacation. We can arrive hours early for a flight that leaves late. We can share the deck of a cruise ship with swarms of sun-seeking strangers. Or we can jump on a travel trend for 2023–and ride the rails.
A survey by the social media site Pinterest shows train travel is making a comeback this year, with people drawn to the smaller carbon footprint and the chance to explore land rarely seen by air, sea, or even car.
Here are three western rail routes with dreamy vistas–from chiseled mountains and icy-blue glaciers to sandy beaches and crashing waves. Yes, when it comes to train travel, it really is about the journey.
---
THE CANADIAN ROCKIES
VIA RAIL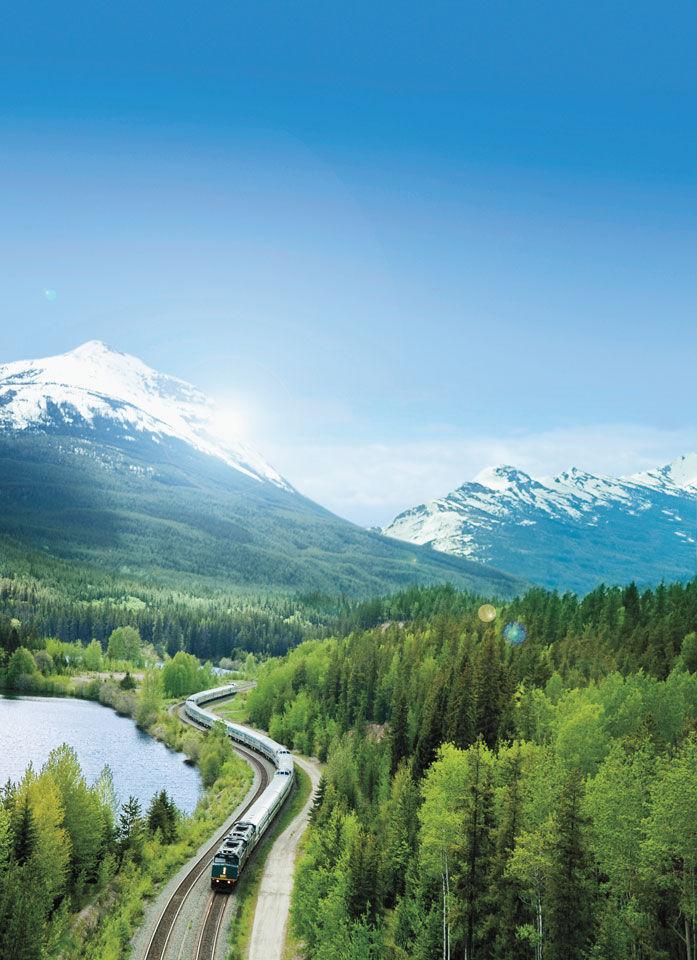 The approximately 500-mile passage from Vancouver to Edmonton is a bucket-list trip for those who want to see the grandeur of the Canadian Rockies by train. The government-run Via Rail Canada still uses the sturdy, albeit outdated Zephyr-inspired cars built in Philadelphia in 1953, but it boasts amenities such as observation cars and a parlor car with free champagne and appetizers. Via Rail has sleeper cars and higher-end Prestige cars, which feature pull-down beds and a private concierge. There's a kitchen near the dining car, and meals are served on china with white tablecloths. Dinner entrées are especially enticing, from rack of lamb to prime rib.
Scenic highlights of the trip include the glacier-fed Pyramid Creek Falls, a roaring waterfall you can only see by train. Another is Mount Robson, the tallest peak in the Canadian Rockies; when it's not shrouded in clouds, the views are astonishing. But the real showstopper is Jasper National Park–Canada's largest park in the Rockies, the second-largest dark-sky preserve in the world, and a UNESCO World Heritage Site. Via Rail lets you extended your stay here before continuing on to Edmonton–a big perk considering everything there is to do in the vibrant mountain town of Jasper and the park.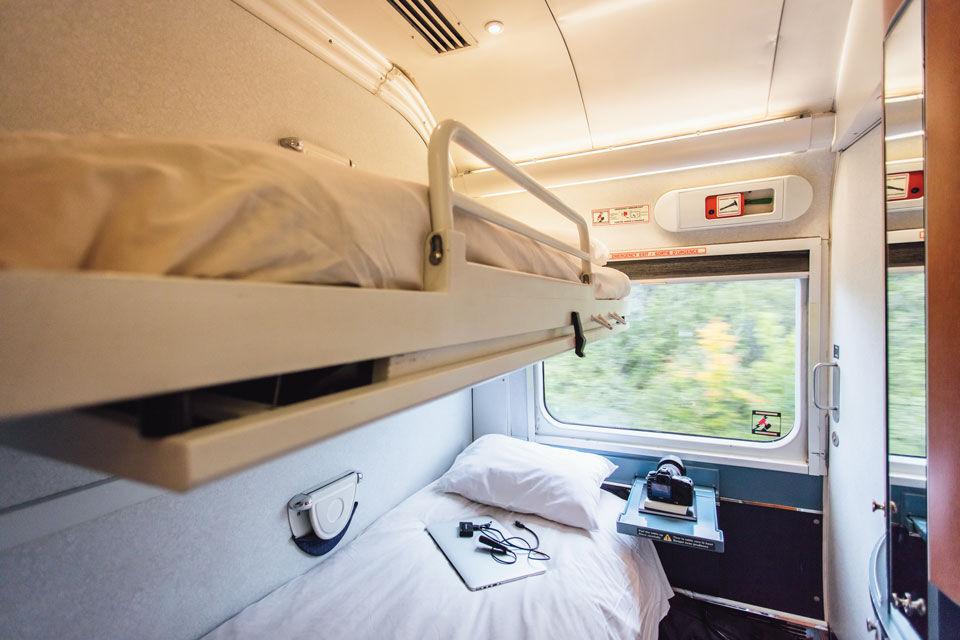 One of Canada's classic mountain resorts, the 100-year-old Fairmont Jasper Park Lodge is a must-stay in town. Its luxurious legacy cabins and guest rooms are thoughtfully woven into a breathtaking landscape of snowcapped peaks framing the waters of Lac Beauvert. The 700-acre resort is also home to Canada's premier resort golf course, and the lodge has canoes, kayaks, and paddleboards in a boathouse on the lake. From Jasper you can take day trips to the Columbia Icefield, Maligne Canyon, and Maligne Lake with the popular SunDog Transportation and Tour Co.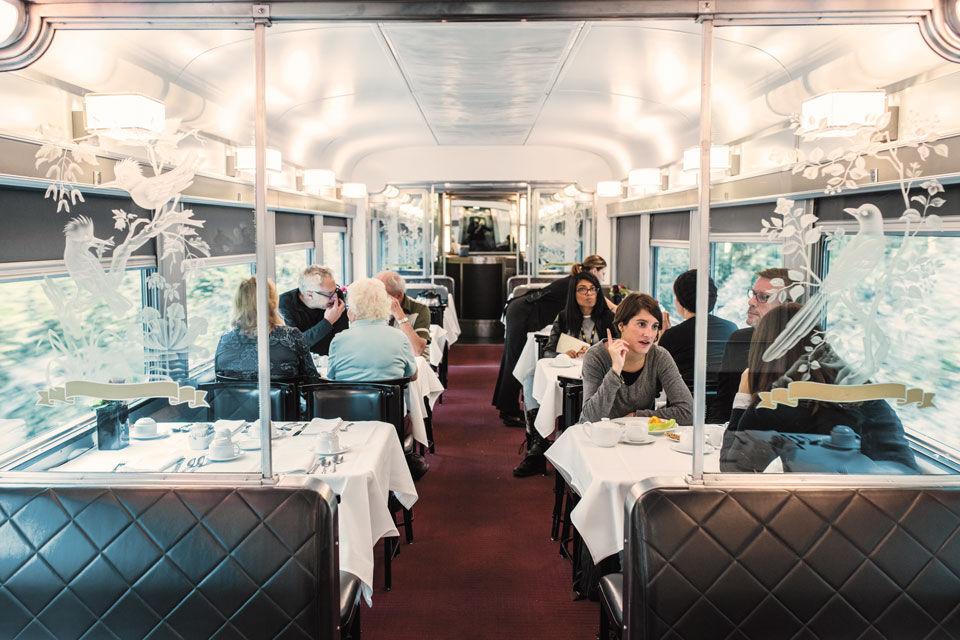 "It's the trip of a lifetime," says Priyan Thomas, Via Rail's director of services, who adds that Americans are always commenting on the train line's friendly service. "It's like a family on board here. It's always been about service and customers first."
Need to know: Air Canada offers nonstops from SFO to Vancouver and from Edmonton to SFO. viarail.ca/en.
---
FAIRBANKS TO SEWARD
ALASKA RAILROAD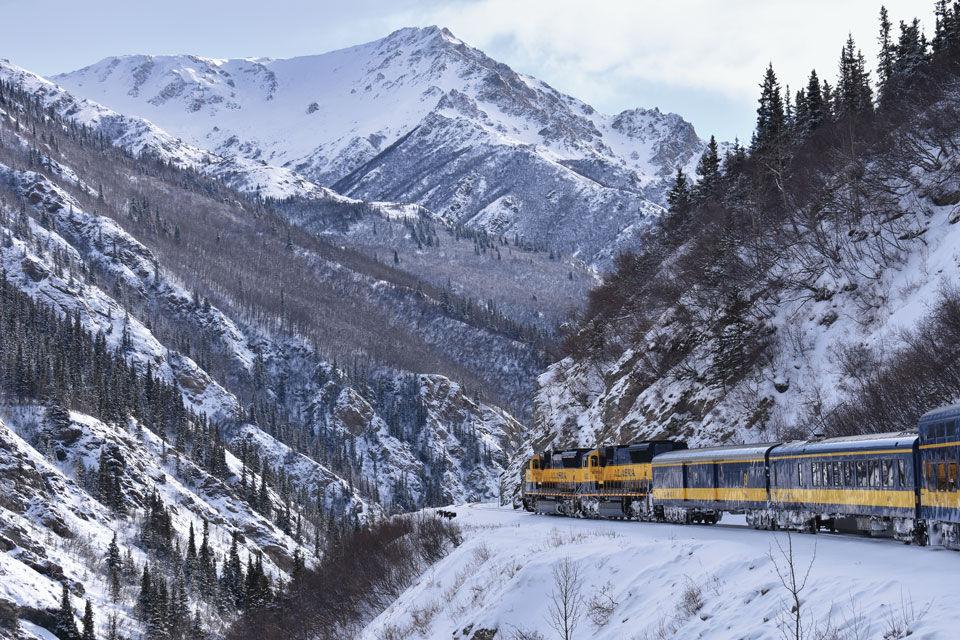 This is the centennial year for the Alaska Railroad, which runs 470 miles from Fairbanks and Denali National Park and Preserve to Seward. President Warren G. Harding marked the completion of the line in 1923, and cities like Anchorage sprang from the railroad construction camps. The most notable route is north from Anchorage on the Denali Star Train. Passengers go through Alaskan towns like Talkeetna–the inspiration for the TV show Northern Exposure. Talkeetna is the first chance to see Denali–the highest peak in North America–at least if the weather is cooperating.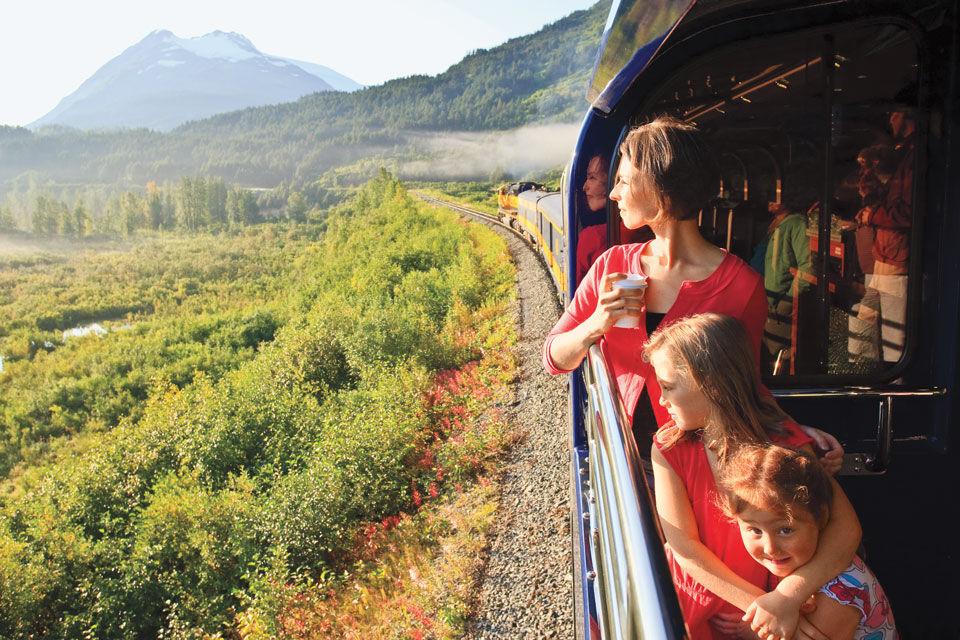 Moose and bald eagles are common sightings from the Denali Star, which has glass-domed double-decker cars and outdoor viewing platforms. From late August through spring, you may even see the northern lights. Fairbanks and Denali National Park are located under the auroral oval, a ring-shaped zone with high aurora activity.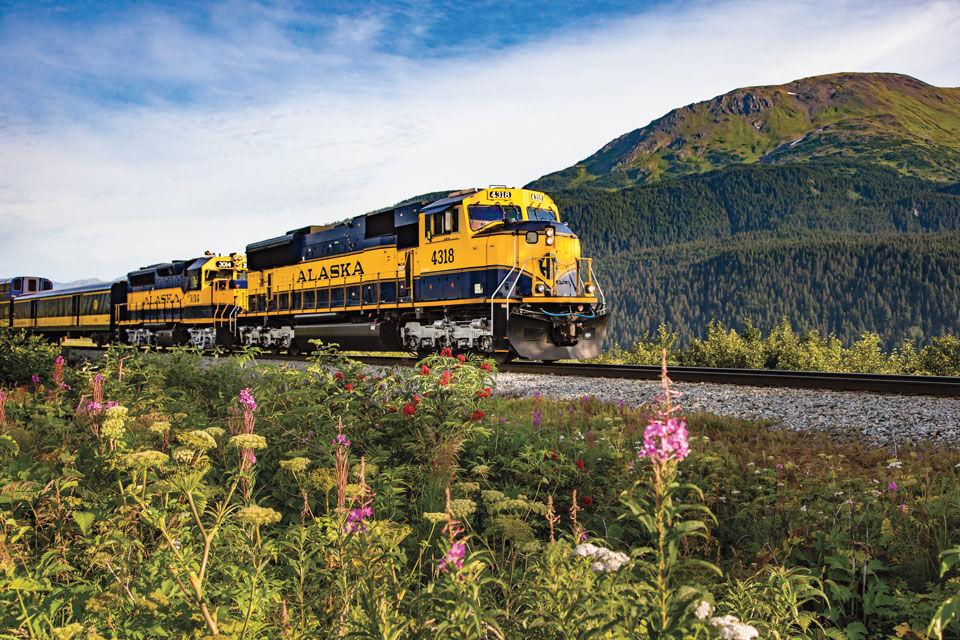 South from Anchorage, the Coastal Classic hugs the dramatic shoreline of Turnagain Arm and the Kenai Peninsula. Dall sheep graze near the tracks, and passengers can spot beluga whales rolling in the surf in summer. And then there are the glaciers–three of them visible from the train. Meghan Clemens, Alaska Railroad's marketing communications manager, says a stop at Spencer Glacier lets passengers take a free interpretive walk with a ranger or join an outfitter for a day trip to the glacier.
As the train heads south, the track curves toward Bartlett Glacier. "The train winds along the river valley, and you're going in and out of a series of mountain tunnels," Clemens says. "Just above the steep mountain canyon, you see waterfalls."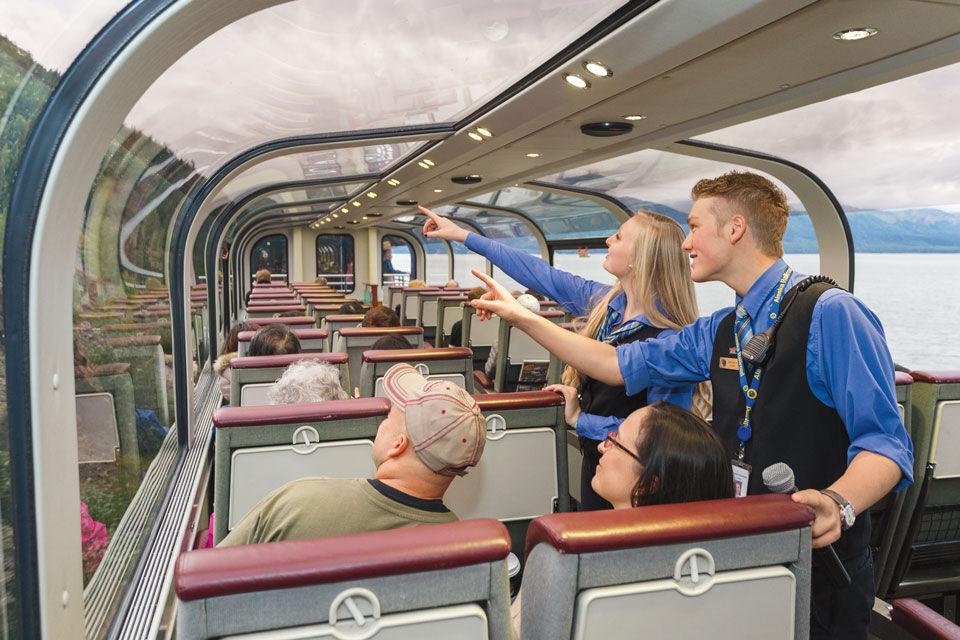 The southern route ends in Seward on the shores of Resurrection Bay, where you can book a tour of nearby Kenai Fjords National Park. There are no sleeper cars on the trains, but Alaska Railroad sells packages that include overnight stays in several towns.
Need to know: Alaska Air offers nonstops between SFO and Anchorage. The Coastal Classic has one daily round trip between Anchorage and Seward. The Denali Star takes 12 hours to travel from Anchorage to Fairbanks, requiring at least one overnight stay on the route if you are returning to Anchorage. alaskarailroad.com.
---
SEATTLE TO LOS ANGELES
COAST STARLIGHT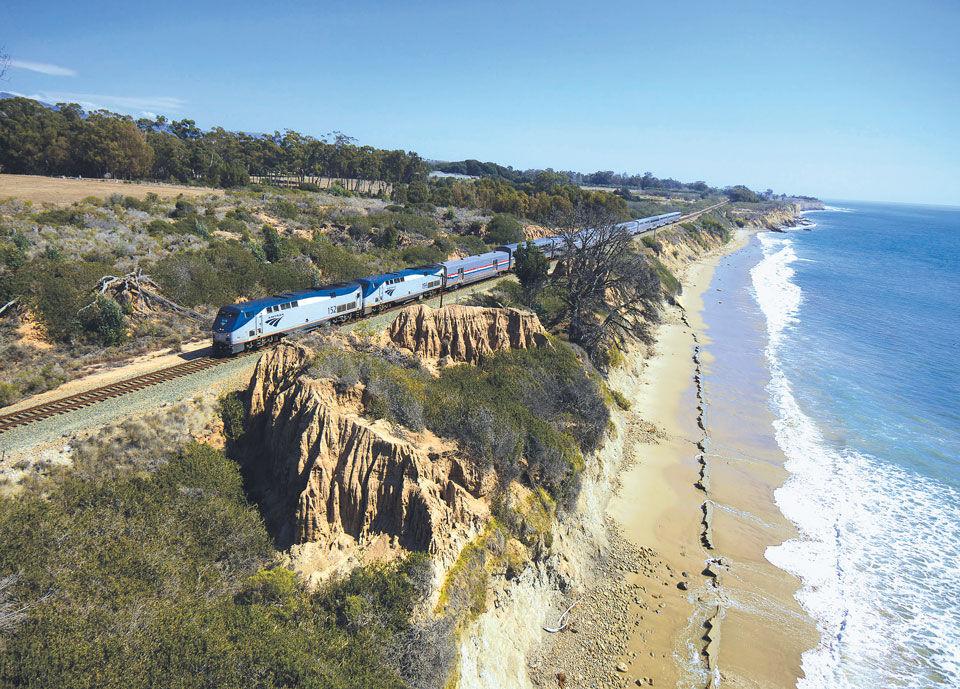 The Coast Starlight is a glitzy name for Amtrak's route between Seattle and Los Angeles. It takes about 35 hours to cover 959 miles of rail line that meander through some of the West Coast's most celebrated scenery–but finding a spot to soak up the sights can be challenging. The single observation car is often packed with passengers who've staked out their claim to these coveted seats. (Amtrak has also eliminated the popular parlor car.)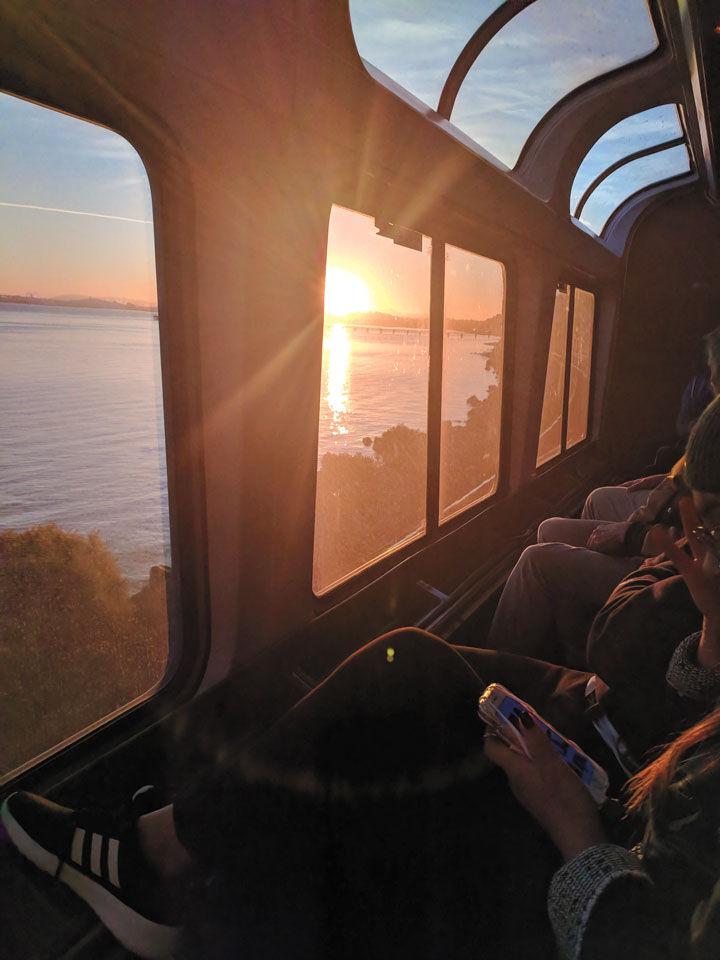 The way around this is to book a sleeper car, with your own window and pull-down bunk bed, sink, and toilet (the tiny loo doubles as a shower with a waterproof cover for the toilet paper). Unlike coach seating, a sleeper reservation gives you access to the dining car, where you can enjoy the views while you dine. Amtrak still serves its signature steak for dinner with an appetizer and complimentary cocktail.
Since the Coast Starlight travels through three states, the diversity of terrain is impressive. In Washington and Oregon, you pass through deep pine forests framed by vast mountain ranges (the Cascade Range alone has 22 tunnels) punctuated by lakes and rivers, including the Klamath River. Closer to Redding, Mount Shasta may be visible with or without the spaceship-like lenticular clouds hovering over its peak.
The southern route between Oakland and Los Angeles traverses the Salinas Valley lettuce fields and the wine region of Paso Robles. South of San Luis Obispo, the famed Pismo Beach dunes play peekaboo with the Pacific Ocean, which comes into full view near Vandenberg Space Force Base. Between Santa Barbara and Oxnard, there are sections of track so close to the water you can almost feel the spray.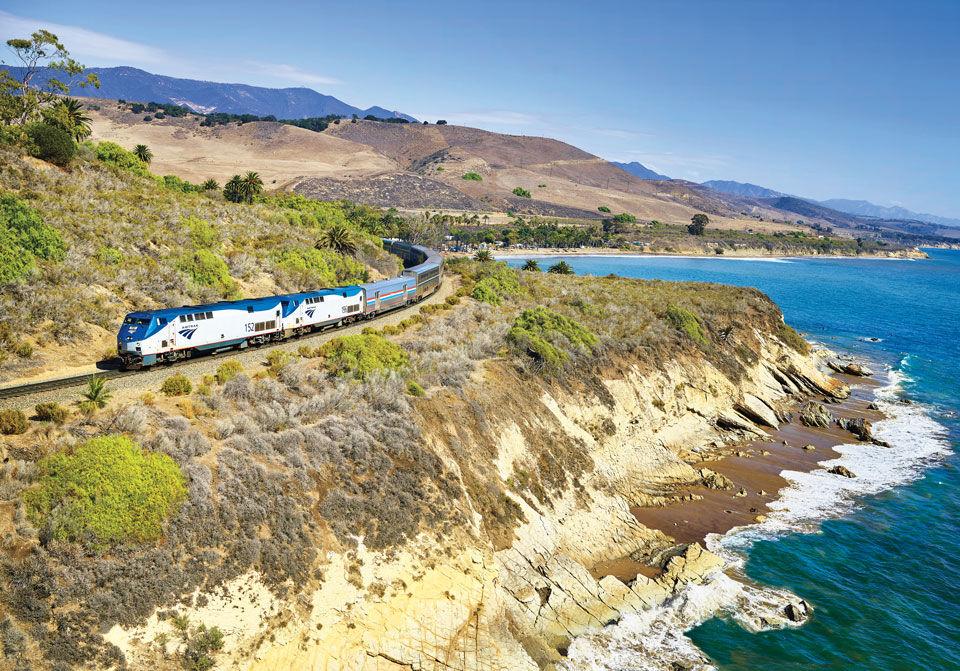 The Coast Starlight gives you a window to some of the most inspiring vistas on the West Coast. Download Google Maps so you can follow the train on its journey and make your experience even more rewarding.
Need to know: You can board the Coast Starlight in Martinez or Oakland, and the trip can be taken in segments (for example, East Bay to Los Angeles and back, or East Bay to Seattle and back). amtrak.com.
---
HISTORIC REGIONAL TRAINS
Explore highlights of the Golden State on these shorter journeys.
THE NAPA VALLEY WINE TRAIN is a gourmet restaurant on rails, serving multicourse meals that spotlight locally sourced ingredients in elegant 100-year-old train cars. Guests take a 36-mile round-trip journey from Napa to St. Helena and back. winetrain.com.
THE SKUNK TRAIN has been shuttling passengers through Mendocino County's old-growth redwood forests since 1885. The views haven't really changed, making this a trip through time as you travel through tunnels and over trestle bridges. skunktrain.com.
THE SACRAMENTO SOUTHERN RAILROAD, pulled by a historic steam or diesel locomotive, offers a 50-minute trip along the Sacramento River, courtesy of the California State Railroad Museum in Sacramento. california​railroad.museum/visit​/excursion-train-rides.