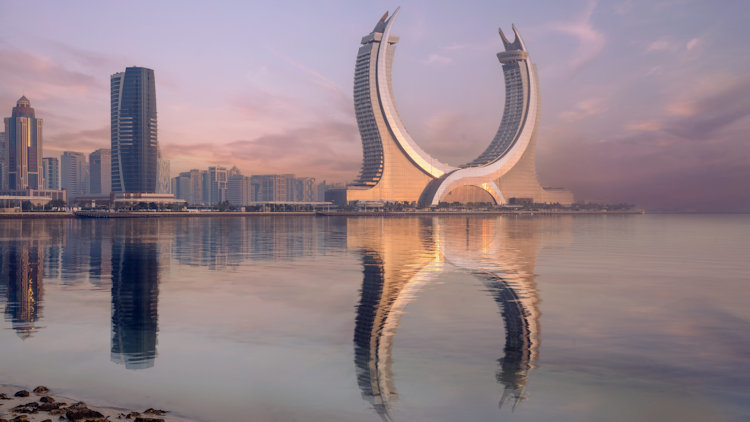 Raffles & Fairmont Doha Mark Opening With Celebratory Launch Offers
The ultra-luxurious Raffles Doha (pictuerd) and luxury Fairmont Doha hotels are now officially open to
The ultra-luxurious Raffles Doha (pictuerd) and luxury Fairmont Doha hotels are now officially open to the public and are celebrating the long-anticipated launch with a range of exceptional launch offers between January and March 2023.
The much-anticipated opening of the two hotels, which are housed within Lusail's iconic Katara Towers, follows the successful pre-launch hosting of FIFA World Cup Qatar 2022™ guests and VIP delegations. Raffles & Fairmont Doha is now open for guests to experience the ultra-luxury affair for themselves.
To mark the openings, guests are being offered special stay packages until March 21st 2023. Guests booking into the all-suite Raffles Doha will be given a QAR 1,000 hotel credit while those booking for Fairmont Doha will receive a QAR 500 credit. The credits can be spent on food, beverage and spa treatments. The starting rate for Raffles packages is £1,107 and at Fairmont £445 per room. The rates include complimentary breakfast for two, early check-in and late check-out, a guaranteed room upgrade, complimentary Wi-Fi and access to the hotels' superb wellness facilities.
The awe-inspiring Raffles Doha includes a world first 'in-suite scent library', where guests will have the option to choose which scents are diffused across the suite during their stay, in partnership with French perfume house Compoz. Raffles is the first hotel in the world to offer guests this luxury immersive experience for the senses.  One of the most exclusive experiences is The Blue Cigar Lounge which houses a secret library and some of the most prized classics and first edition books will be available for guests to read, including some first edition classics such as a rare two-volume copy of The Iliad and The Odyssey in Greek and Latin from 1707. Raffles is also home to ALBA by Enrico Crippa, three-star Michelin chef, which is the first international opening of the celebrated Crippa restaurant.
The luxurious five-star Fairmont Doha is inspired by the interiors of luxury mega yachts. With gold mosaic wall tiling, the rooms present an outstanding visual spectacle with rounded and curved walls.
Setting itself apart from its global peers, Fairmont Doha will surprise guests with its grandeur from the moment they step through the doors. Taking center place in the lobby is a 56.5m high crystal chandelier –the world's tallest weighing over half a tonne and complete with 4,807 bulbs and glass parts.
Guests can savor the progressive Indian cuisine at Masala Library, the concept by restaurateur, television host, and author Jiggs Kalra, and Latin American cuisine of Vaya, a vibrant restaurant with open kitchens and interactive service stations and where south American inspired dishes and drinks are prepared table-side.
To experience these offers, guests are advised to make a reservation by emailing [email protected] and [email protected] or calling Raffles Doha on +974-4030-7100 or Fairmont Doha on +974-4030-7200.
For more information on Raffles Doha offers, click here.
For more information on Fairmont Doha offers, click here.