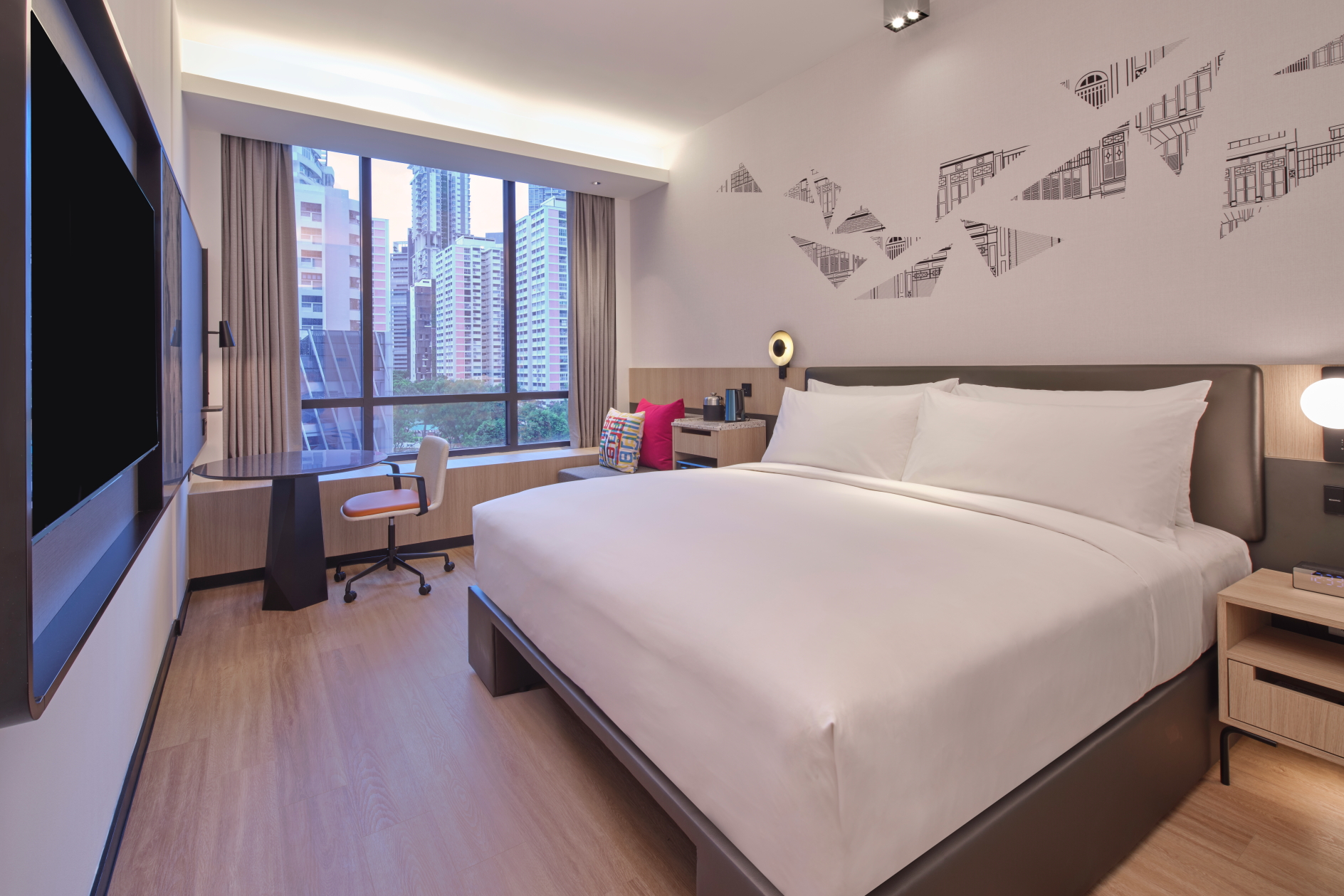 Marriott Opens World's Largest Aloft Hotel
Dark/Light Mode (20/09/23)  Marriott has expanded its portfolio of Aloft Hotels to Singapore with the

(20/09/23)
 Marriott has expanded its portfolio of Aloft
Hotels to Singapore with the opening of a hotel in the city's Balestier neighbourhood.
The twin-tower Aloft Singapore Novena has 781
rooms and four suites, ranging in size from 18 to 46 sqm and
furnished with a plush mattress, a 55" flat-screen television,
complimentary Wi-Fi and local calls, as well as in-room USB and
wireless charging points.
The hotel features a choice of F&B outlets
including a 24/7 grab-and-go outlet offering a selection of light meals,
snacks and drinks.
Additional facilities include a choice of indoor
and outdoor meeting and event spaces, a pool,
as well as 24/7
indoor and outdoor gyms.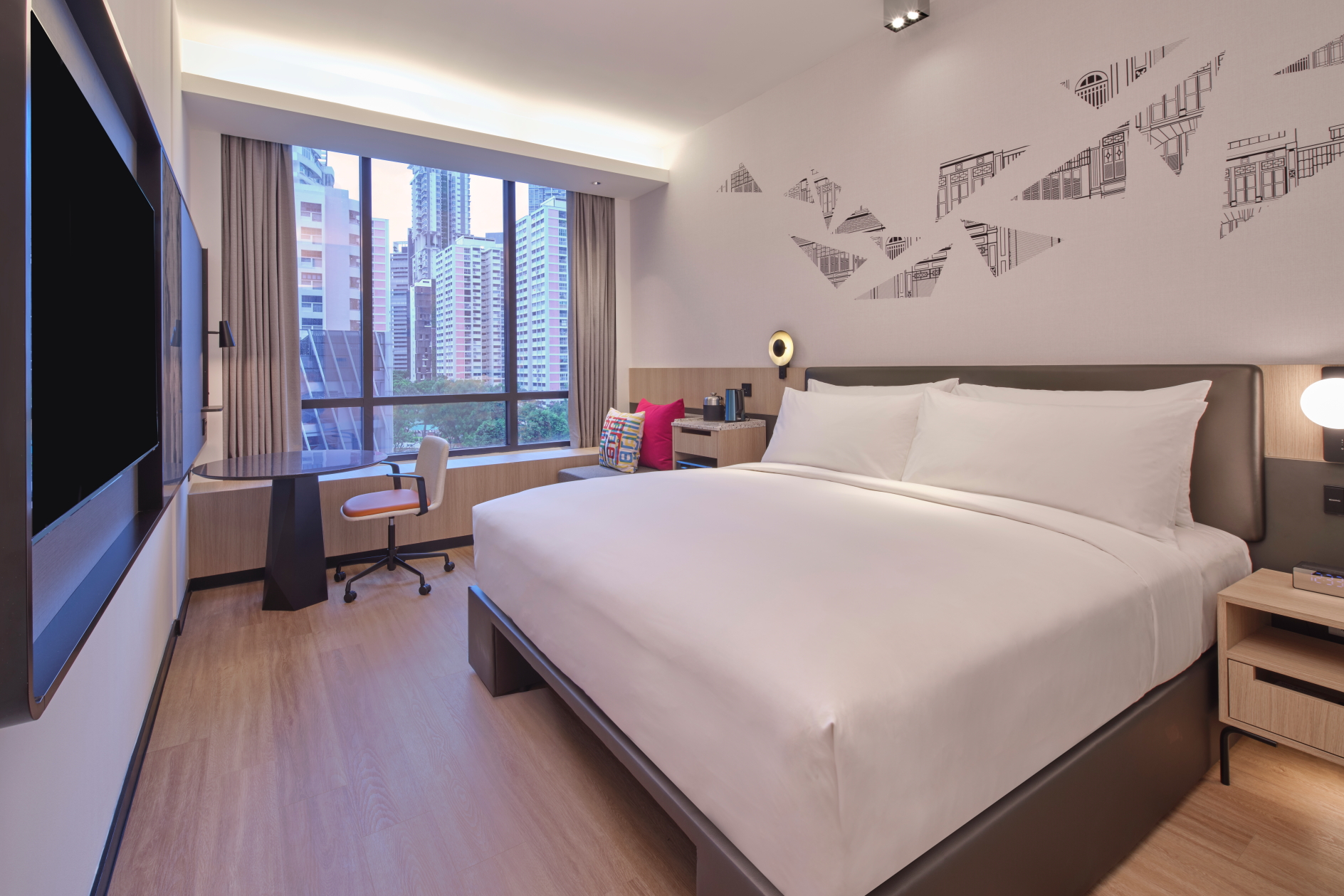 Room at the Aloft Singapore Novena
"We proudly celebrate the opening of Aloft
Singapore Novena as the largest Aloft hotel in the world," said
Tony Cousens, hospitality industry veteran and General Manager of Aloft Singapore Novena. "Primed
to deliver experiences that are fuelled by an eclectic fusion of
music and design, we are poised to offer unparalleled experiences
in the midst of the ever-changing travel landscape. With the
hotel's strategic location, we are also ideally positioned for
both business and leisure guests, allowing us to provide a dynamic
and vibrant space that caters to the evolving needs of modern
travellers."
Designed by KKS International,
Aloft Singapore Novena adopted a "different by design" philosophy
that champions personality and passion for music.
At the entrance
of the hotel stands a 2.5-meter crescendo sculpture
inspired by musical notes. The sculpture is artfully
crafted through the interplay of glass and light to emit a
spectrum of colours that visually symbolizes the energy and
vitality of every guest who steps into the hotel. The hotel lobby
boasts an 85"-inch video wall, showcasing electronic art from
renowned artists like Refik Anadol and Jonathan Monaghan, while another
noteworthy feature are the ceiling panels that offer a visually
stimulating display of light.
"We are excited to grow our global portfolio and
introduce the Aloft Hotels brand to Singapore," said Matthew
Boettcher, Vice President and Global Brand Leader of Aloft Hotels.
"Singapore goes beyond its title as a global financial hub, as it
also offers travellers a melting pot of cultures, cuisines and
ideas, making it a perfect destination for a dynamic brand like
Aloft. We look forward to welcoming our business and leisure
travellers alike to experience Aloft's unique spaces that are
infused with a sense of connection and personality."
Latest videos: 
Electric Airport Taxis at Almaty Airport (ALA) in Kazakhstan – Exclusive Video Interview with Co-Founder, Auez Tulegenov,
Novotel Living and Ibis Almaty Jetisu Hotels in Kazakhstan –
Interview with GM, Arseniy Tagaev, and
Almaty Marathon 2023 –
Video Interview with CEO, Saltanat Kazybayeva.