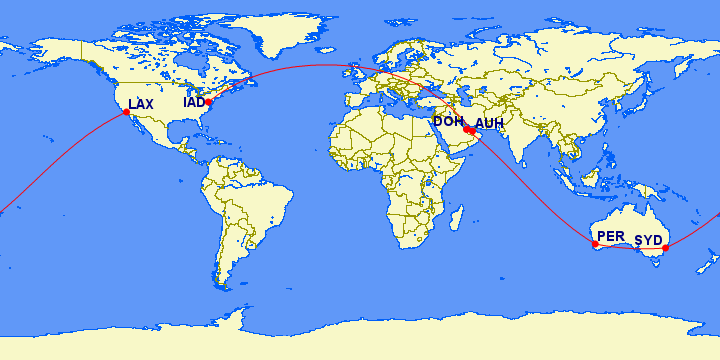 Introduction: Around The World With Dad
Welcome to my next trip report series, which will cover a recent round the world
Welcome to my next trip report series, which will cover a recent round the world trip with my dad. You can expect first and business class reviews of Etihad, Qatar Airways, Virgin Australia, and Qantas, plus reviews of several points hotels, including properties of Hyatt Regency, St. Regis, Hilton LXR, Ritz-Carlton, and… Holiday Inn Express.
Why we took this trip
A majority of the trips that I've taken in the past year have been "pure" review trips, which is to say that they're primarily intended to be able to review certain premium airline products and hotels. In this case, I decided to mix things up just a little bit.
I've had some very memorable trips with my dad over the years, but unfortunately in the past few years, I haven't traveled all that much with him. That's because my mom has been sick, and I've been prioritizing traveling with her.
That being said, my dad is always down for some fun flying and an adventure, and the perfect opportunity recently presented itself. There were some new flights experiences I really wanted to review… and there were two award seats available for the entire journey!
So I embarked on a review trip, but with my dad in tow. This was actually a total surprise for him, as he had no clue where we were going the entire time. He just found out which airline we'd be flying and what our next stop would be shortly before boarding each flight. He's such a good sport with this kind of stuff.
We had an amazing time, and I'm so happy we were able to do this.
The airlines we flew on this trip
Not including positioning flights (from Miami to Washington and Los Angeles to Miami), the review portion of this trip covered 22,605 miles, spread across five segments. As you'll see, I primarily redeemed American AAdvantage miles for this journey.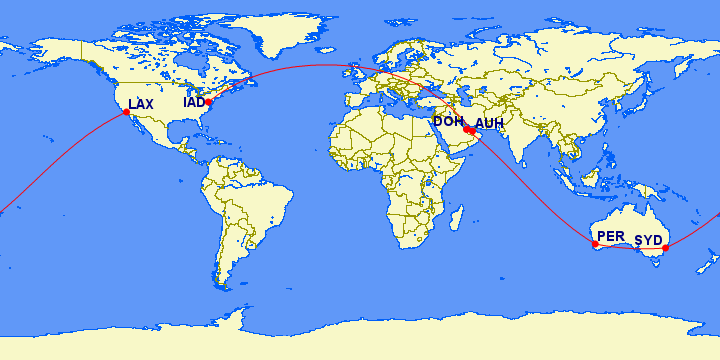 To kick off the trip, I booked us in Etihad and Qatar Airways first class to the Middle East. I booked the following for 115,000 American AAdvantage miles plus $18.55 in taxes and fees per person:
5/18 EY130 Washington to Abu Dhabi departing 9:15PM arriving 6:15PM (+1 day)
5/20 QR1055 Abu Dhabi to Doha departing 1:50AM arriving 1:55AM
That first segment was in Etihad's Boeing 787 first class. It had been years since I flew Etihad first class, so I was curious to see how the product was holding up, especially in light of my recent Etihad A350 business class flight, which was exceptional. Then the second flight was operated by Qatar Airways' brand new Boeing 737 MAX, which are aircraft that were initially intended for Russia's S7 Airlines.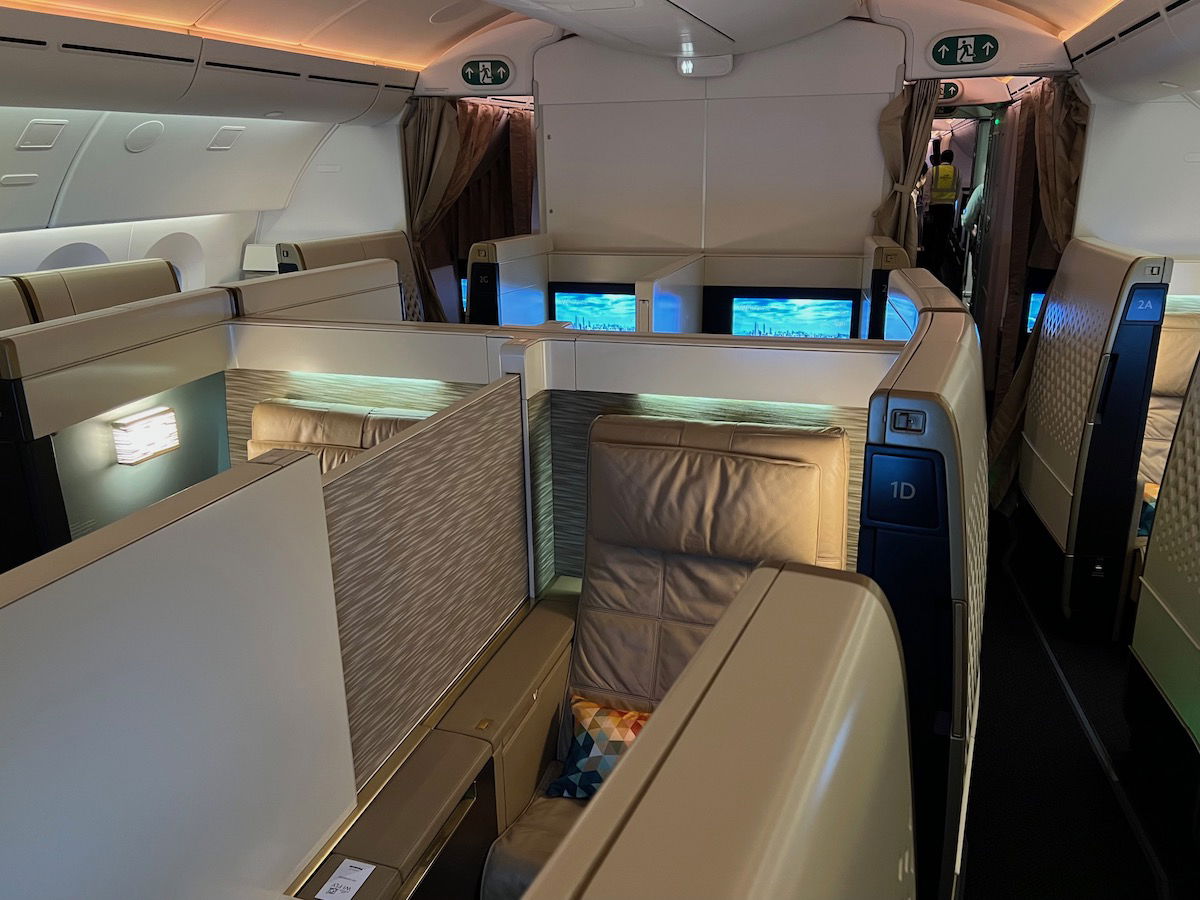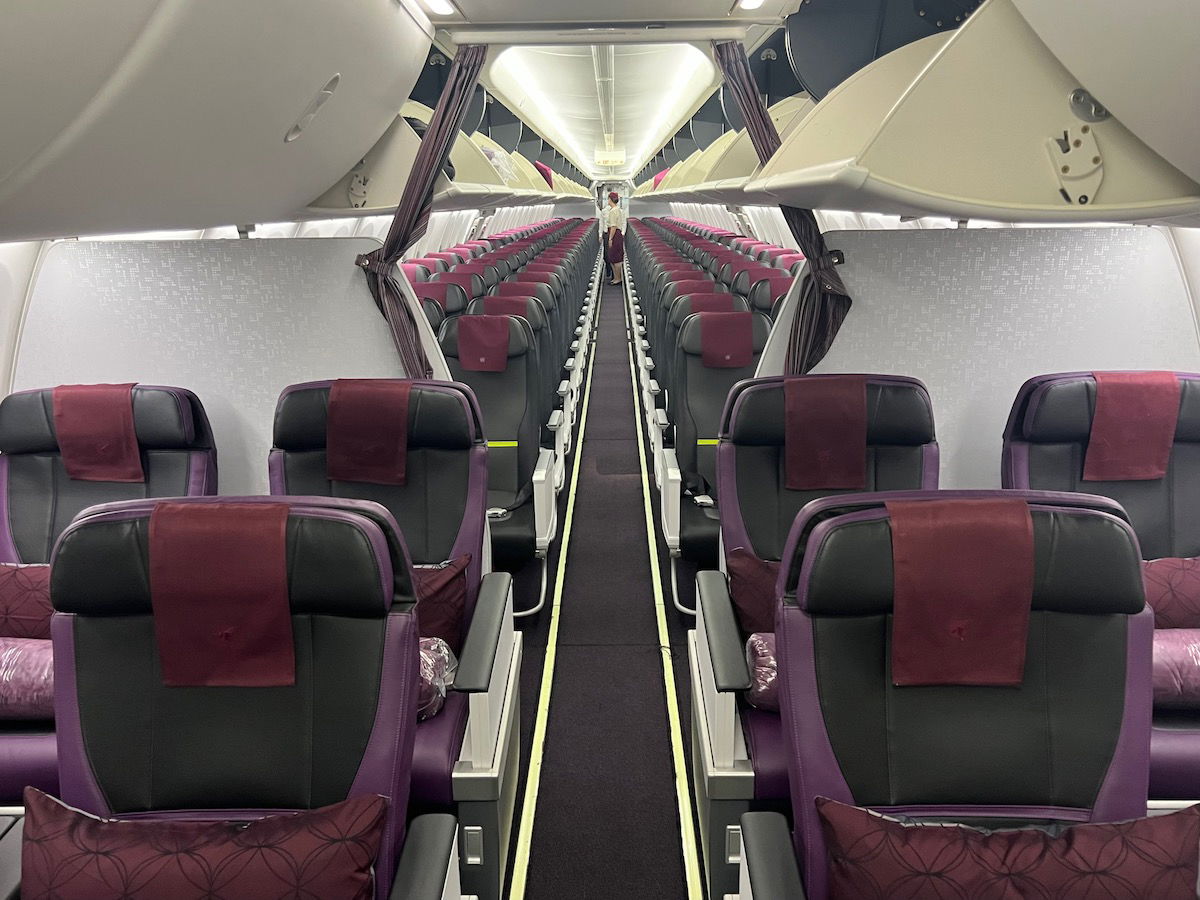 For the next portion of the trip, I booked us in Qatar Airways first class to Australia. I booked the following for 100,000 American AAdvantage miles plus $104.50 in taxes and fees per person:
5/23 QR900 Doha to Perth departing 2:25AM arriving 6:20PM
This flight featured Qatar Airways' A380 first class. I was looking forward to seeing how this product was holding up, as it had been years since I flew a Qatar Airways A380. Another primary motivation was being able to review all of Qatar Airways' new lounges at Doha Airport.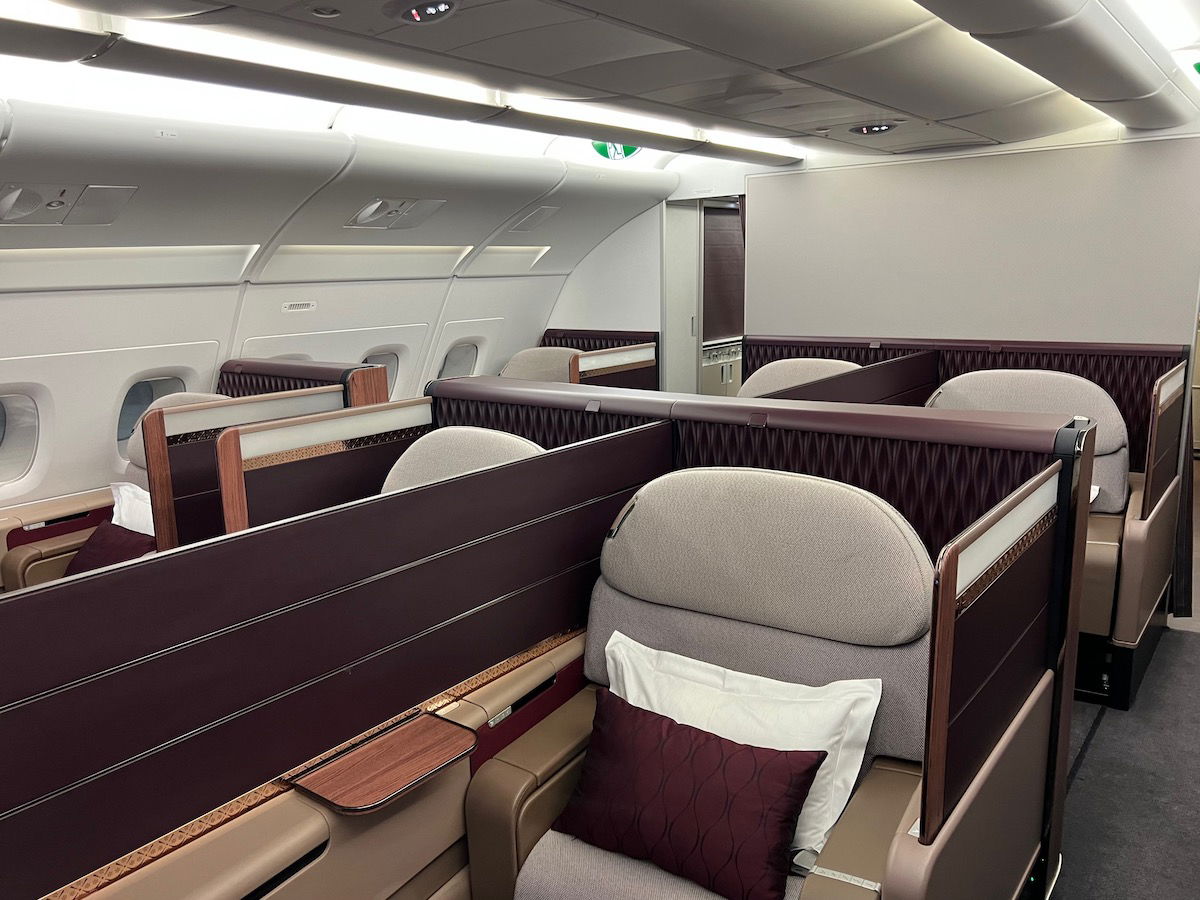 Next up, I booked us Virgin Australia business class for an Australian transcontinental flight. I booked the following for 28,800 United MileagePlus miles plus $12.10 in taxes and fees per person:
5/24 VA560 Perth to Sydney departing 1:15PM arriving 7:35PM
Why did we book Virgin Australia? Well, Qantas had no award availability, and cash fares were outrageous. This presented a good opportunity to fly Virgin Australia, as I was curious what the airline was like after restructuring. Note that there's a trick to finding Virgin Australia award space for multiple people, as the airline often releases one business class award seat at a time.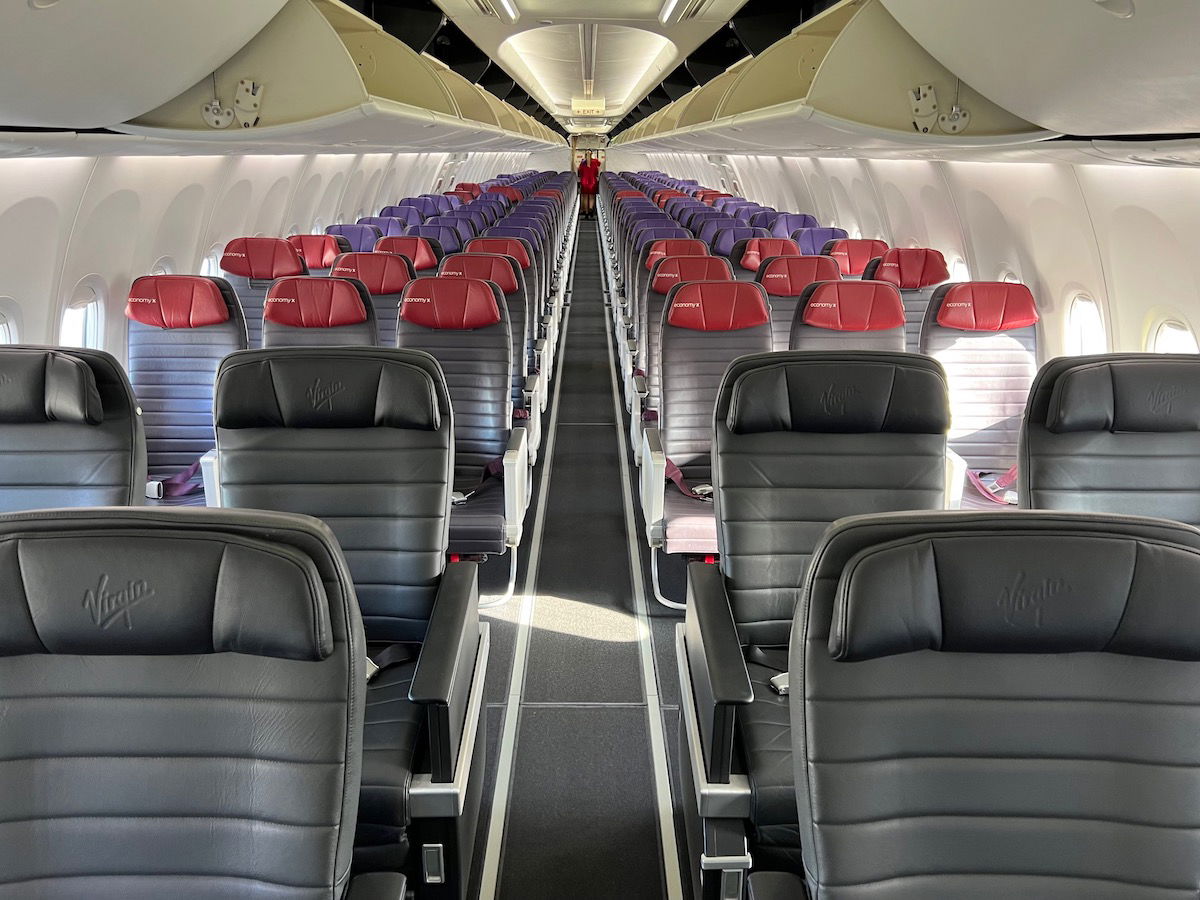 Last but definitely not least, we finished off the trip with what can only be described as a unicorn award, as I found two Qantas first class award tickets across the Pacific. I booked the following for 110,000 American AAdvantage miles plus $79.75 in taxes and fees per person:
5/25 QF11 Sydney to Los Angeles departing 10:20AM arriving 7:05AM
I couldn't pass up the opportunity to try Qantas' A380 first class once again, and also to revisit the Qantas First Lounge Sydney, which is one of my favorite lounges in the world.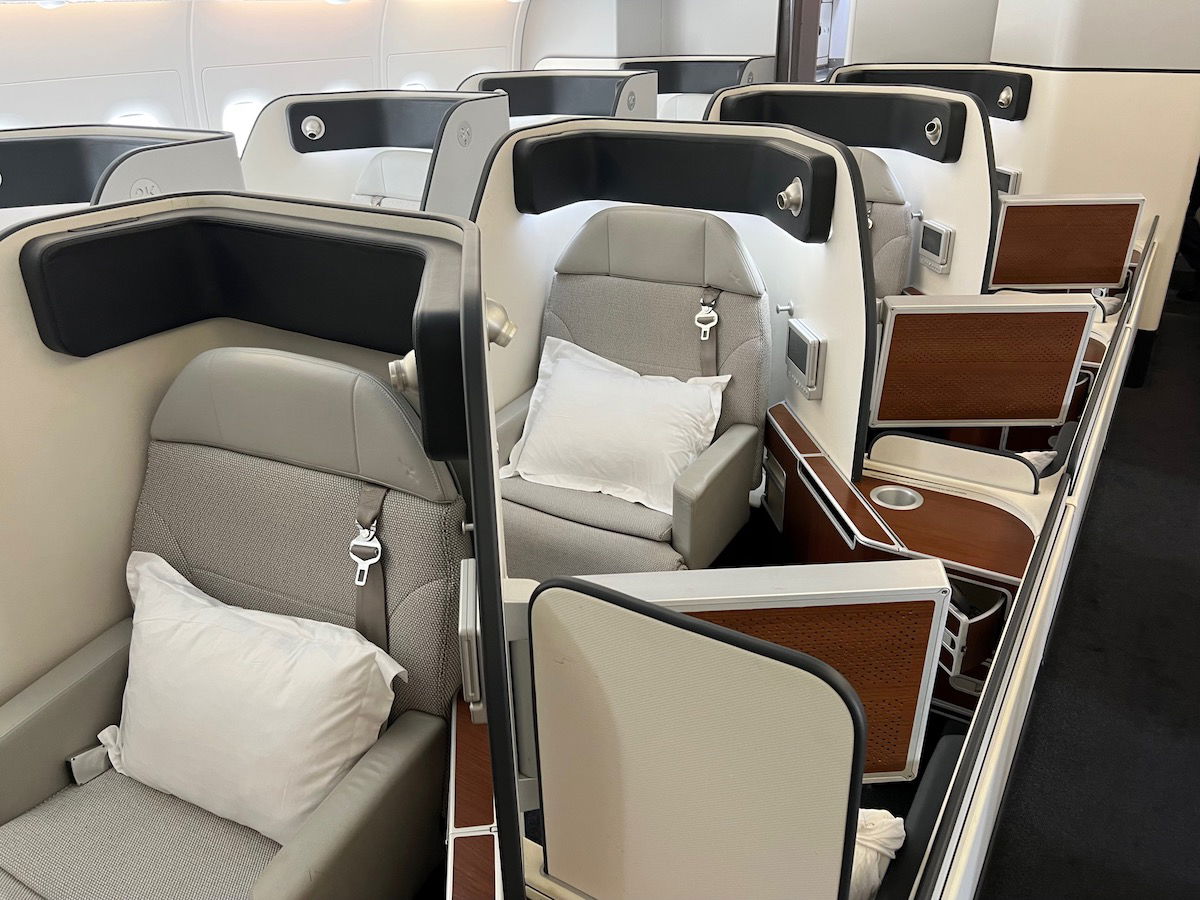 In addition to flight reviews, you can also expect reviews of the following airport lounges:
The Etihad First Class Lounge Abu Dhabi Airport (AUH)
The Qatar Airways Al Safwa First Class Lounge Doha Airport (DOH)
The Qatar Airways Al Mourjan Garden Business Lounge Doha Airport (DOH)
The Qatar Airways Platinum & Gold Lounge South Doha Airport (DOH)
The Qatar Airways Platinum & Gold Lounge North Doha Airport (DOH)
The Virgin Australia Lounge Perth Airport (PER)
The Qantas First Lounge Sydney Airport (SYD)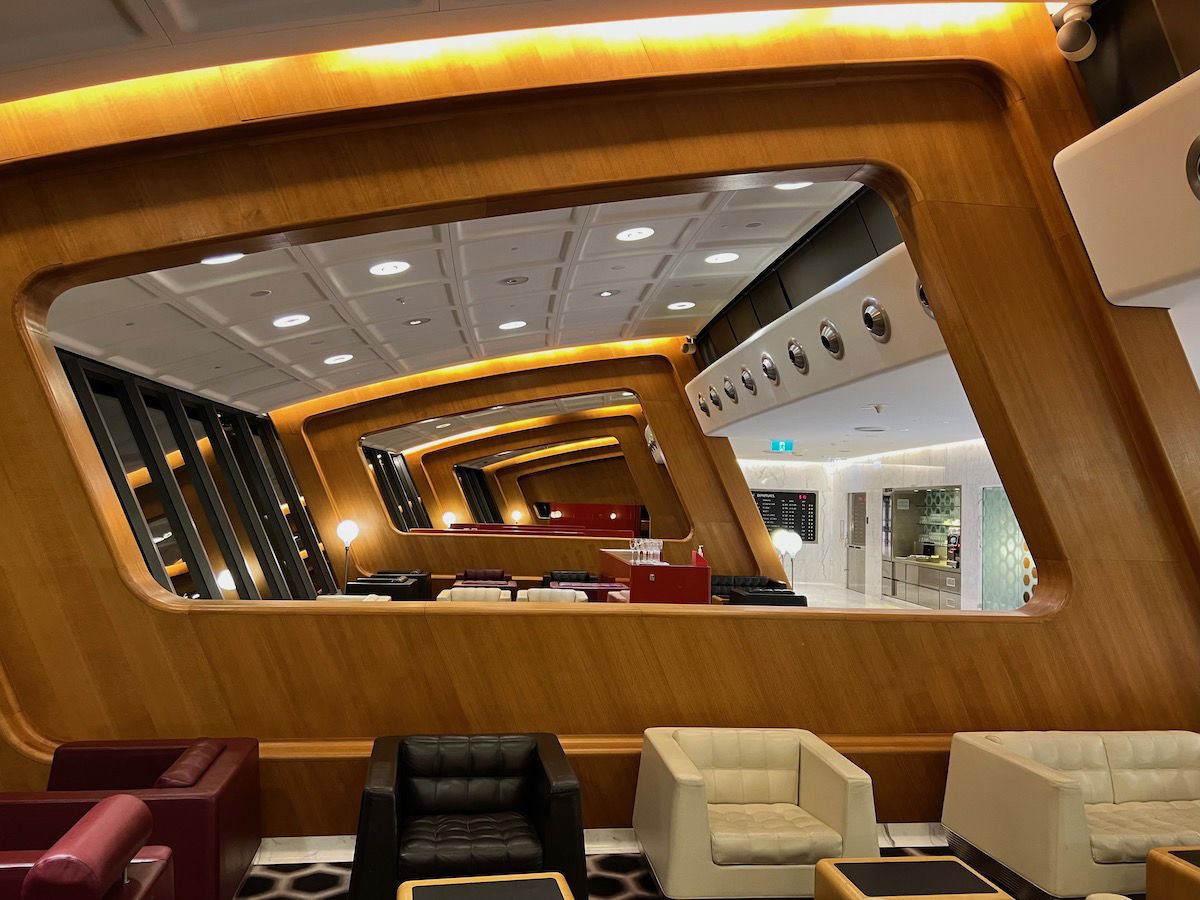 The hotels we stayed at on this trip
In an ideal world, we would have spent several days in each destination, especially Perth (which I had never visited before) and Sydney (which I hadn't visited for years). However, on this trip we ended up moving pretty fast for a variety of reasons:
I wanted to minimize our time away from home, since Ford was taking care of our 11-month-old at home
I planned the trip around the Sydney to Los Angeles flight, since I found two first class awards on that, and that's incredibly rare
I intentionally had us stay in Doha for a couple of nights, since our timing coincided with the opening of the new Qatar Airways Louis Vuitton Cafe
So in the end, we spent three nights in Doha, one night in Perth, and one night in Sydney.
In Doha, we stayed in three different hotels. Since we were arriving in Doha at around 2AM, we decided to spend the first night at the Hyatt Regency Oryx Doha. I booked this because it was cheap (just 5,000 World of Hyatt points), and also because it's close to the airport, so it just seemed like the most practical option.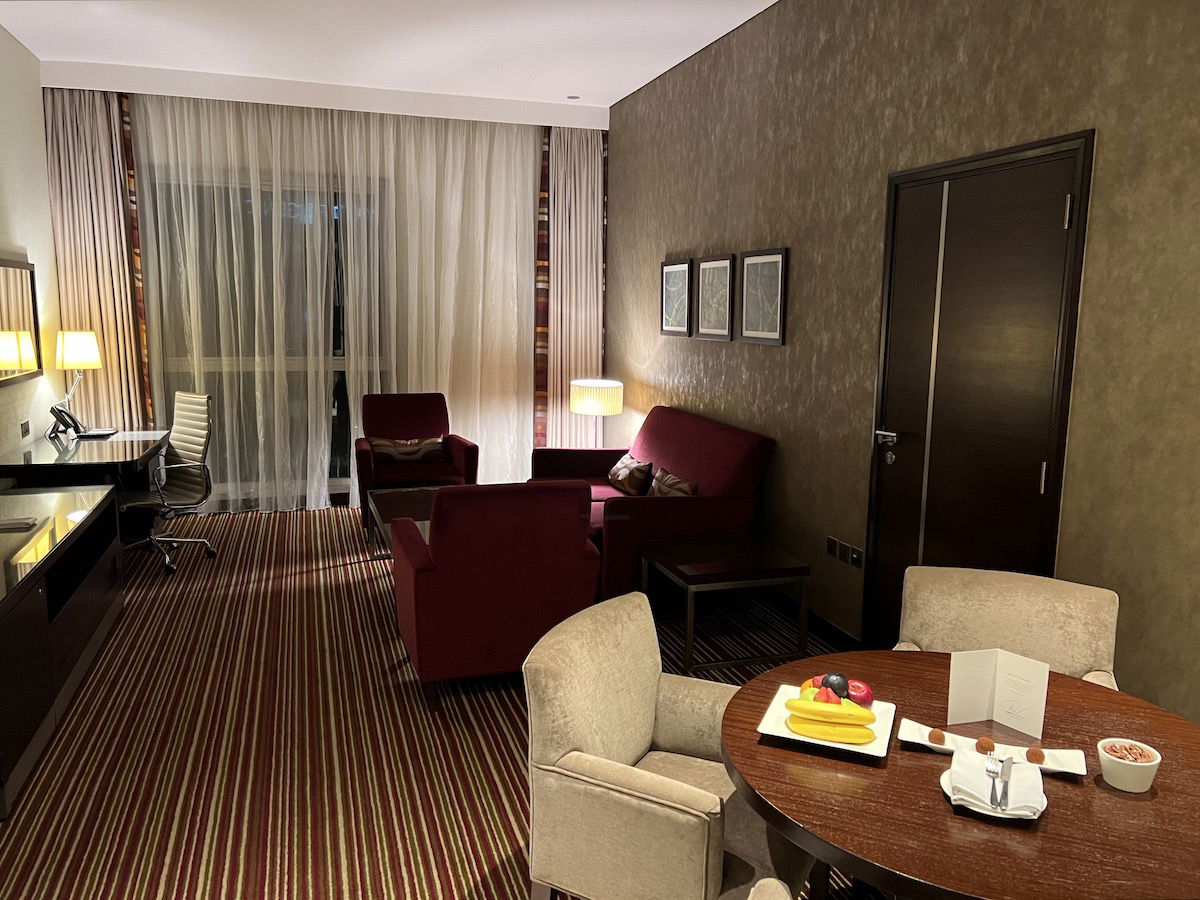 The next night we stayed at the most interesting hotel of the trip, Katara Hills, a Hilton LXR property, which consists of just 15 standalone villas. While the cash rate would have been nearly $2,000, I booked this using a Hilton Honors free night award — talk about a great value!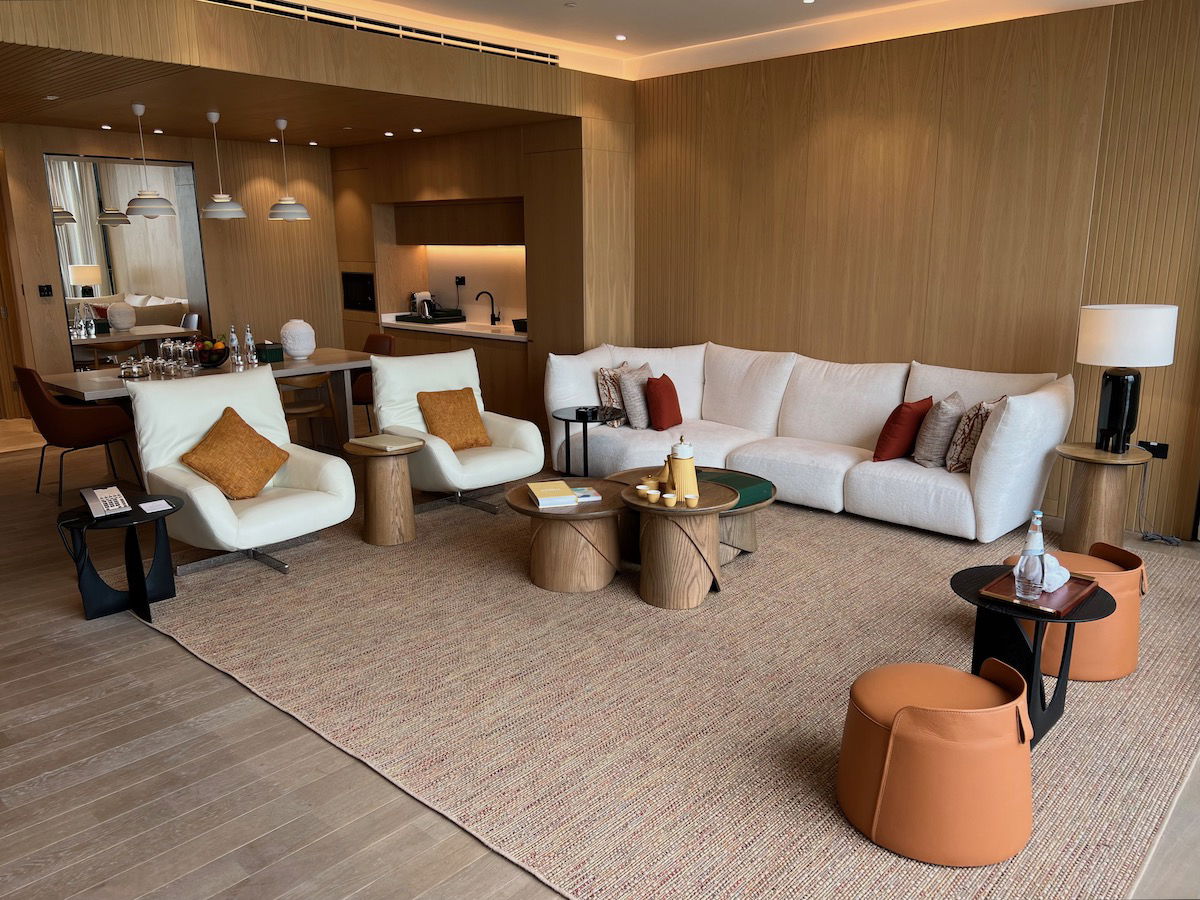 Lastly, we spent a night at the St. Regis Marsa Arabia Island Doha. I booked this using a Marriott Bonvoy free night award, valid at a property costing up to 35,000 points. Again, that was a great deal compared to the cash rate.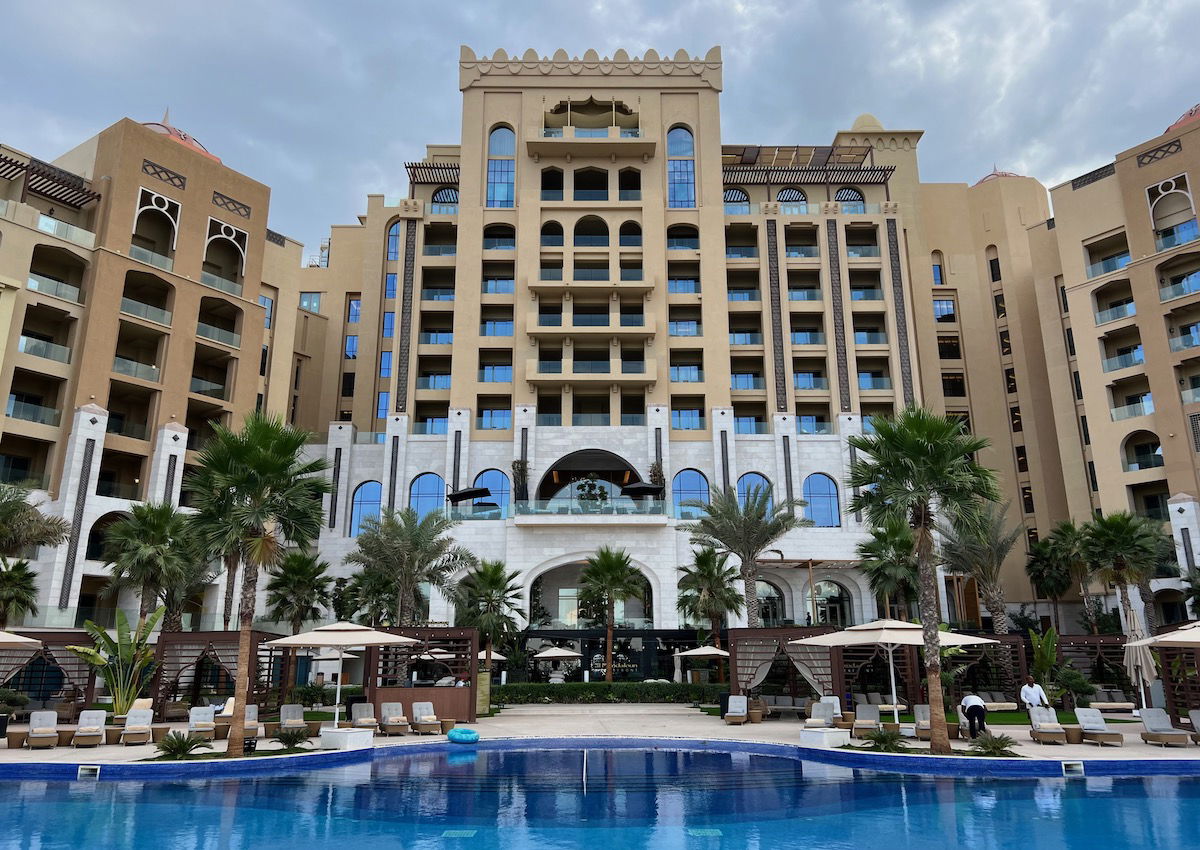 Next up in Perth, we spent a night at the Ritz-Carlton Perth. I booked this through Marriott STARS, and the cash rate was fairly reasonable, at around $300 for the night (USD). When you consider the added perks, like complimentary breakfast and a $100 property credit, I'd say that was a good deal.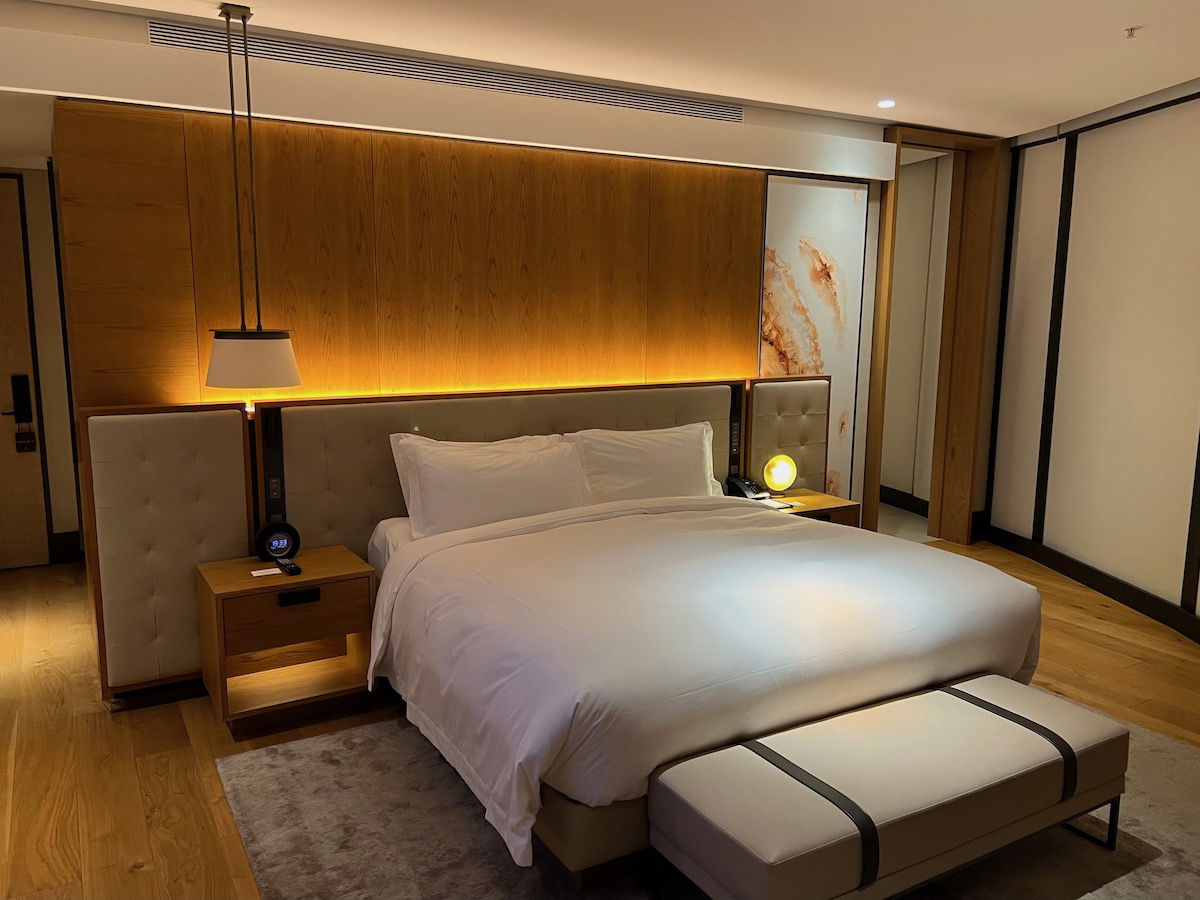 Lastly, we just had a quick overnight in Sydney, so we stayed at the Holiday Inn Express Sydney Airport. This did the trick for the night. While it would have cost nearly $200 for the night (USD), I redeemed an IHG One Rewards free night award for the stay, which was expiring soon.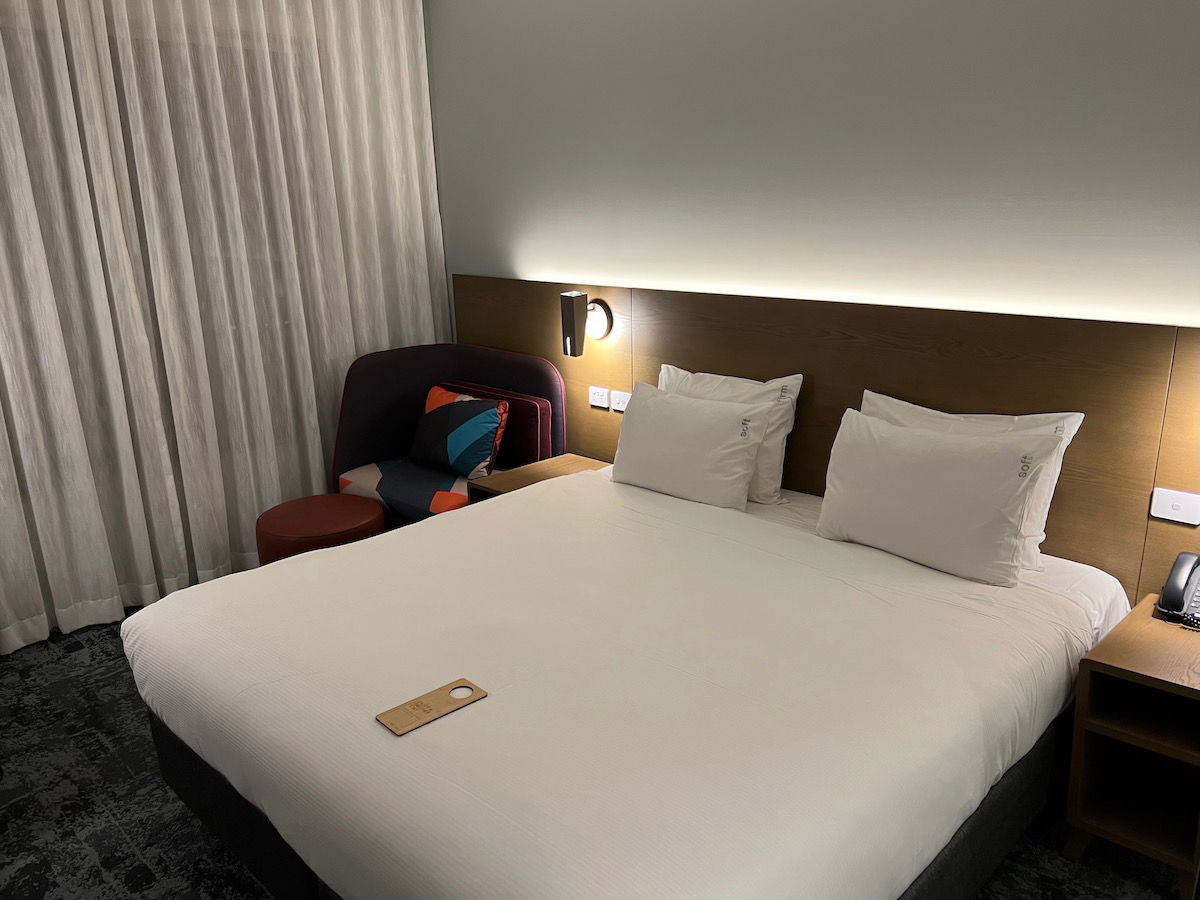 I've gotta say, this was a pretty great trip when it came to redeeming credit card free night awards!
Bottom line
My dad and I had a really fun trip around the world, even if we wish we had more time for the trip! We had some awesome flights, stayed at some interesting hotels, checked out some great lounges, and enjoyed exploring Doha (which is so much more interesting than a couple of years ago, by the way) and briefly visiting Perth.
Stay tuned for this series, and thanks for reading!