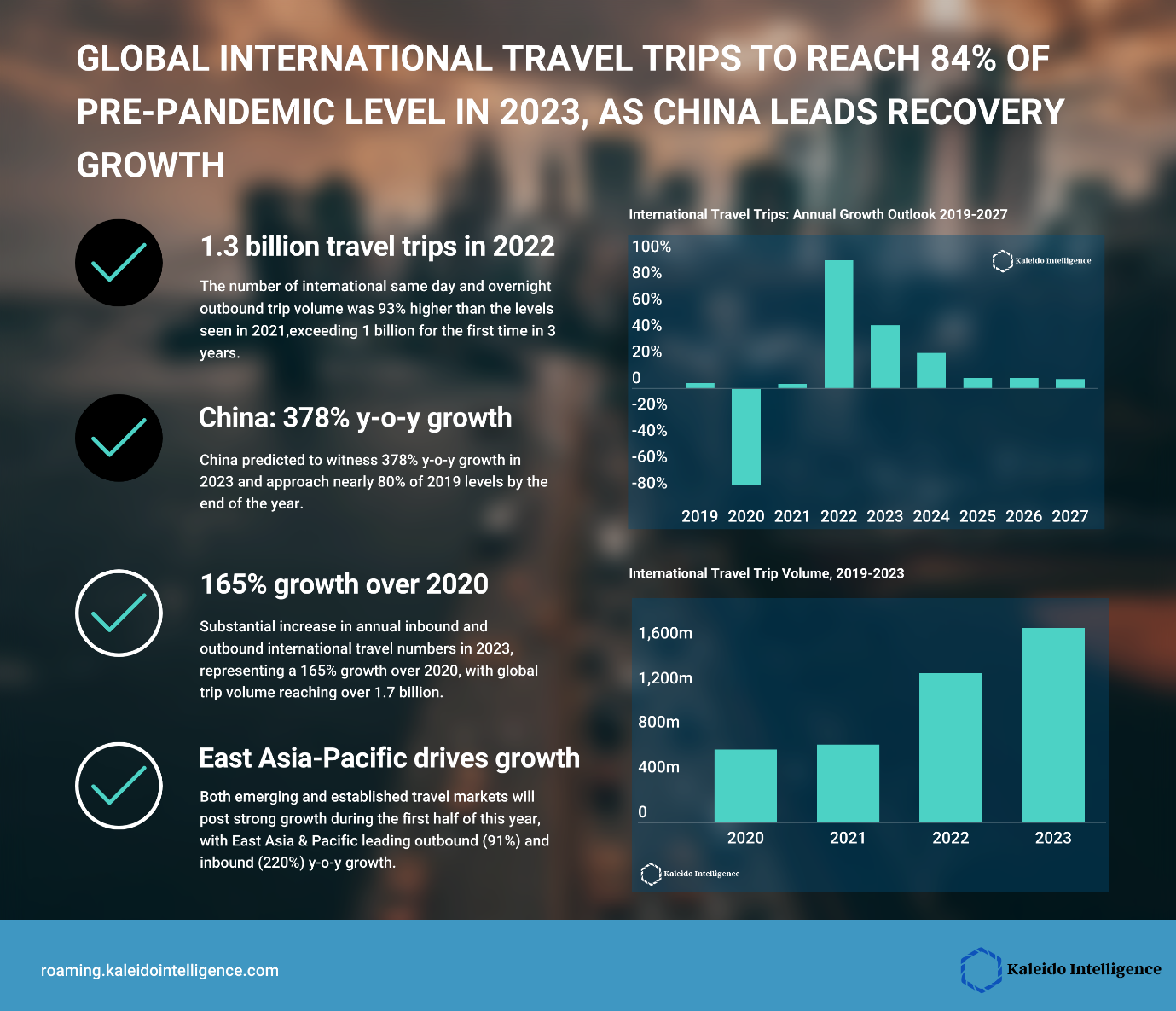 Global International Travel Trips to Reach 84% of
LONDON, Jan. 24, 2023 (GLOBE NEWSWIRE) — Kaleido Intelligence's International Travel Data Hub 2023 predicts a
LONDON, Jan. 24, 2023 (GLOBE NEWSWIRE) — Kaleido Intelligence's International Travel Data Hub 2023 predicts a substantial increase in annual inbound and outbound international travel numbers in 2023, representing a 165% growth over 2020, with global trip volume reaching over 1.7 billion.
With leading travel corridors approaching, or in some cases exceeding, pre-COVID levels, the international travel market will be given a significant boost in recovery by the recent lifting of COVID-related travel restrictions by China. Chinese international travel bookings are currently recording their best performance since 2019 and Kaleido predicts that China will witness 378% y-o-y growth in 2023 and approach nearly 80% of 2019 levels by the end of the year.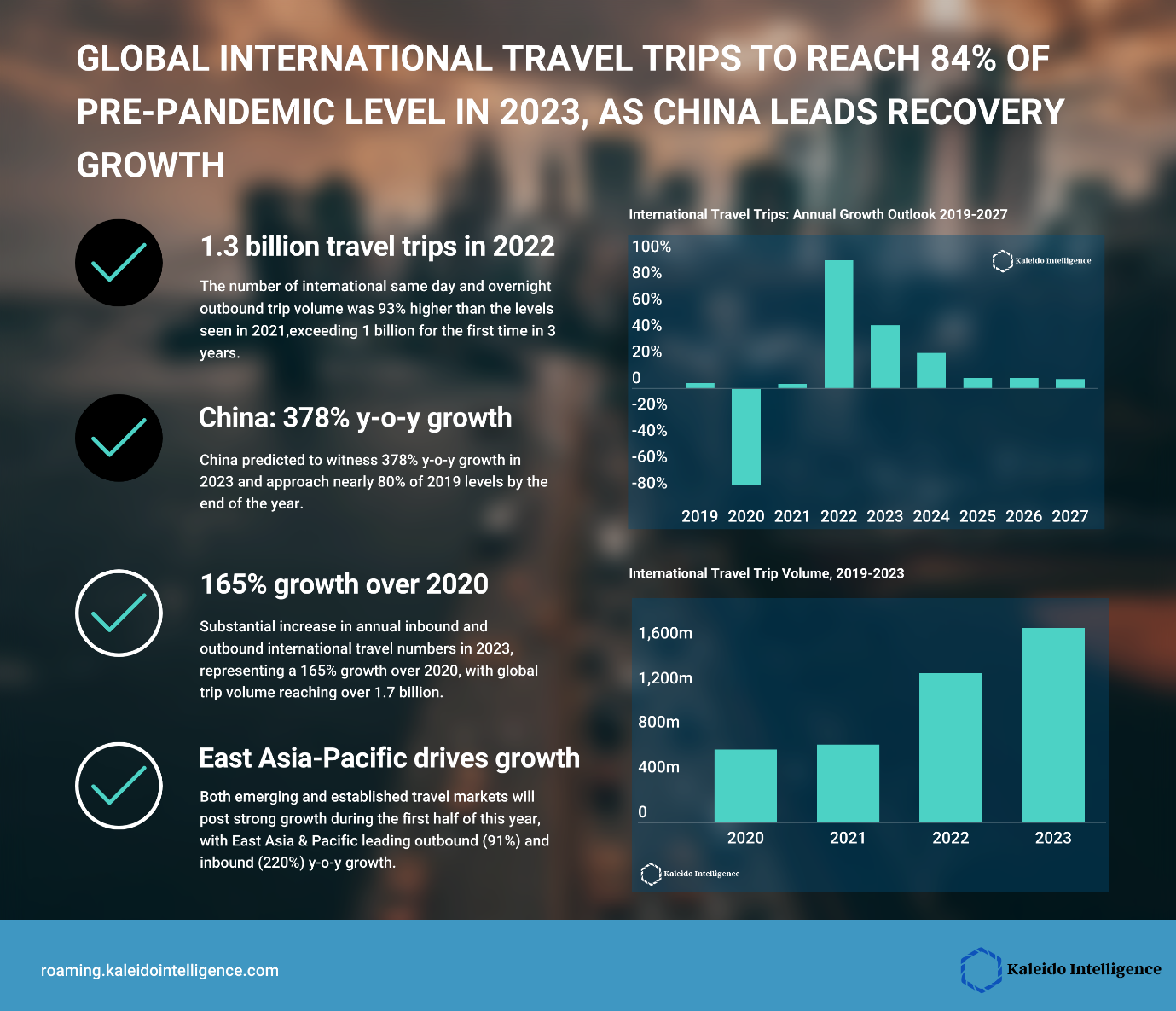 International Leisure & Business Travel Trips Reached 1.3 Billion in 2022
Kaleido's International Travel Research 2023 estimated that the number of international same day and overnight outbound trip volume in 2022 was 93% higher than the levels seen in 2021, exceeding 1 billion for the first time in 3 years.
Nitin Bhas, Chief of Strategy & Insights at Kaleido Intelligence added: "Travel markets around the world reported strong passenger demand during Q2-Q4 2022, with global traffic reaching around 65% of pre-COVID-19 levels by the end of the year. We are currently witnessing volume across leading travel corridors in Europe, North America, and the Middle East already exceeding 2019 levels."
Strong Growth in 2023, Driven by East Asia & Pacific Region
International travel will continue to witness robust and continued growth in 2023, driven by an increase in consumer confidence in travelling (especially long haul journeys) as well as the release of a pent-up demand for holidays and international travel amongst Chinese travellers.
However, the research found that geopolitical challenges related to the conflict in Ukraine, a weakened economic outlook for major markets, and other key factors such as cost of flying, will influence the recovery trajectory.
Kaleido predicts that both emerging and established travel markets will post strong growth during the first half of this year, with East Asia & Pacific leading outbound (91%) and inbound (220%) y-o-y growth.
Obtain insight into the impact of travel recovery on international roaming traffic and revenues in your market by requesting an interview with Kaleido Intelligence.
About Kaleido Intelligence
Kaleido Intelligence is a specialist consulting and market research firm with a proven track record delivering telecom research at the highest level. Kaleido Intelligence is the only research company addressing mobile roaming in its entirety, covering:
Data Forecasts by Market
Historical & Forecast Viewpoints
Competitive Intelligence
Strategic Insight
Trend Analysis
Research is led by expert analysts, each with significant experience delivering telco research and insights that matter.
Contact details for further information:
Jon King
Chief Commercial Officer, Kaleido Intelligence
A photo accompanying this announcement is available at https://www.globenewswire.com/NewsRoom/AttachmentNg/5b8f5935-f8bf-4632-be3f-84cc06b6326a