FIFA Women's World Cup Guide: Plan Your Trip to Australia and New Zealand
Sixty-four electric games. Thirty-two qualifying teams. Thirty-one jam-packed days. Ten state-of-the-art stadiums. Two stellar host
Sixty-four electric games. Thirty-two qualifying teams. Thirty-one jam-packed days. Ten state-of-the-art stadiums. Two stellar host countries. One world champion. That's right: The FIFA Women's World Cup is back at it this July, setting its sights on Australia and New Zealand for a soccer showdown to remember.
July 20, 2023 marks the month-long tournament's ninth time hitting the pitch, and this year's version promises to be nothing less than a show-stopping event. More teams than ever before will compete for the grand prize, a full 32 up from 2019's 24. In countries large and small, club leagues have transitioned from semi-pro to fully professional outfits, attracting the likes of tested superstars and budding rookies alike while strengthening national team rosters around the world.
And while chants of "Messi!" and "Mbappe!" might still be ringing in our heads coming off of an explosive Men's World Cup in Qatar, there's no denying that the women's game is nipping at their heels. According to the 2022 UEFA European Women's Championship's post-mortem report, a record 574,875 spectators representing more than 100 countries flocked to England to catch matches in-person last summer, while a whopping 365,000,000 watched along from home. An even more telling stat? 85% of attendees said they would continue to support international domestic women's football in the coming years.
So the stage is set. The players are ready. And there's only one thing left to do: Get you to the game. Here's everything you need to know about planning a once-in-a-lifetime trip to the 2023 Women's World Cup.
Why this Women's World Cup is bigger and badder than ever
As the last year has shown, an expanded team pool means even more cutthroat qualification games. National squads around the globe have been duking it out in a series of heated matchups leading up to 2023, including major events like the aforementioned UEFA European Women's Championship, which saw host England prevail in a two-one stunner against Germany to secure their World Cup bid. Ten other teams from that memorable tournament also managed to punch their tickets to the big show, alongside automatic qualifiers Australia and New Zealand, plus the top 16 contenders coming out of the 2022 AFC Women's Asian Cup, North America's CONCACAF W Championship, South America's 2022 Copa América Femenina, and the 2022 Women's Africa Cup of Nations. The remaining three slots will be determined via a special 10-team play-off scheduled to go down in February.
Of the 29 already-qualified teams, there are plenty of favorites to keep your eyes (and perhaps your wallets) trained on. The US Women's National Team is a no-brainer, having won both the 2019 Women's World Cup and the more recent CONCACAF Championship. England's decorated Lionesses appear unstoppable after their dazzling UEFA performance, and Team Canada's gold medal at the Tokyo 2020 Olympics shouldn't go unnoticed. Fellow frontrunners Brazil, Australia, France, Germany, Spain, Japan, China, Sweden, and the Netherlands are all guaranteed to put up a fight, while World Cup newcomers Zambia, Morocco, Philippines, Vietnam, and the Republic of Ireland are dangerously eager to prove their worth.
For the first time ever, the Women's World Cup will be spread throughout 10 different stadiums between the dual co-hosts, giving attendees even more reason to get out of the grounds and take in everything Australia and New Zealand have to offer. Both countries are pulling out all the stops for the upcoming tournament, polishing up their stadiums and designated viewing areas, bringing in sponsors, and developing fan-centric attractions to run alongside the matches. Even now, some six months before kick-off, the atmosphere is brimming with electricity.
"A lot of the men's players are really actively promoting the women's game, particularly when it comes to the FIFA Women's World Cup," says Sydney-based freelance journalist and avid football fan Lavender Baj. "The fact that there was such a short timeframe between the end of the men's tournament and the start of the women's means that the passion for football is at an all time high—hopefully we'll see a massive influx of fans flocking to Australian shores to watch the girls."
The group stages are split evenly between the countries, with New Zealand squaring off against Norway at Auckland's Eden Park for the opening match on July 20, followed closely by Aussie captain Sam Kerr's Matildas taking on Arsenal legend Katie McCabe's mighty Republic of Ireland in Sydney later that day. American viewers can watch all 64 games live with English-language coverage on FOX (Spanish broadcasts will screen on Telemundo Deportes), but fans stuck stateside should brace themselves for a wild ride, sleep-wise—7 pm in Australia translates to 3 am New York time. So unless you're content to embrace a nocturnal lifestyle this summer, you should probably consider booking a flight, snagging some tickets, and basking in the glow of the beautiful game right from the sun-drenched stands.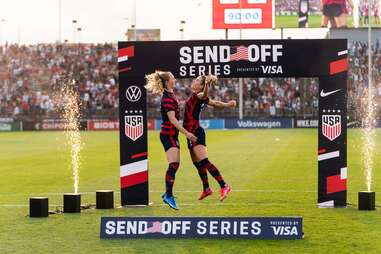 Make the trip Down Under on a guided tour or solo adventure
Gearing up for a World Cup adventure is no small task—and that goes double when you're dealing with an unprecedented amount of games staged across two different countries on the other side of the planet. Thankfully, that's where sports-focused travel agencies like Roadtrips come in.
"This is our third Women's World Cup and it's a growing product for us—people love it," says founder and president Dave Guenther. "It's been really interesting and exciting to see this event take off, and we're creating all kinds of customized experiences for Australia and New Zealand this summer."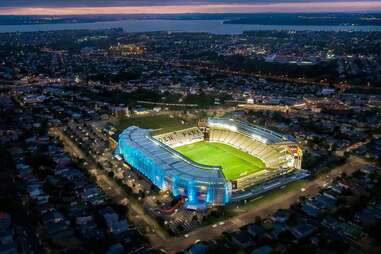 Roadtrips, along with other leading US-based companies like Victory Sports Tours and Alliance Sports Travel, represents a growing number of luxury travel agencies taking advantage of a current surge in sports-motivated travel. Tired of sitting on the proverbial sidelines for the last few pandemic-ridden years, sports fans the world over are now making an increased effort to attend big ticket contests in-person. And for USWNT diehards, that means first setting their sights on the beautiful island nation of New Zealand, where the reigning champions will face Vietnam and the formidable Netherlands during the tournament's initial group stage.
"Team USA's schedule runs between Auckland and Wellington for three matches," Guenther says. "Roadtrips will have a full host team servicing guests, great hotels in both cities, personalized meet and greets, dedicated transfers, options for private day tours, and everything else someone needs to turn a World Cup into a full New Zealand experience—plus the opportunity to attend the matches."
In addition to the USWNT group stage deal, Roadtrips also offers itineraries encompassing the semi-finals and finals, as well as custom tours and the ability to follow other teams like Canada, Brazil, and England. Packages like these aren't cheap, of course. But considering the only component you have to arrange on your own is getting yourself on the plane, the starting rates—$4,295 per person for seven nights and $6,945 per person for a 12-night excursion—seem like a small price to pay for an up close and personal look at the most elite players in women's football.
On the other hand, you can always forge your own path. For that, you'll need to secure your transportation and lodging in each host city, a whirlwind list that includes Brisbane, Dunedin, Auckland, Adelaide, Melbourne, Perth, Sydney, Hamilton, and Wellington. Single-match tickets are on sale now through March 3 via FIFA's official website, and while they won't set you back too much money-wise, big matches will sell out quickly, so you better get on that pronto.
No matter how you get there, make sure to carve out some time to soak up the landscape lurking outside the stadium walls. Because unless you're a professional jet-setter, spending a few weeks traversing New Zealand and Australia is the definition of a bucket list item—whether or not the Women's World Cup happens to be in town.
What to do and see between matches
"From a tourism perspective, Australia's joint hosting of the 2023 FIFA Women's World Cup is well-timed as the world emerges from the global pandemic and people are looking to travel again," explains Chris Allison, vice president of North America for Tourism Australia. "From our world-class sporting facilities [to] our stunning natural environment, our diverse cuisine reflecting the many cultures who call Australia home, and our warm and welcoming people, the World Cup will leave a lasting legacy as one of our country's great sporting moments, not just in the five host cities, but in communities across the country."
Allison has good reason to be optimistic about the World Cup's impact on Australia's still-recovering international tourism industry. The tournament spans a huge portion of the country's impressive 2,941,300 square miles, from metropolises like Sydney and Melbourne all the way to the Western Australia capital of Perth. Along the way, games in seaside Brisbane and southern charmer Adelaide provide even more incentive to venture outside the stadium and stretch your legs.
"Our experience from previous international sporting events is that fans, family, and friends tend to travel between host cities and surrounding regions to experience Australia between matches," Allison adds. Whether you're planning an epic road trip or lining up a series of flights, there's no shortage of extracurricular activities to keep you busy whenever your eyes aren't glued to the pitch.
Tourism Australia has a litany of recommendations for World Cup fans looking to round out their schedules. Aside from hotspots like Sydney Harbour Bridge and Opera House, Sydney's home to rich historic and cultural districts like The Rocks and Circular Quay, buzzy newcomer Barangaroo, and the always-bustling Central Business District (CBD). Bondi Beach, Bronte Beach and Clovelly, Palm Beach, and Coogee provide the ocean vibes, while seafarers in search of an aquatic adventure can book unforgettable immersive experiences via Sydney Harbor Exclusive Luxury Yacht Charters and Sydney Seaplanes.
In Melbourne, don't miss the art-strewn Laneways, charming St Kilda, posh Fitzroy and Collingwood, and Carlton, an Italian enclave brimming with quality restaurants and cutting-edge coffee shops. Got a little extra time? Drink your fill along a Yarra Valley Wine Tasting Tour or take to the skies with Global Ballooning. As for fast-growing Brisbane, Tourism Australia suggests hitting the water with River to Bay tour boats, GoBoat's fleet of private picnic charters, and Brisbane Whale Watching. Did you know Queensland is one of just two Australian states where you can snuggle up to a real-deal koala? Find out more at Lone Pine Koala Sanctuary—the selfies alone will be worth the effort. And down in Adelaide, it's all about good food and drink, from the crowd-pleasing stands lining Adelaide Central Market to some of the Southern Hemisphere's top vineyards stationed within South Australia's wine country.
Co-host New Zealand is also gearing up for this summer's impending wave of international tourists. The famously scenic island nation has been hard at work unveiling new and exciting attractions for visiting football fans, from swanky five-star boutique hotels in Auckland to award-winning Indigenous cuisine in Wellington.
"Over the last few months, we have been preparing to show fans from all around the world what makes Aotearoa New Zealand unique," says Sarah Handley, general manager of Europe and the Americas at Tourism New Zealand. Case and point? In an effort to "set the tone of manaakitanga (a deep expression of hospitality)," Handley and her team went so far as to partner with Auckland-based Māori hapū Ngāti Whātua Ōrākei to create custom welcome videos for each visiting team's homeside.
But that's not all. "There are so many distinct activities fans can experience in each of our host cities," Handley continues. "Some can easily be done between games, from visiting the iconic Sky Tower in Auckland to discovering all things Lord of the Rings and The Hobbit at the Wētā Cave & Workshop in Wellington. If you have more time and are looking for something more immersive, we recommend meeting the world's smallest penguin in Dunedin or zip lining through Hamilton's glow worm-studded wonderland."
Want more Thrillist? Follow us on Instagram, Twitter, Pinterest, YouTube, TikTok, and Snapchat!
Meredith Heil is the Editorial Director of Thrillist Travel.