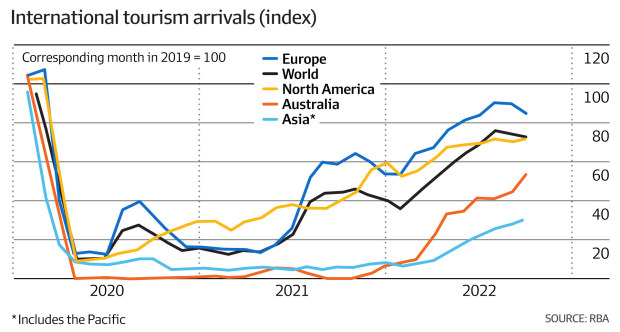 Experience Co CEO John O'Sullivan says China COVID tests on travellers should be removed as soon as possible
"This is a very sought-after market by all our competitors, and it's a market that
"This is a very sought-after market by all our competitors, and it's a market that moves quickly and to scale. The past 12 months has only confirmed to us that the more barriers you put up for travellers, such as visas, application times, cost or requiring a PCR test, the more likely they are to look for an easier, alternative destination."
Chinese travel platform Ctrip reported that soon after the Chinese government announced the relaxation of travel restrictions late last month, searches for popular cross-border destinations had increased 10-fold. Destinations in demand included Macau, Hong Kong, Japan, Thailand and South Korea.
Outbound flight bookings from China made on Trip.com (part of the Ctrip group) jumped 254 per cent on December 27, from the day before.
Australian operators hurting
International flight capacity in and out of China remains about 8 per cent of pre-pandemic levels, according to VariFlight data. The country's three big carriers – China Air, China Southern and China Eastern – are looking to ramp up capacity as soon as possible in preparation for Chinese New Year. The year of the rabbit begins on Sunday, January 22.
It's good news for Australian tour operators who have felt the loss of their biggest foreign source market.
"We had not budgeted for Chinese travellers for FY 2023, so this is really welcome news, and we're eagerly anticipating their return," said Mr O'Sullivan, whose Experience Co runs skydiving, snorkelling and a host of other tourism activities once heavily reliant on foreign tourists.
"We need to work on re-establishing frequent, reliable aviation capacity between China and Australia."
He estimated about 12 per cent of total inbound aviation capacity came from Chinese cities pre-pandemic.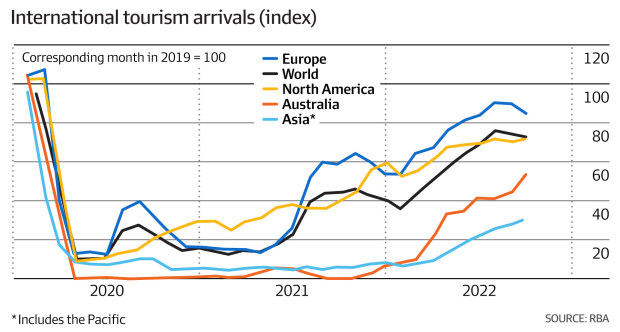 From January to October last year, the first year of relatively easy travel in and out of Australia since March 2020, international visitors arriving recovered to more than 34 per cent, while Australians travelling overseas recovered to 43 per cent, according to Tourism Research Australia data.
That meant about 3.2 million foreign tourists arrived in Australia, versus more than 4.3 million Australians heading overseas on short-term trips.
It might still be a far cry from 2019 when 9.4 million incoming tourists (led by Chinese travellers) virtually made up for more than 10 million outgoing Australians.
But Deloitte Australian tourism sector leader Adele Labine-Romain hails the inbound figures as a "pretty impressive achievement after almost two years of closed borders". This was especially so given Australia is an expensive long-haul destination for most foreign tourists, certainly those flying from the northern hemisphere.
"The strength of domestic travel by Australians is up $13 billion or 20 per cent on 2019 figures, and that has provided a cushion this year as international tourism fully reboots; let's just hope we are really on our way with that reboot now."
Australians are among the most frequent travellers to be found anywhere, and our wanderlust continues, despite economic headwinds. We plan to keep spending on leisure travel, according to the Deloitte Global State of the Consumer Tracker as of last October.
"Inflation and the cost of everyday purchases is top of mind, according to our data, but the intention to spend on travel is staying firm, and that is across all travel expenditure price points. We are not easily dissuaded from our plans to travel," Ms Labin-Romain said.