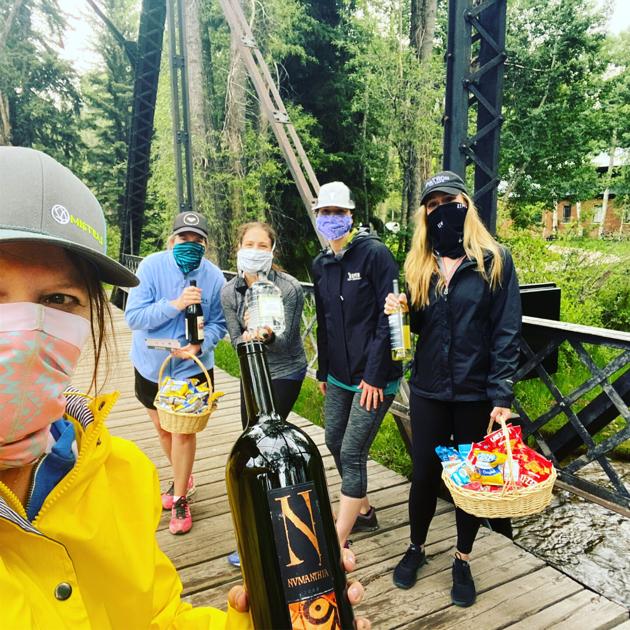 Braun, ACRA recognized by gov's office; COVID messaging, outdoor recreation opportunities kept Aspen open, safe | News
Debbie Braun, president and CEO of the Aspen Chamber Resort Association, received the Governor's Award
Debbie Braun, president and CEO of the Aspen Chamber Resort Association, received the Governor's Award for Outstanding Individual Contribution to Colorado Tourism last week.
Additionally, the ACRA team was given the Outstanding Community Tourism Initiative Award for achieving gold-level status from the International Mountain Bike Association for mountain bike routes throughout the valley.
The awards were announced at a governor's tourism conference at Red Rocks Amphitheater with attendees logging in virtually from throughout the state. The announcement of Braun's achievement came as a surprise to her, when a video rolled showcasing Aspen and her team.
"It is a lot to surprise me," Braun said."I cried. And I don't cry over stuff like that."
The state tourism office cited her "swift and ongoing response to the COVID-19 crisis" in contributing to the recognition, as well as ongoing procurement of marketing funding for Aspen, her her 20-year career with ACRA and overseeing the chamber from a marketing organization to a management organization.
Braun said the work that she and her staff did in the years leading up to COVID-19 to make the switch to a destination management focus meant they were primed and ready for the pandemic when it hit. Part of being designated a "destination management" organization required a crisis plan to be in place.
"Literally we got that certification and then within months COVID hit," she said. "Because of the pre-work we all did as an organization, it just ­really stepped us into 'this is how we are going to handle this.'"
ACRA was instrumental in organizing business task forces among different sectors, including championing for the early opening of construction sites around town.
"We needed to get business back going if tourism was gonna shut down," Braun said."I felt like there was a natural set of work that happened immediately that somebody needed to step into and if it wasn't your business league, who was it going to be?"
Meanwhile behind the scenes, ACRA was pivoting from its standard spring and summer marketing and events role to creating public health documents and putting together a recovery toolkit for the community.
"As a membership-based organization, frankly I wasn't sure we were going to be able to keep our doors open, but nobody needed to know that. What people needed was someone to call them and say 'are you OK?' and within the first week of COVID the entire staff called every member."
Summer on the streets
Once stay-at-home orders were lifted, visitors flocked into Aspen. In response, ACRA put a team on the front lines, interacting with visitors, handing out masks and explaining the "five commitments to containment" to keep everyone compliant with public health orders.
Because many of the visitors were day-trippers, traveling on any given day between a handful of counties with different public health codes, Braun said it was imperative to be able to contact tourists while they were in town. Over the course of three months, the street team made contact with 25,000 people.
"[It] was so successful that the state has now called and said can we just mimic that in our marketing efforts," she said.
Along with the crisis preparation that the destination management designation requires, it also asks chambers to focus less on driving the maximum number of tourists into town and more on a sustainable experience for the visitor, local and the natural environment.
ACRA helped spread information about the new Maroon Bells reservation requirements, and saw an exponential increase in traffic to the Bells' informational website this summer.
Now, Braun said she is trying to work on a safety campaign as visitors may be seeking backcountry experiences to stay socially distanced this winter.
"We've been doing so much safety talk. Hire a guide. Do not be going out in the backcountry by yourself. We are scared that that is going to happen this winter," she said.
Wondering about winter
With the Aspen Skiing Co.'s announcement of ski pass options yesterday, Braun said the chamber will once again come through as the way to get a discounted price for locals. But she wants the organization to be known for more than that.
She said she is working to make sure all industries are being looked out for as the city and county devise policies and funding opportunities to help the bruised economy.
"We are all talking about restaurants, which are just as equally important, but I would like to shine a light that there are other industries that are very much hurting," she said.
Event and wedding planners who faced overwhelming cancellations in the summer also are unable to plan for the future without knowing what group sizes will be allowed by state and local public health officials as the winter progresses.
ACRA, too, is an event-planning organization of sorts, and is trying to be creative in its planning of iconic events such as the 70th anniversary of Winterskol. Braun said this year, the event might look more like "Winterstroll," with roving socially distanced activities.
"If companies are not looking for new ways to innovate inside of COVID-19, which is going to be here for longer than we want it to be, they are going to become relics. And some chambers might do that," she said.
And, with fingers crossed, the chamber is already looking to a more robust 2021 with the return of the Food and Wine Classic.
Every day is different
While 2020 might be a doozy, Braun said one of the things that has drawn her to her work with the chamber for the last 21 years is that every day is different. As the hub for businesses, customers and city services to all connect, she has grown close to the varied interests and personalities of Aspen.
"What the job really gave me that no other job has given me before is a true connection to community," she said.
And on bad days, she still has the wonder of Aspen to bring her spirits back up.
"I would just walk out to the visitor center, I would talk to two visitors who just rolled into Aspen, had never seen it before, and were so giddy and happy and that in and of itself will get you out of a bad mood in a second," she said.
And on top of that, according to the governor's office, ACRA continues to work for the community, its businesses and the public health of locals and visitors.
"We have made a difference and God that feels good," she said.