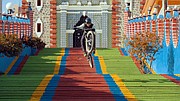 Banff's World Tour coming to North Idaho
The Banff Centre Mountain Film Festival World Tour is coming to town, with showings planned
The Banff Centre Mountain Film Festival World Tour is coming to town, with showings planned in both Sandpoint and Coeur d'Alene.
The Banff Centre Mountain Film Festival has made a yearly stop in North Idaho since 1995, starting off with one night of films. While most cities will host only one or two nights of films, audiences in both cities will see three nights of films with different movies each night. In total, 24 different films will be shown.
As with each year, a broad variety of films encompassing mountain sport, humor and culture will take over the Panida screen.
This year's films include the "Balkan Express," where two mountaineers book a one-way train ticket from Munich to Thessaloniki returning back to the start on their 1,500-mile journey with only skis and bicycles. On the way they are able to explore the mountains of the Balkans looking for beautiful ski runs and getting to know mountain communities.
For adventurers looking for an odd vacation, there is "A Baffin Vacation," where Sarah McNair-Landry and Erik Boomer spend more than a month kayaking, climbing, camping and freezing in Canada's Baffin Island area.
Taking it to warmer climes, there is the beautiful action mountain bike film, "Colors of Mexico," where the rider, Killian Bron, take audiences from active volcanoes to the narrow historic villages that lie far below.
The film tour immediately follows the Banff Centre Mountain Film and Book Festival in November, where a selection of films submitted to the festival go on a tour around the world. The tour reaches over 550,000 audience members through more than 1,100 screenings in 500 locations in 40 countries.
Tickets are $19 in advance or $25 at the door.
In Sandpoint, films will be shown at the Panida Theater, 300 N. First Ave. On Friday, Jan. 20, and Saturday, Jan. 21, doors open at 6 p.m., films begin at 7 p.m. On Sunday, doors open at 5 p.m. and shows begin at 6 p.m.
Ticket information: bit.ly/3XfH0Pl
In Coeur d'Alene, the festival will be shown at the Kroc Center, 1765 W. Golf Course Road. On Friday, Jan. 27, showings begin at 7 p.m.; on Saturday, Jan. 28, at 7 p.m.; and on Sunday, Jan. 29, at 6 p.m.
Each night will contain completely different films. All available tickets will be sold at the Kroc Center.
Ticket information: bit.ly/3XvBh7V
World Tour Film Schedule
Friday, "Aspen" program
• "Colors of Mexico" (France) — Discover Mexico from the tops of its most active volcanoes to the steep and colorful streets of historic villages with rider Kilian Bron and his team.
• "Eco-Hack!" (USA; advisory: coarse language) — Biologist Tim Shields has watched desert tortoise populations in the Mojave Desert plummet since the 1990s. The latest threat? Ballooning populations of ravens. Tim quits traditional observational biology in exchange for direct intervention.
• "Fabric: A Documentary Series" (Canada; tour edit) — Embracing identity and tradition to empower future generations of Indigenous youth, Hawaiian surfer Mainei Kinimaka preserves ancestral tradition through stewardship of language and tradition.
• "Balkan Express" (Germany; advisory: coarse language) — Freeskiers Max Kroneck and Jochen Mesle of Ice and Palms reunite for another adventure — a 1,500-mile journey by bike and ski, exploring the mountains of the Balkans.
• "The Process" (UK; advisory: coarse language) — Climber Tom Randall is known for his commitment to training and outrageous challenges he sets himself. This time, he has set his mind on fell running and a link-up of 15 classic Lakeland rock climbs, 42 summits, and 88 miles in 24 hours.
• "Clean Mountains" (Netherlands) — During the pandemic, there were no foreign climbers in the Himalaya. A Sherpa family decides to climb Mount Everest and clean up the garbage left behind – restoring the holiness of the mountain and calming the gods.
• "Sheri" (USA, tour edit; advisory: coarse language) — Sheri Tingey started a company at age 50 that has revolutionized the outdoor industry. This is a film about the hurdles she overcame to launch the company and about the ways she hid from view so that people would judge the boats, not her role in creating them.
• "Walking on Clouds" (Brazil) — In the city of Praia Grande, Santa Catarina, Brazil, Rafael Bridi attempts the highest highline record in the world by setting his line above the clouds.
Saturday, "Juniper" program
• "Alta" (Switzerland; advisory: coarse language) — A team of high-performance riders travels to Alta, Utah for a spring freeskiing session that delivers all styles and conditions of skiing.
• "REEL ROCK 16: Bridge Boys" (USA; advisory: coarse language) — A horizontal big-wall adventure on the longest, most ridiculous crack climb ever attempted.
• "Continuum" (Canada) — Everything is connected. Each ride is an extension of the one before and each re-entry is a transition to the next launch. Each experience builds toward a flow state of endless progression.
• "Before They Fall" (Canada; advisory: coarse language) — A decades-long battle to protect old-growth forests in British Columbia escalates when conservation groups, First Nations, scientists, and land defenders block a logging company from accessing the last unprotected watershed on southern Vancouver Island.
• "A Baffin Vacation" (Canada; advisory: coarse language) — Erik Boomer and Sarah McNair-Landry set off on a 45-day expedition through Baffin Island in search of stunning cliffs to climb and unexplored rivers to kayak.
• "Wood Hood" (USA; advisory: sensitive subject matter) — DeVaughn, 15, from New York City craves a "quiet place" to escape the chaos of his home, the city, and kids that steal from him. On a weekend-long group camping trip, we witness the joy and growth that is possible when kids have an opportunity to find that "quiet place."
• "Doo Sar: A Karakoram Ski Expedition Film" (Poland, tour edit) — Jakub Gzela, Andrzej Bargiel, Andrzej Bargiel Sport Promotion Andrzej Bargiel and Jędrek Baranowski set off to the Karakoram for an adventure full of passion and love that has them freeriding at over 6,000 meters above sea level.
• "North Shore Betty" (USA and Canada; advisory: coarse language) — Betty Birrell picked up mountain biking at age 45, in the misty forests above North Vancouver, after a career as a mountaineer and professional windsurfer. Three decades later, she is proof that you're never too old to send.
Sunday, "Willow" program
• "Flow" (France) — An aerial and symphonic journey with skier Sam Favret,
in the heart of a closed resort during the winter of 2021, rediscovering a playground in its wild state.
• "The Fastest Girl in the Village" (UK) — As a girl growing up in Lesotho, Khothalang Leuta never imagined she could become a bike racer. From teaching herself how to ride a bike to becoming "faster than the boys." See what can be accomplished when opportunity is provided.
• "Nuisance Bear" (Canada) — Churchill, Manitoba, is famous as an international destination for photographing polar bears. We've seen the majestic images and classic wildlife series captured here, but what do these bears see of us?
• "WILD WATERS" (Switzerland, tour edit; advisory: coarse language, sensitive subject matter) — Discover the incredible life of Nouria Newman, the most gifted kayaker of her generation.
• "Creation Theory" (USA; advisory: coarse language) — Nature's raw elements converge in the Westfjords of Iceland, taking us on a journey from the interstellar birth of gravity and rhythm to their ultimate human creative expression: surfer on wave, snowboarder on peak, and musician on stage.
• "REEL ROCK 16: Cenote" (USA) — A young papaya farmer discovers the pure joy of climbing in the crystalline limestone sinkholes of Mexico's Yucatán Peninsula.
• "Free to Run" (USA; advisory: coarse language) — U.N. human rights attorney and mountain runner, Stephanie Case, struggles to find a way forward for the Afghan women of her NGO, Free to Run, while taking on her most challenging ultra-race yet.
• "Danny MacAskill's Do A Wheelie" (UK) — Join Danny MacAskill and a host of friends as he pushes the boundaries of the humble wheelie and learns a thing or two from friends old and new.
Info.: Mountain Fever Productions, mountainfever.us