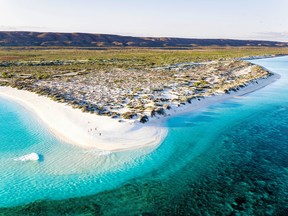 Australian coast brings you face to face with sharks
Breadcrumb Trail Links Travel Visitors share encounters with the world's perfect predator Published Sep 16,
Visitors share encounters with the world's perfect predator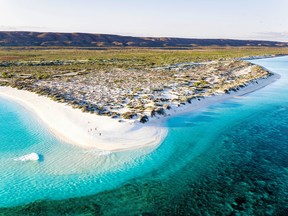 Reviews and recommendations are unbiased and products are independently selected. Postmedia may earn an affiliate commission from purchases made through links on this page.
Article content
Forget fluttering. The butterflies in the pit of my stomach can't decide whether to fight or take flight. I don't especially like boats and I'm not a great swimmer. Why I thought it would be a gas to swim with whale sharks is beyond me.
Bobbing about in a spectrum of shimmering turquoise that is the Indian Ocean off the coast of Western Australia, I feel exceptionally exposed. Wearing a bathing suit, snorkel, mask and fins, I'm somehow supposed to saddle up alongside the world's largest fish, that's also a shark, and not freak out about it. Good luck with that.
Article content
After minutes of spotting nothing but the occasional fish, my guide suddenly issues the hand signal to give 'er, and I gave. Whether it was my annoying competitive streak or some natural instinct kicking in, I'll never know. Regardless, my reward for frantically kicking like a Rockette without the flexibility, was gliding up face-to-fin with a 16-metre (52.5 feet) long whale shark.
Nerves now gone, pure elation floated through my body. That I could swim in sync with this enormous creature, its scales a mass of polka-dots and squiggly lines as if drawn on by a child, fulfilled an underwater fantasy I never knew I had.
Turns out, cruising alongside one of these harmless giants (they eat mostly plankton) is surprisingly peaceful — once you get over it's a shark, because apparently not all sharks are Jaws.
There aren't many spots in the world where you can responsibly swim with whale sharks (and manta rays and humpback whales), but World Heritage-listed Ningaloo Marine Park is one of them. Home to Australia's largest fringing reef and this once-in-a-lifetime experience, Ningaloo is also bordered by Cape Range National Park.
Article content
The striking coastal cliffs of Ningaloo are starkly juxtaposed to the rugged splendour of this national park, where other wonders abound. The scarlet limestone gorges rushing up to meet Cape Range beg to be explored. Yardie Nature Walk proves to be an accessible walking trail that isn't too taxing after days spent snorkelling.
Traipsing along the ancient trail feels otherworldly as I weave my way past desolate scrub, punctuated by hundreds of massive termite mounds, looking like rust coloured Chiminea domes.
"It's nothing like Canada," notes my Exmouth Adventure guide, Neil Jones, as we slip past native sage, spiky spinifex grass and fossilized rocks scattered amid the porous limestone. Jones would know. He's from London, Ont.
"This is where you can find the true essence of Australia," he shares.
Suddenly, there's movement. A rare black-footed rock wallaby makes an appearance from behind an outcrop of rocks. Mesmerized, we pause and watch the tiny marsupial. As it sits upon its hind legs watching us watch him, I realize Jones is right.
Other places promise to take you far away, and Australia is far, don't get me wrong. But here you're able to get closer. While wallabies are a dime a dozen in Australia, it doesn't matter. I'm transfixed by every wildlife encounter. But it's the landscape that seeps into your soul and makes you feel that sense of awe — even when you're barrelling along remote outback roads with nothing but miles of bush laid out in front of you.
Article content
Australia is so large, it's hard to see all the sights in one trip. I wanted to contrast the coasts, so I bid goodbye to whale sharks and wallabies and fly over to Queensland on the Pacific side, landing in Bundaberg.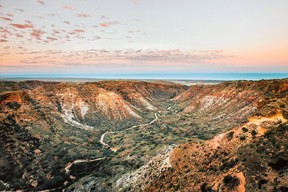 Known as the food bowl of Australia, it's also the gateway to the southern Great Barrier Reef.
I intended to sample sea glamping aboard Lady Musgrave HQ, a tricked out pontoon boat. Strong winds prevented float planes from landing on my pre-set dates, but spending extra time in Bundaburg is no hardship. Not when there's a blending master class at Bundaberg Rum Distillery and the opportunity to meet more cute critters at Splitter's Farm, where you can also overnight in furnished glamping tents.
The weather clears and it's off to Lady Elliot Island, 100 kilometres (60 miles) from the coast. Stripped of its soil and harvested for sea cucumbers since it was discovered in the 1800s, it's now an eco resort.
To get better acquainted with this coral cay, visitors can pop into its lighthouse and suss out the revegetation garden. Here, native species are being bred thanks to island stewards reclaiming the land back to its natural state.
Article content
Of course, the big draw is going underwater, and I pair up for a snorkel with island guide and marine biologist Jacinta Shackleton. Plunging into the water of incredible blues, we float over technicolour fish dashing between hard corals, much of it brown. This worries me, but Shackleton assures me not to be.
"Brown coral has really high levels of zooxanthellae, a photosynthetic algae, so it's healthy. We love those earthy colours."
Marine spotting begins immediately with a squad of bigfin reef squid darting past. For a while, we follow a safe distance behind a green sea turtle having algae picked off its shell by surgeon fish.
Coming up for air, I mention how surprised I am at the diversity in the reef and its condition. I thought the Great Barrier Reef was dead, but that's not the case, assures Shackleton.
"The reef is definitely under threat, but it's still thriving and as you can see, incredibly beautiful," she avows.
Before our excursion is over, Shackleton points out a white tipped reef shark laying on sand. My first thought is panic, but then I glance over at Shackleton. She's perfectly at ease. I trust her judgment and flutter after her. This trip has been a collision of so many diverse natural wonders. Fear quickly gets replaced by adrenalin that energizes me long after I've reached the surface.