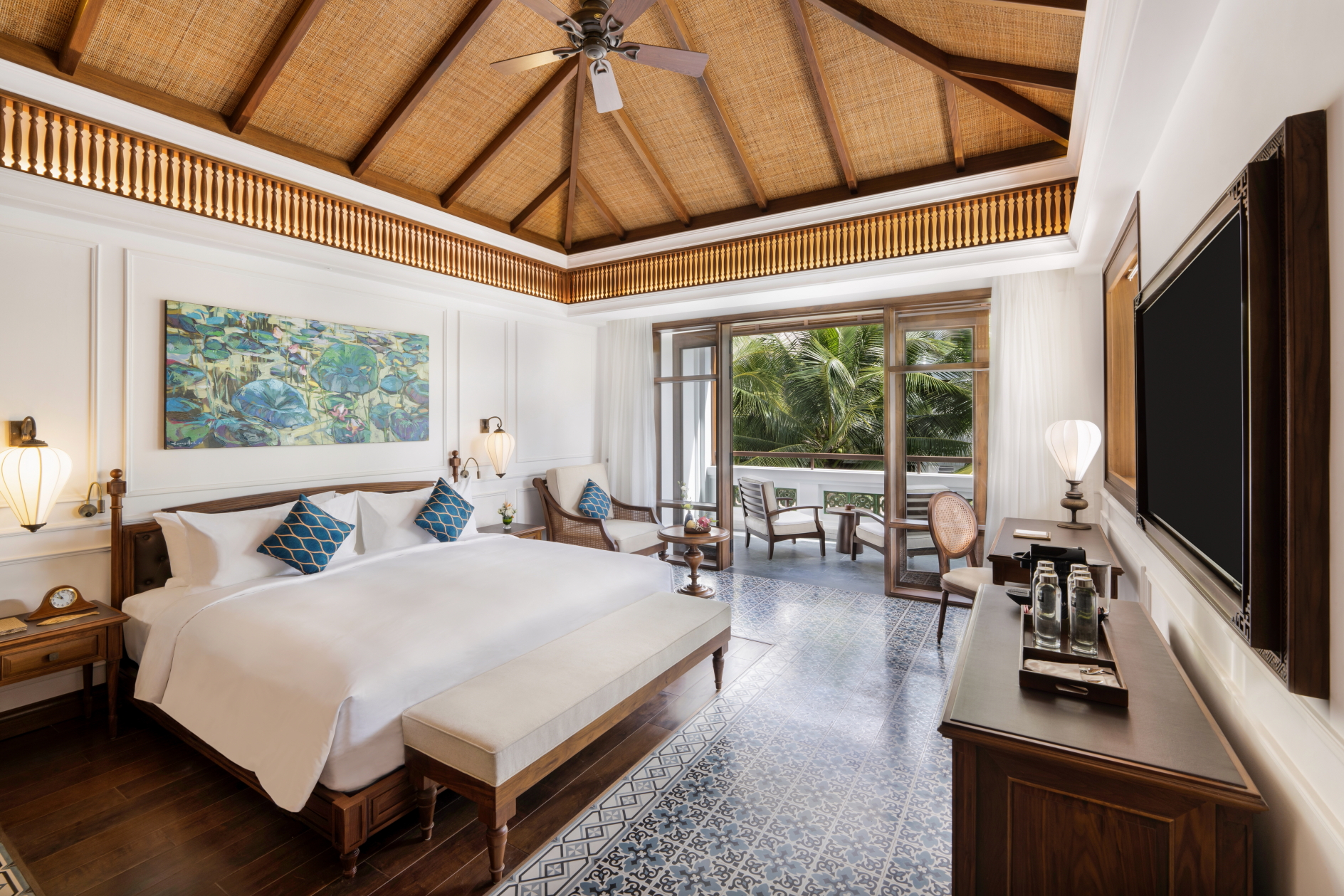 Anam Mui Ne Resort in Vietnam Joins Small Luxury Hotels of the World
Dark/Light Mode (20/04/23)  The Anam Mui Ne has joined Small Luxury Hotels of the World.

(20/04/23)
 The Anam Mui Ne has joined Small Luxury Hotels
of the World.
The resort, which opened in January 2023, is
located on 1.2 hectares of
white sand beach in the southern coastal town of Mui Ne, a popular
spot for kite-surfing.
An
expressway, due to open in June 2023, will cut the drive from Ho Chi
Minh (Saigon) to just two hours, and an international
airport is scheduled to open in Mui Ne in 2025.
"We are delighted
to set our footprint in Vietnam once again with The Anam Mui Ne,"
said Mark Wong, Senior Vice President Asia Pacific, Small Luxury
Hotels of the World.
"Vietnam is fast becoming one of the most sought-after destinations
owing to its diverse natural conditions and topography for
travellers. Surrounded by diverse natural landscapes and lush foilage, The Anam Mui Ne is an ideal spot to experience what
Vietnam's outdoor tourism can offer, being one of Southeast Asia's
premier kitesurfing spots, and complemented with a nostalgic
old-world Indochine charm."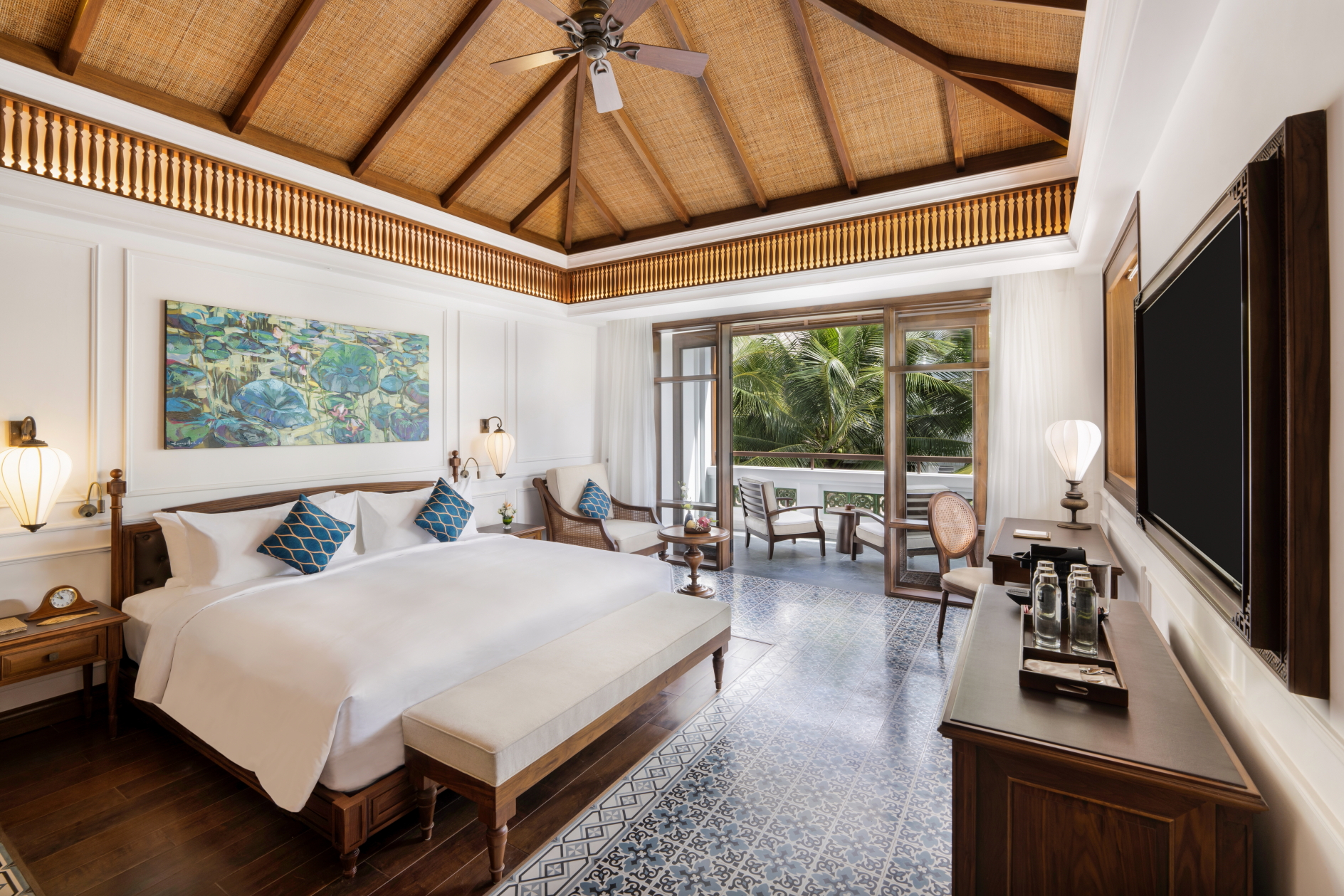 Grand Premium Room at Anam Mui Ne Resort in Vietnam
The resort's
127 rooms and suites across six accommodation categories form a
U-shaped configuration that opens up views of
the ocean, lush gardens, the resort's two saltwater and freshwater
swimming pools as well as Mui Ne town.
Clawfoot
bathtubs and custom-built furniture such as leather-bound tables
add to the resort's luxury feel, while treats such as complimentary
in-room high tea help guests to relax.
F&B options at the resort include an all-day
dining restaurant and grill, a beachside restaurant and bar, a lobby
bar and 24/7 in-room dining.
The resort is ideal for those who enjoy
watersports as kitesurfing, jet skiing, sailing, kayaking,
stand-up paddleboarding, bodyboarding, Kymera body boarding and
surfing are all popular activities at Mui Ne beach.
The Anam Mui Ne is doing its part for sustainability with
a ban on single-use plastics and has implemented an array of
measures to reduce its carbon footprint with solar power and
locally sourced ingredients. Its water filtration plant supplies
drinking water in recycled glass bottles, and laundry water is
recycled to water the gardens. Straws, bags and bathroom amenities
are biodegradable. The resort's eco-friendly key cards are also
made from wood that's been sourced from sustainably managed
forests.
"It is an absolute honour to join
SLH and for the Anam Mui Ne, crafted by age-old artisans from
across Vietnam, to be recognized as the collection's first
Vietnamese property," said Pham Van Hien, Anam Mui Ne's founder
and owner.
Rates at the Anam Mui Ne
start from USD135.
Editor's note:
To avoid any possible confusion, please note that the Anam Mui Ne is not part of the
ultra luxury Aman Resorts, Hotels & Residences brand.
Latest videos: Noise
Cancelling Ear Plugs for a Perfect Night's Sleep,
Running
Lights – Lumefit Premium 360° Reflective Vest Review,

Steven Howard Outlines Travel News Asia's Video and Podcast Plans
for 2023, Amari
Watergate Bangkok – 4K Video Interview with Sukamal
Mondal, Area GM.