9 Ice Hotels Around The World Where You Can Chill In Style
Much like travelers and tourists, hotels come in all shapes, sizes, and styles. Some accommodations
Much like travelers and tourists, hotels come in all shapes, sizes, and styles. Some accommodations are lavishly elegant with all-inclusive amenities, while others provide a more minimalist experience. However, there are only a handful of hotels in the world that are literally cool. Guests who love the cold weather or adore the majesty of the Arctic will undoubtedly enjoy a couple of nights at an ice hotel, accommodations that are made using ice and snow, which are usually rebuilt seasonally (depending on the accommodation). These chic ice hotels are cooler than cool and can be found in different parts of the world.
Our recommendations for the places to stay included in this article are based on research conducted regarding ice hotels (or similar accommodations) around the world. All accommodations selected are based on an overall rating above 8.0 and competitive rates compared to other similar accommodations. We've also done research to ensure these stays not only offer a unique experience but a stay with vast amenities to satisfy a variety of travel styles. Please also be aware that many of these accommodations have seasonal availability and may (or may not be) available during a traveler's desired date of stay. Prices are also subject to change depending on the accommodation.
Photo of art in the IceHotel in Jukkasjarvi, Sweden
The Icehotel has been one of Sweden's iconic hotels since its opening in 1989 and is one of the world's most famous ice hotels. This bucket-worthy stay is open year-round for guests seeking an Arctic adventure, regardless of the season! Chill out at the hotel's 2100 square meter ice hall or sip on a cocktail (in a curved glass!) at their famous Ice Bar. The Icehotel is also close to Sami Open Air Museum, the Jukkasjärvi, and Kiruna Churches.
Photo of art in the IceHotel in Jukkasjarvi, Sweden
Icehotel
Amenities

Restaurant, Bar/Lounge, Free WiFi, On-site Ski Equipment Rentals

Price

$$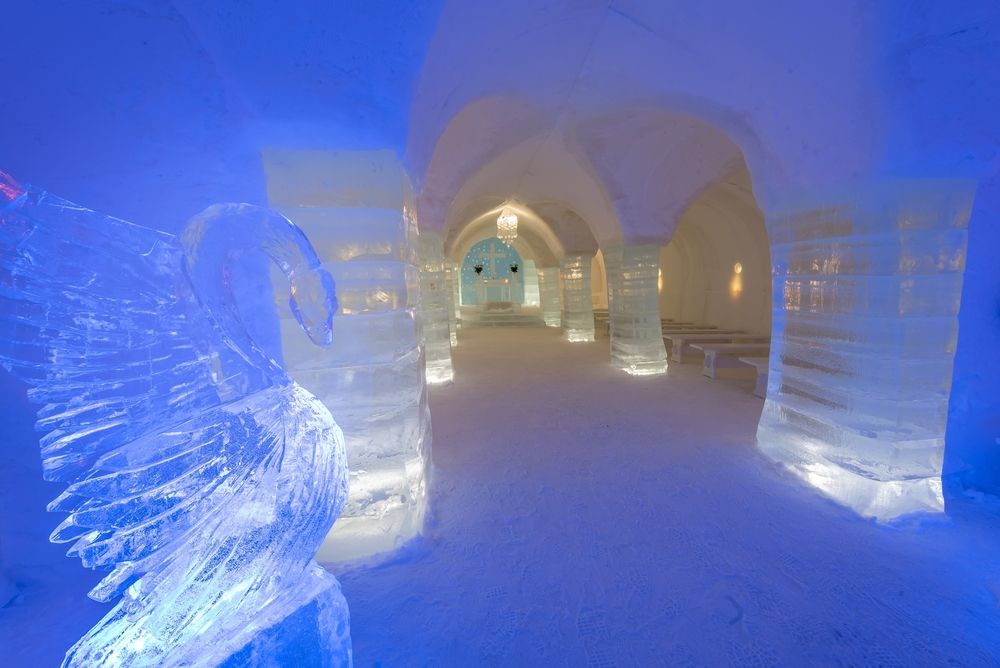 The Sorrisniva Igloo Hotel is the world's most northern igloo hotel! This bucket-worthy stay is crafted every year by talented builders and artists using 250 tons of ice (from Sierravann), 7000 m³ of snow, and an area of 2500 m²! Besides exploring the icy corridors of this incredible igloo-style accommodation, visitors can also use the Sorrisniva Igloo Hotel as a base for all their adventures in Arctic Norway, from witnessing the Northern Lights to dog sledding.
Photo of art in the IceHotel in Jukkasjarvi, Sweden
Sorrisniva Igloo Hotel
Amenities

on-site restaurant, on-site bar/lounge, free Wi-Fi, free parking

Price

$$
RELATED: Plan Ahead & Watch The Northern Lights From Igloos At Alaska's Borealis Basecamp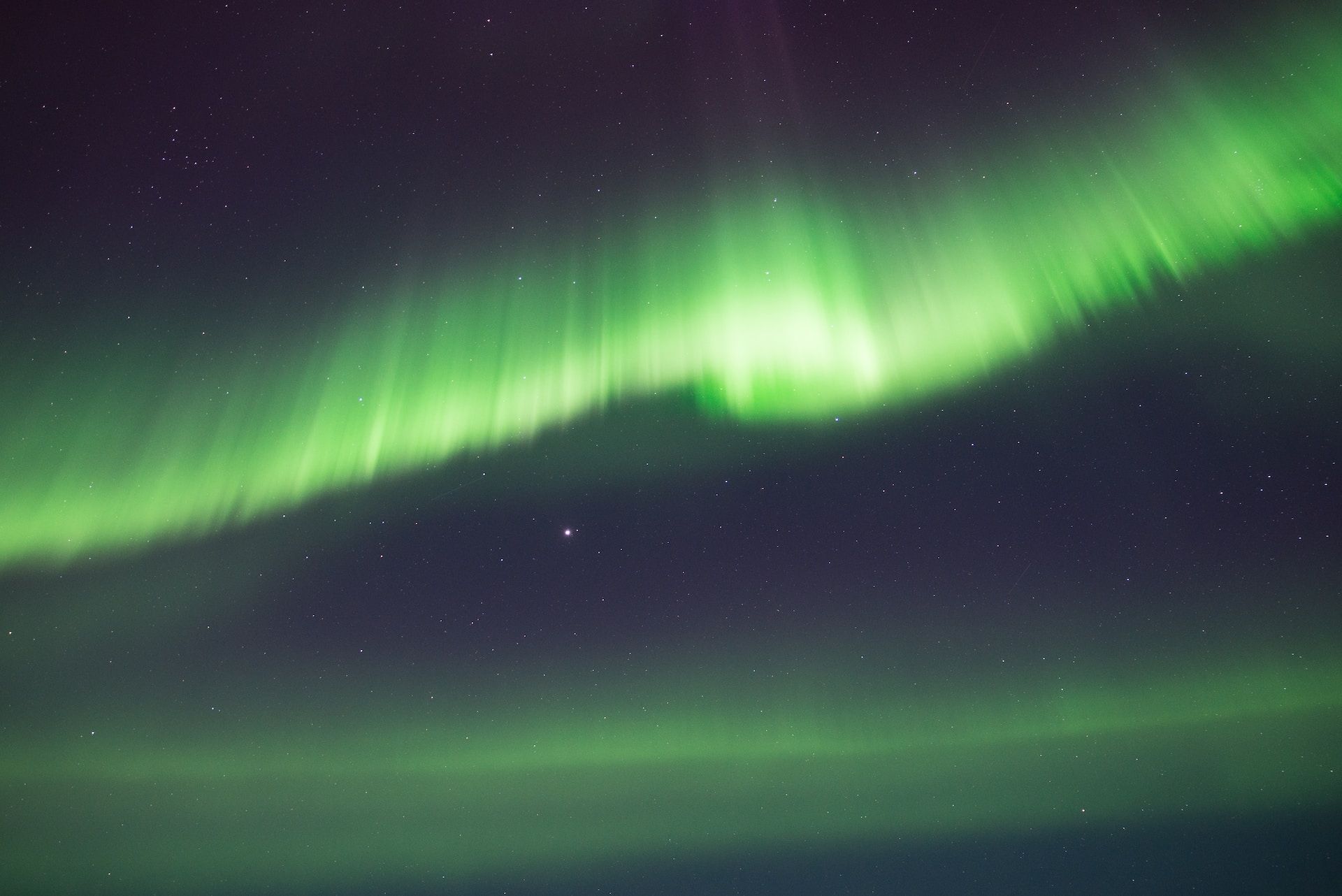 Northern Lights in the Sky
Set on the quaint shores of the Lake Ranuanjärvi in Finland, the Arctic Fox Igloos provide are like noise-canceling headphones. These glass igloos are away from hectic traffic and busybodies, giving guests an experience to admire Ranua's Arctic sky! Each igloo includes a bed, kitchenette, sauna, shower, and a toilet.
Arctic Fox Igloos
Amenities

On-site restaurant, on-site bar/lounge, free Wi-Fi, coffee machine,

Price

$$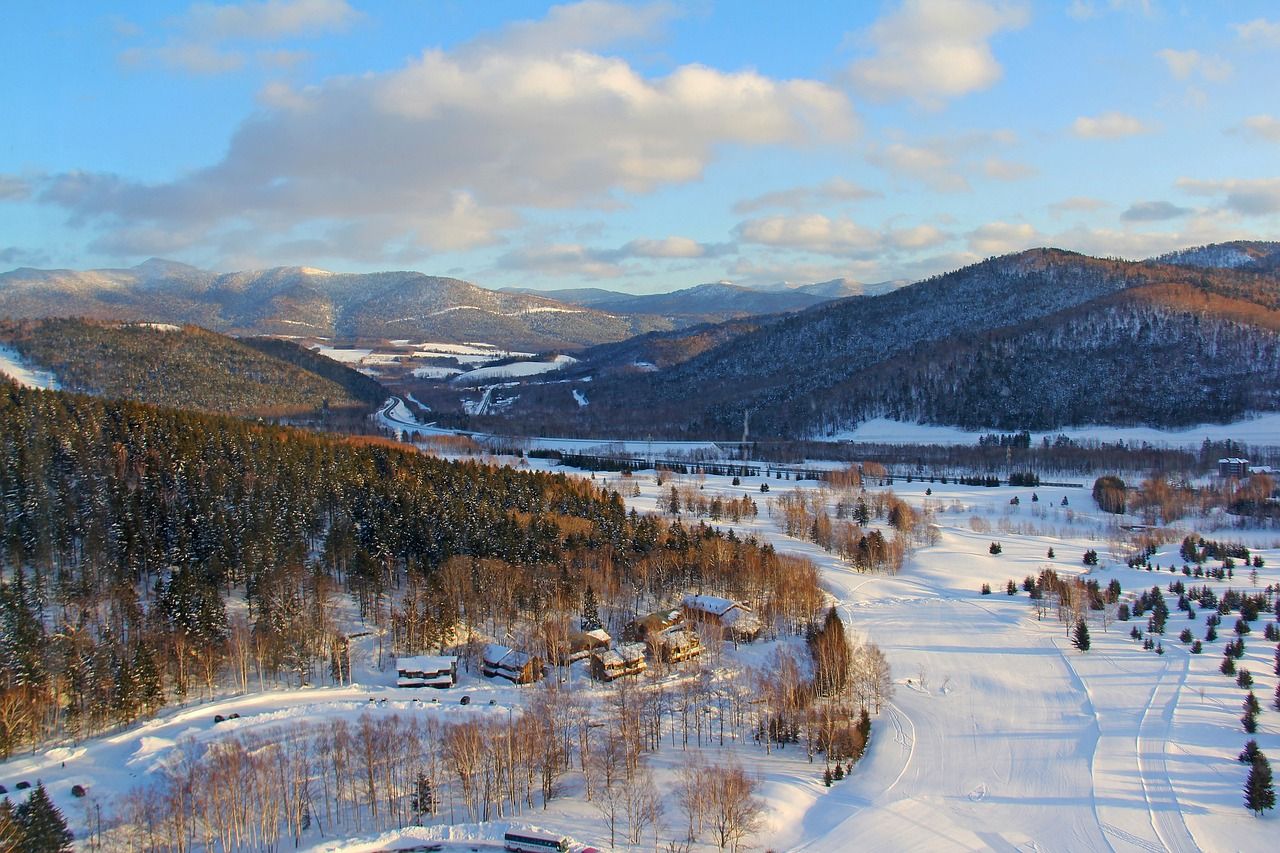 Tomamu Ski Resort in Hokkaido, Japan
The Hoshino Resorts Tomamu The Tower is a great alpine resort in Japan's Hokkaido region (famous for its heavy snowfall and heavy ski slopes) and is central to the resort area and its facilities. However, for something "cooler," travelers may want to snag a stay at the ice hotel in Tomamu's Ice Village nearby. This ice village is a seasonal affair which starts in December. The Ice Village is a winter wonderland with domes comprised of snow and ice and encompasses a property full of ice-related attractions, from an ice church to an ice bar! For something chilling, visitors can stay at the village's ice hotel, which includes furniture, ceilings, a dome, and walls of ice. There is also an open-air ice bath for guests' enjoyment.
This listing is in reference to the Hoshino Resorts Tomamu The Tower and NOT the ice hotel at the Tomamu Ice Village. For more information about the Ice Village and the ice hotel reservations, please visit its website.
Hoshino Resorts Tomamu The Tower
Amenities

Indoor pool, room service, free Wi-Fi, free toiletries, pets allowed on request (for a fee), on-site spa,

Price

$$
RELATED: 10 Reasons To Visit Lake Chelan In Winter, Including Its 30 Ice Sculptures
Dog sledding in Lapland, Finland.
Bone-chilling winters can still be ideal weather for travel, especially while staying at the Apukka Resort. This beautiful resort is situated in the heart of the Finnish Lapland, a region of immense cultural significance and record-breaking natural beauty. Located about 11 miles away from the Rovaniemi City Center, adventure-seeking guests can sleep under the Arctic sky in one of the resort's glass igloo suites. This luxury accommodation may not be made of ice, but its location and stunning decor still make it a bucket-worthy experience!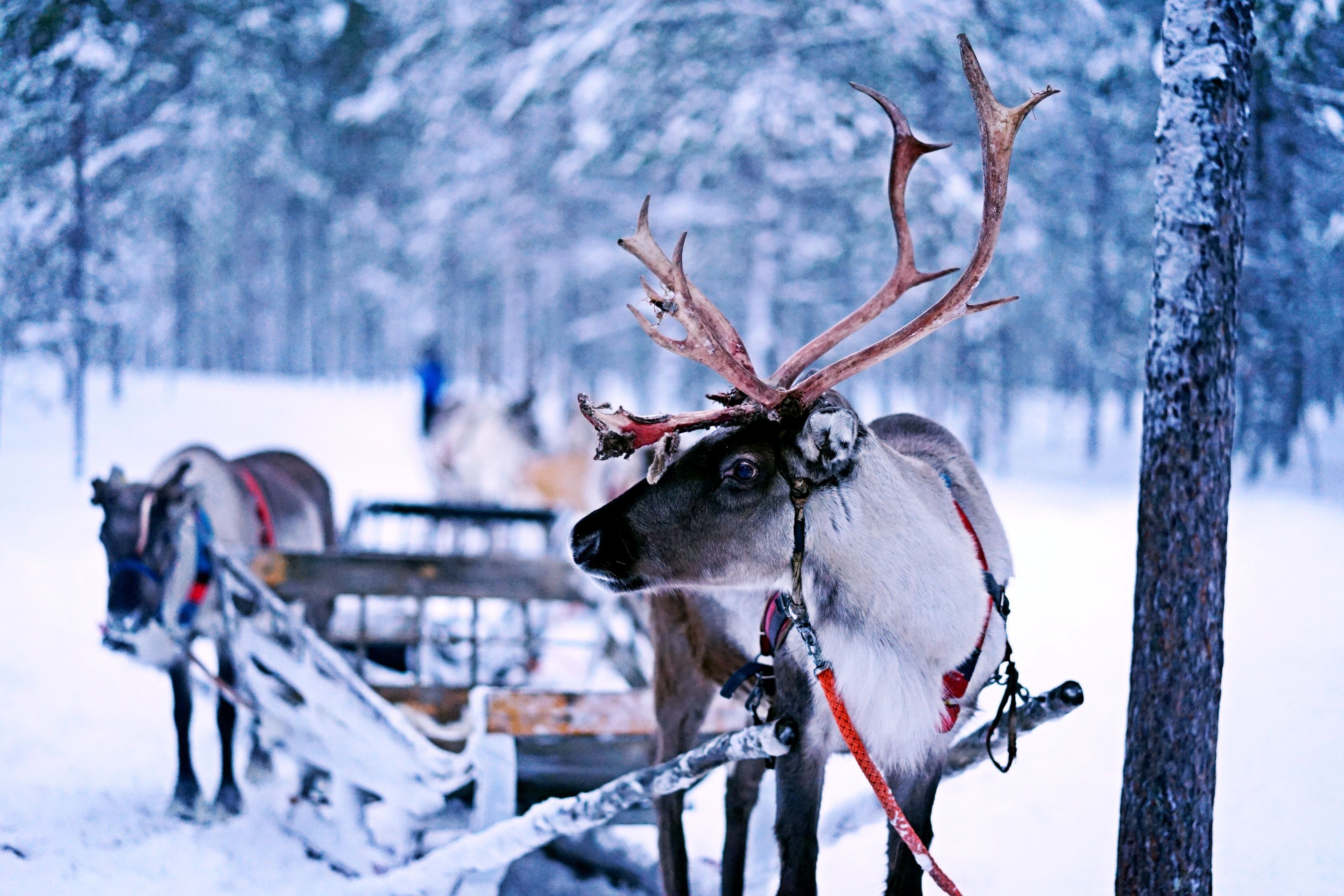 Reindeer sleigh in Ivalo, Finland
Situated in the Finnish Lapland, the Wilderness Hotel Muotka & Igloos may not have accommodations made from solid ice, but this top-rated hotel does offer dome-shaped suites known as their "Aurora Cabin." With the capacity of up to 4 people, the Aurora Cabin spoils its guests with a view of the Muotka's sky from their bedroom, as well as a cozy fireplace and a sauna (depending on the room). This stunning stay is also a few minutes drive from the Urho Kekkonen National Park!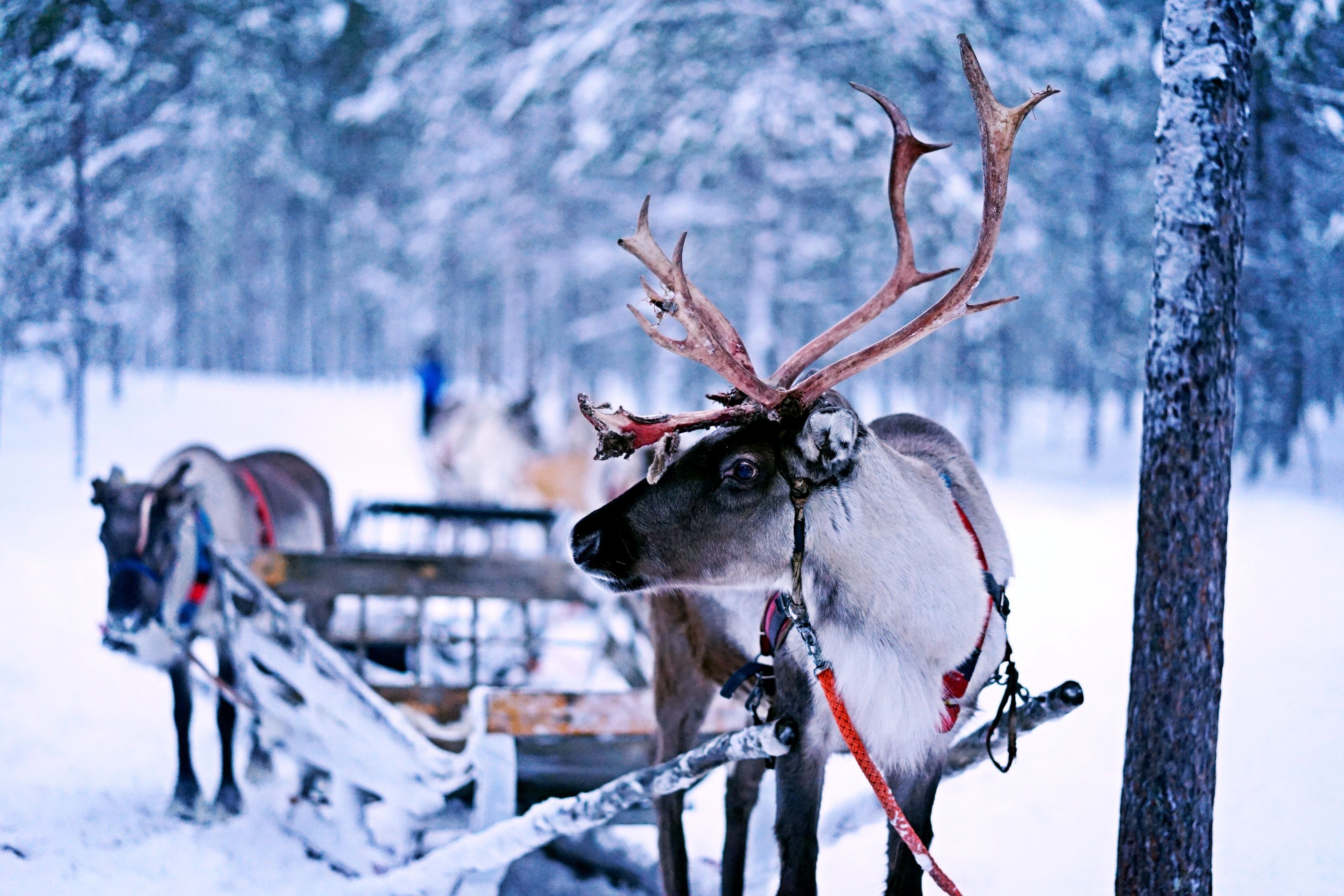 Reindeer sleigh in Ivalo, Finland
Wilderness Hotel Muotka & Igloos
Amenities

Restaurant, on-site bar/lounge, free toiletries, free parking

Price

$$$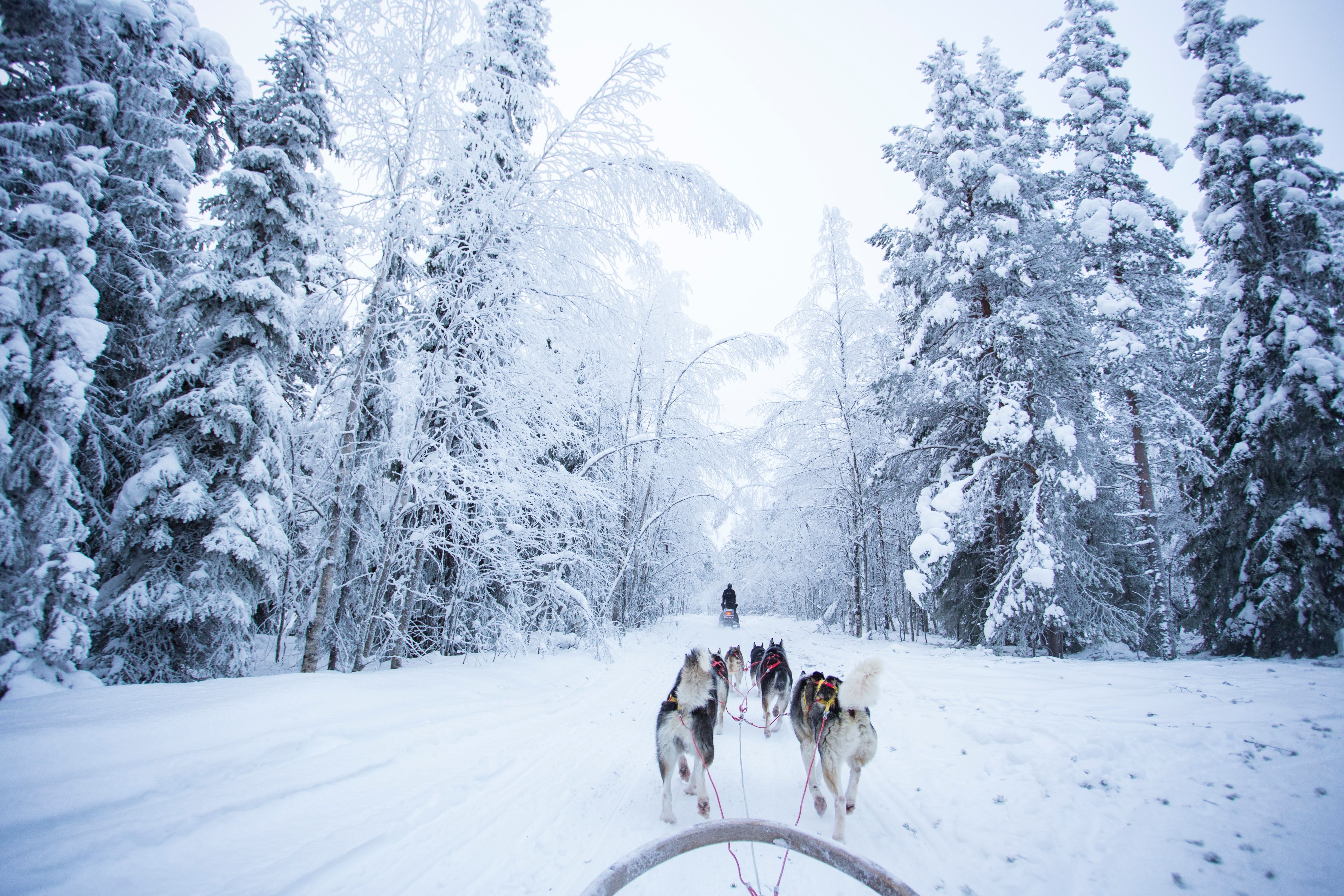 Rovaniemi, Finland in winter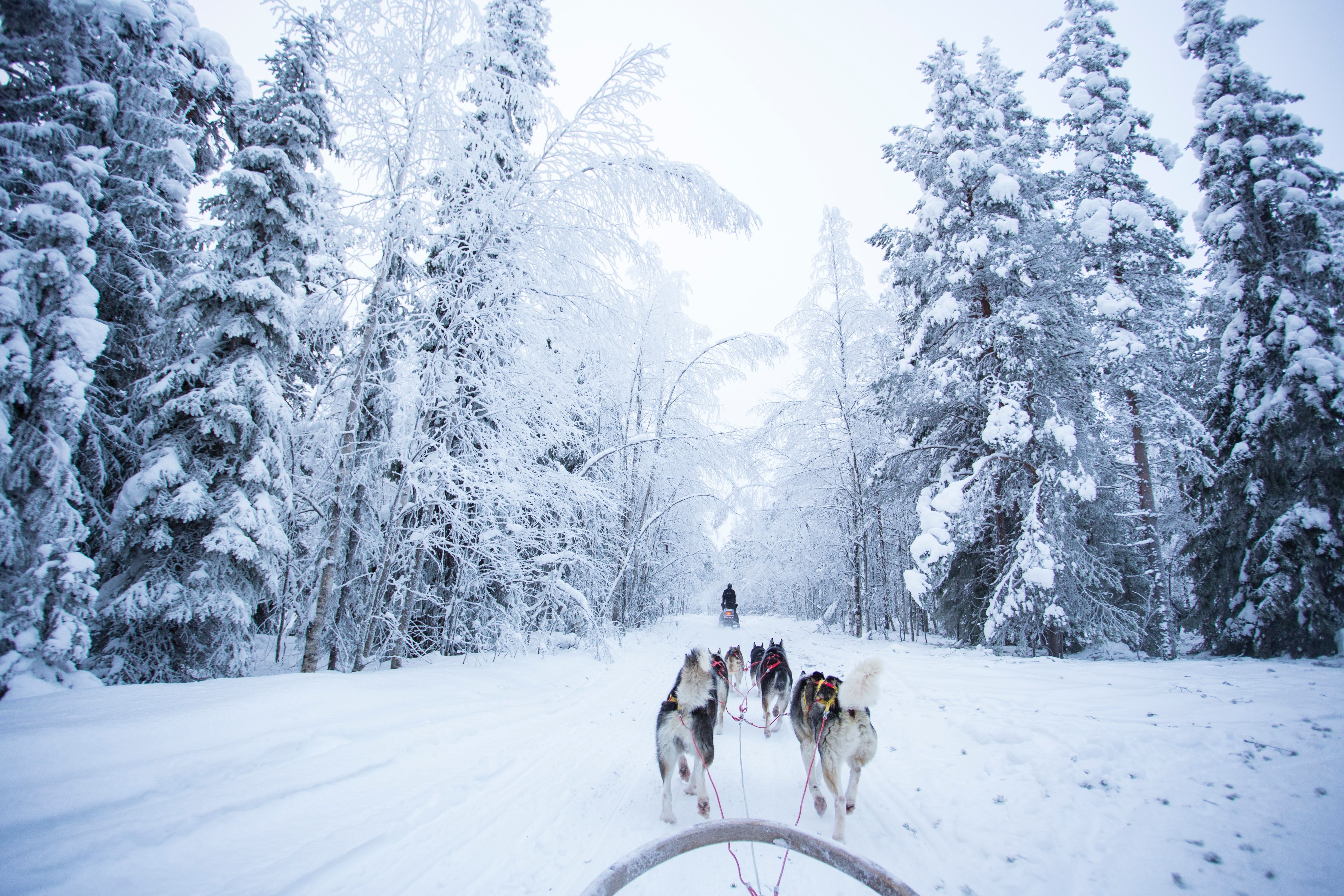 Rovaniemi, Finland in winter 
Arctic Snowhotel & Glass Igloos
Amenities

On-site restaurant, on-site lounge/bar, free Wi-Fi, free parking

Price

$$
The Arctic SnowHotel & Glass Igloos is also a gateway to the Finnish Lapland, situated along Lake Lehtojärvi in Rovaniemi (in the village of Sinettä), the official hometown of Santa Claus! Boasting one of the biggest snow hotels in the world, this cool accommodation includes 30 hotel rooms, as well as other icy attractions like an ice chapel, an ice bar, and an ice restaurant. Within each room, guests can also enjoy their room's furniture and walls, which are lined with decorative ice art and sculptures!
Don't want to bask in the chilly dwellings of a snow hotel? There are also glass-roofed igloos that travelers can book, which provide a panoramic view of Lapland's starry sky (and possibly, the captivating beauty of the Aurora).
RELATED: Hike The 100 Mile Long Arctic Circle Trail In Greenland Along The Edge Of The Mighty Icesheet
Photo of ice sculpture in Kittila, Finland
Every November in Kittilä, Finland, the Lapland Hotels Snowvillage is built. Whether exploring the Arctic Circle as a couple or with a family, there are 12 snow suites available for travelers wanting to chill at an ice hotel. The rooms come with a cozy thermal sleeping bag! The rooms themselves are artfully decorated with illuminated ice sculptures, and wall art made of snow.
Lapland Hotels Snowvillage
Amenities

On-site restaurant, on-site lounge/bar, coffee machine, free Wi-Fi, airport shuttle, complimentary breakfast

Price

$$$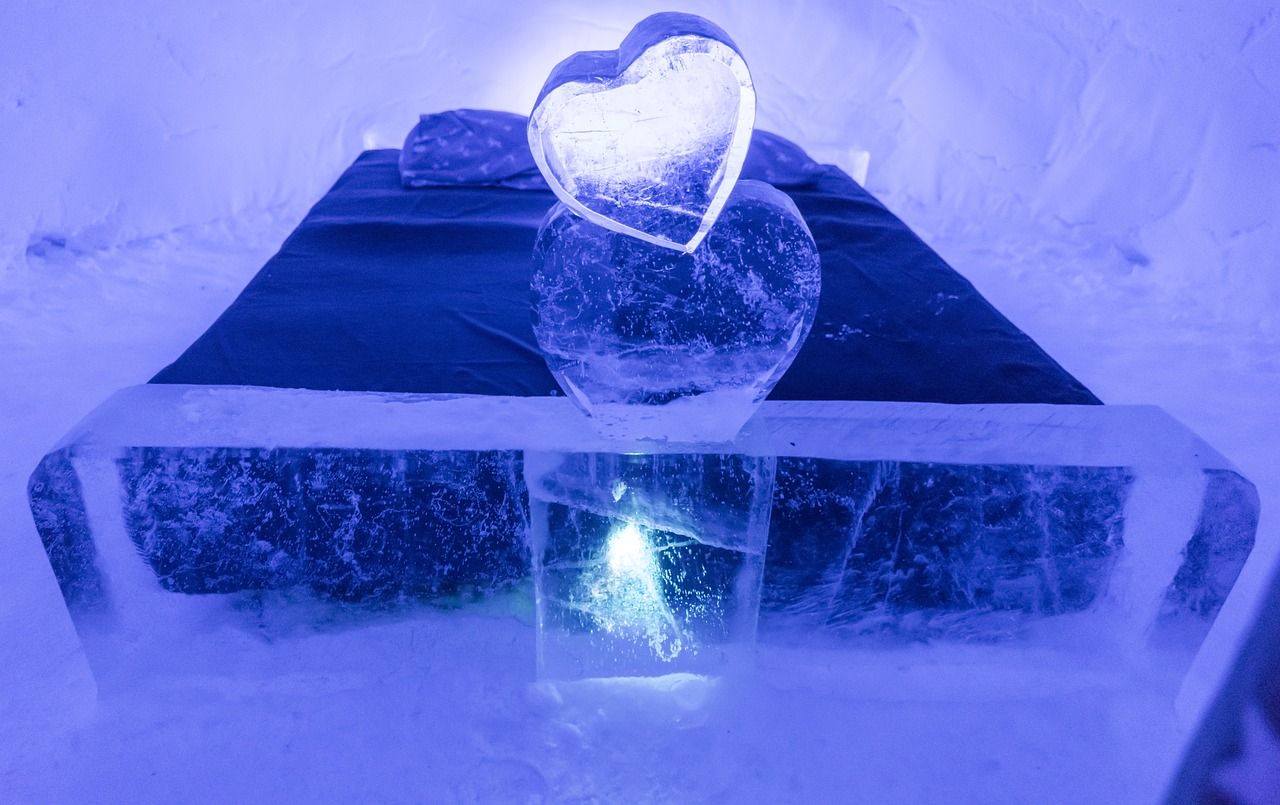 Photo of Snowhotel Kirkenes ice sculpture in Norway
The Snowhotel Kirkenes sits in South Varanger, nestled in the mountains, and within driving distance of attractions like the Varanger Museum and Savio Museum. Unlike other ice hotels, this ice and snow hotel is open 365 days, so guests can chill at this icy accommodation, regardless of the season.
Adventurous guests can discover the wilderness of Northern Norway, whether it's catching the dancing lights at night or befriending one of the 180 huskies on the property.
Snowhotel Kirkenes
Amenities

On-site restaurant, on-site bar/lounge, free parking, free toiletries

Price

$$